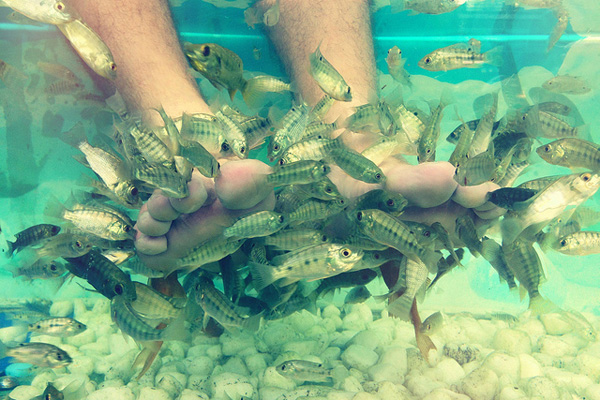 Okay, I know I scared you with the pictures of gnarly skin last week so even though I'm still going to be talking about grotty skin today (instead, show you some random dude's feet 😛 ), I'll spare your eyes and not show you my feet. If you think that bit of dry skin on my hands are bad, you really don't want to even look at my feet. On a more positive note, the cracked heels are looking better now but still … I'll keep those pictures to myself, thank you very much! 😛
Right, back to the topic at hand.
Holiday season in Australia is summer time and it's usually quite warm (or stinking hot) so you're more likely to wear thongs (also known as flip flops in Australia. Oh the confusion when I first moved here was epic) or sandals than something that would cover your entire feet. It's heels on display, baby!
I have just about the driest and most grotesque-looking heels ever. Seriously, even rubbing my feet on Tim and he complains about how "scratchy" my feet is. Dude has the smoothest and softest heels I've ever seen; he rarely wears home slippers and never, ever apply any foot cream. Unfair much? 😛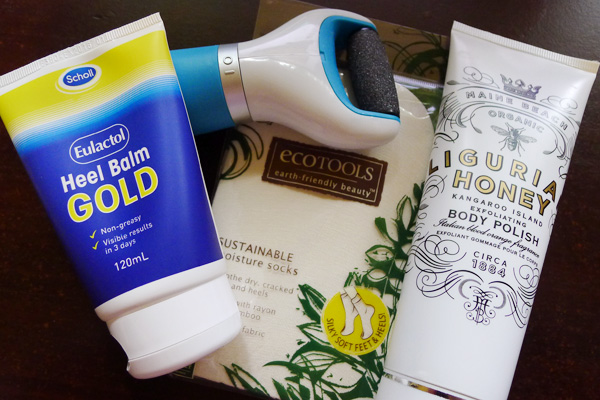 Anyway, since it's getting a lot warmer now, this means that it's time to whip out the thongs and sandals. This also means I have to sort my dry and cracked heels out because they look mighty unsightly. I've been working on them using the tools and products below and with some perseverance, they work. Key word is perseverance. I do tend to fall off the wagon sometimes but when I don't, it's very effective.
1. File those feet and file 'em good.
I have a trusty old foot file from Ecotools that I've used for over 2 years (I even bring it with me when I'm travelling). While it's effective, sometimes it can get pretty tiring filing away especially when you have to do it standing and when you have that much dead skin to get rid of.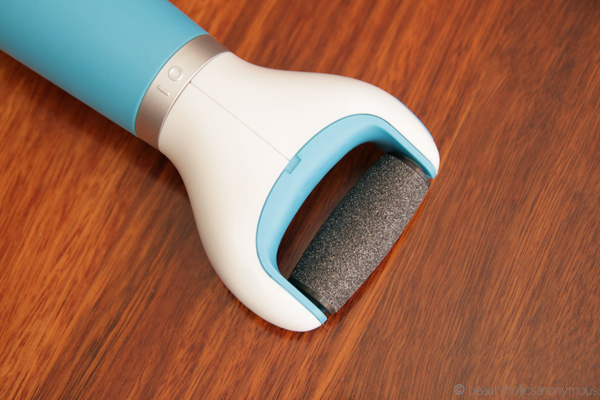 I recently had the opportunity to try out the Scholl Express Smooth Pedi Express* and that thing is a foot saver. Shaves off (nudge nudge) so much filing time. This is a permanent tool in my bathroom now and I do this weekly. It's battery operated and works a treat on filing dead skin off. Don't use this on the same spot for more than 4 seconds and definitely don't use this on broken skin.
2. Scrub-a-dub-dub
If you've been for pedicures, you'll know that the step after all that foot filing is when your feet and lower legs will get a good scrubbing with a body scrub. I do the same too. As I'm scrubbing my body, I give my feet a good old scrub as well. I'm currently loving the Lingurian Honey Kangaroo Island Exfoliating Body Polish by Maine Beach Organic*. Smells deliciously of blood oranges and you know how I am with orange scented products.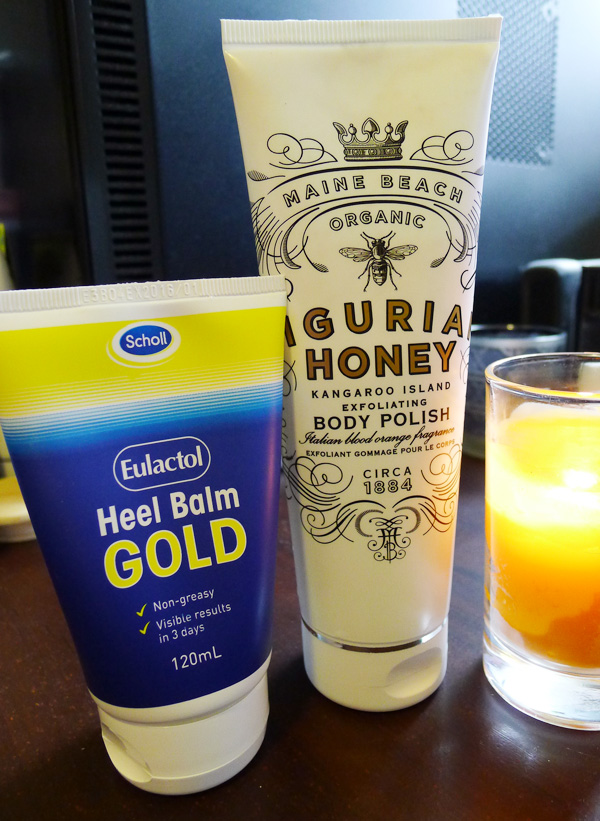 3. Slather 'em up!
Next I use a heavy duty foot cream. A lot of brands do foot creams but if you're looking for a good, heavy duty one, you've got to get it from brands that just do shoes because they seem to have the best ones, in my opinion. My favourite is Scholl's Eulactol Heel Balm Gold. I've lost count how many tubes of this I've purchased and used. They also sell the regular Heel Balms but if you want a fast-acting one, I recommend you go for the Gold.
4. Now cover and let 'em soak in the juices
I always apply heel balm before bed and what better way to seal in the "juices" than wear a pair of socks to bed. I know what you're thinking: geez, it's blazing hot in summer, how on earth can you even suggest wearing fluffy socks to bed?! I know what you mean and for the longest time, I couldn't even entertain the thought of wearing bloody fluffy socks to bed in SUMMER. That was until I stumbled upon Ecotools' Sustainable Moisture Socks.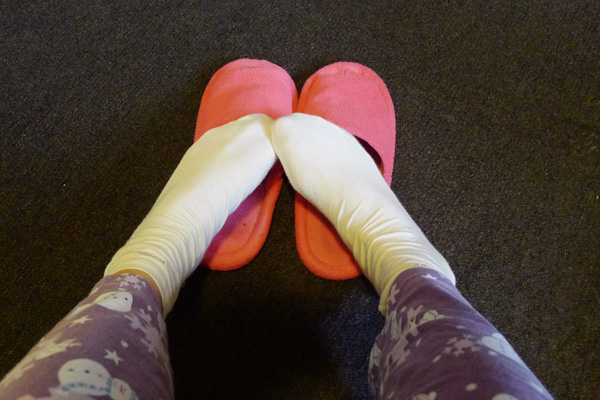 It's a very light and breathable pair of socks that you wear to bed. It's so light that I often forget I have it on! The next morning, hello smooth and soft heels! The only problem I have with these socks is that because they're so thin and light, they don't last long. I've only worn a pair a few times and I already spotted a tiny hole. But they work so well that I repurchased another pair as backup. Another problem is, this pair of socks is very difficult to find at Priceline stores. I've not been to any stores that stock Ecotools that have this. I purchased mine from The Beauty Office.
There you have it, my tips for keeping your feet summer and sandals-ready! I'll practically be living in my Ipanemas and Crocs (thongs, not clogs. Give me some credit, please 😛 ) all summer so I'll have to keep my heels in tip top shape. Or else that man in the house will whinge about 'em scratchy feet again. Jerk.
How do you keep your heels in tip-top condition?
Note: Products marked with * were sent for editorial consideration.