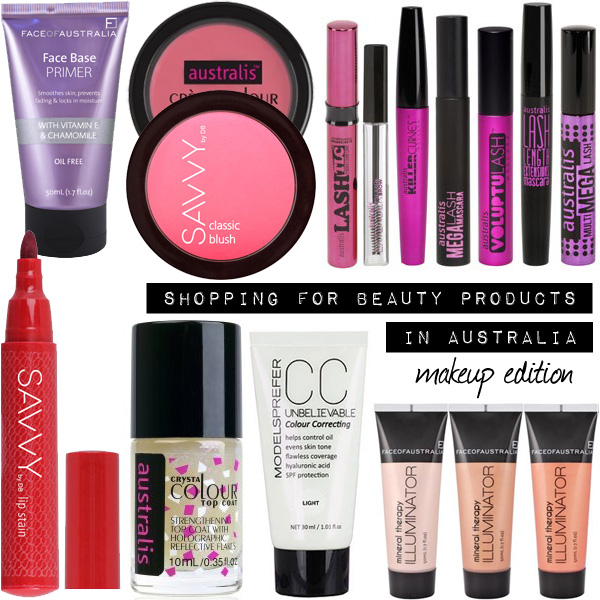 Following up on my first post on shopping for skincare products in Australia, I thought I'd do a part 2 today and that's on makeup.
One thing I love about makeup by Australian brands is that compared to skincare, good Aussie makeup can actually be a lot more affordable. I'm not sure if this is a little known fact or if it's worldwide knowledge but drugstore brands like Revlon, L'Oreal, Physician's Formula, Almay, Covergirl and even Maybelline are actually a lot more expensive in Australia compared to the US and Asia. Most of them have at least a 100% markup in price which is why if you're visiting Australia and looking to buy makeup, I wouldn't recommend you get those brands here.
By all means go check them out and if you like the products and are happy to get them, go for it! If not, there are plenty of good and affordable Australian makeup for you to check out too.
Here are some of the brands and products I'd recommend you check out in no particular order.
Face of Australia
I have to say, Face of Australia probably is one of the very few Australian makeup brands that are so darn affordable AND they're good. Usually you just get one or the other. I was lucky to try out a lot of their products and have purchased a number of replacements myself.
Most of their good stuff are actually a tad bulky so if you're planning to visit Australia and buy Australian beauty products, come with light luggage!
Their eye makeup remover is, hands down, the best I've ever used (even better than the popular Bioderma's Crealine H20 or Lancome Bi-Facil makeup remover). I'm currently on my 3rd or 4th bottle. Their Face Base primer is comparable to Napoleon Perdis' Autopilot Primer (do a sneaky and check out their ingredients side by side. You're welcome. ;)).
Face of Australia is available at Priceline, Big W and Kmart.
My top picks: Gentle Makeup remover, Face Base Primer (not the 3-in-1), Mineral Therapy Liquid Foundation, Lip Crayons, nail polish (surprisingly good quality), Mineral Therapy Illuminators, Budgeproof Eyeshadows (these are supposed to be limited edition items but you may still be able to see some of them in store. The Poison Ivy is absolutely stunning.)
Australis
Australis has been around for 25 years and believe it or not, there's nothing over AU$20.
It's quite easily overlooked because, like Face of Australia, their shelves in store are almost always dark and placed towards the end of the makeup brands at Priceline pharmacies due to budget constraints. It's a pity because it has pretty good makeup products too.
One of their mascaras is my Holy Grail of mascaras (the Voluptulash. Lengthens, volumises and doesn't budge or smudge). Their blushes are pretty (especially the Creme Colour) and their All Over Face and Body Tint is quite similar to MAC's Face and Body Foundation. Their Colour Inject lipsticks are gorgeous. They also have a silica finishing powder that is similar to Make Up For Ever's.
Australis is available at Priceline, Big W and Kmart.
My top picks: Mascaras (can't go wrong with any of them, although I still do highly recommend the Voluptulash), Creme Colour for Cheeks & Lips, Crystal Colour Top Coat (beautiful flakies for the nails), Intensifeye eyeshadows. If you don't mind the funny-in-your-hands Curve Liquid Eyeliner, this stays on your lids and doesn't budge at all.
Chi Chi
A very trendy makeup brand. It's easy to be overwhelmed by the amount of colours they have (especially a lot of hot pink packaging) in their makeup range. It's not surprising to assume this brand is catered only to the younger generation because of that.
On the other hand, because of their fantastic range of colours, you can do a crazy amount of looks with their makeup and they're actually not very expensive.
You'll notice that they have a range of eyeshadow palettes that look suspiciously like Urban Decay's NAKED palettes. Even though they do have a Nude palette (seriously, first glance, you'd think it's one of 'em NAKED palettes), they also have palettes for Bronzes, Bases, Oasis, Rich Gems and more. I tried the Rich Gems out and while the eyeshadows are not as creamy as Urban Decay's, they pack a punch in colour payoff.
Chi Chi is available at MYER, Target and Gloss.
My top picks: The eyeshadow palettes and lip products (especially the lip glosses). The nail polishes are a bit of a hit and miss in terms of quality (still, great colours though). They're doing very good gift sets at the moment; there's even a gift set that comes in a gorgeous matte pink-purple train case!
Savvy by DB
I walk past Savvy by DB often when I'm at Priceline. I don't know why it took me so long to try out their makeup because they're actually pretty good! I picked up their Lip Stain and … oh. Em. Gee. I'll just say this now and it's a big claim, but this seriously is the best lip stain I've ever used. I'll have to review this soon because you have to get your hands on them, it's that good.
The powder products are decent. The blush range is quite paltry but the quality is there. Not a fan of their Mosaic Jumbo pressed powders though.
My top picks: Lip Stain (if you only get one item from the brand, get this one. Okay I've sung enough praises about it now :P), the Classic Blush in Petal.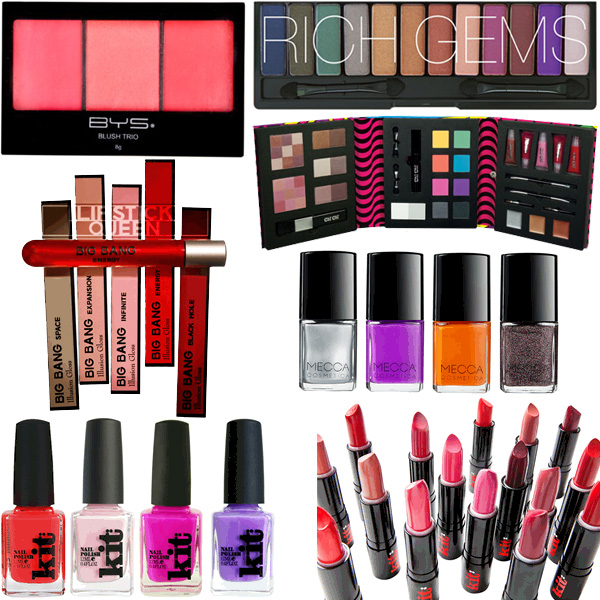 BYS Cosmetics
This brand is easily overlooked because 1) it looks quite cheap, 2) the items ARE cheap and 3) there are a lot of hits and misses. Sadly, you do get more misses than hits but when it's a hit, it's a really good one.
I wouldn't really recommend the eyeshadows because they can be quite gritty. I haven't tried the lipsticks, so I'm not going to comment on them. But I've tried some of their products and have found a couple of very good ones.
BYS is available at Kmart, The Reject Shop, Gloss, Bardot and Glassons.
My top picks: Blush (whether it's their single blush, duos or best of all, the trios. If you see the BYS blush trio, I highly recommend them. Gorgeous and highly pigmented stuff) and nail polish (myriad of colours and styles for nail art).
Models Prefer
Models Prefer is an in-house brand by Priceline pharmacies in Australia. This means that they are exclusive to Priceline and you can only get them at their pharmacies.
It's another brand that is a bit of a hit and miss. It's funny because the makeup stand at Priceline for Models Prefer actually look pretty impressive (especially the one at Chadstone – very Sephora-ish) but some of their makeup products are pretty meh.
Having said that, their range is very wide, going from skincare, makeup, fragrances to nail polish, accessories, makeup bags, hair tools and even makeup storage. I particularly like their acrylic makeup storage and have one of their makeup caddies on my dresser.
I did stumble upon some goodies by Models Prefer and one of them is their CC creams. Good stuff. Their makeup tools (makeup brushes, sponges, etc) are fun to use because they come in a variety of bright colours.
My top picks: the CC Cream, nail polish (I have one that is similar to OPI's Russian Navy but it actually looks better), acrylic makeup storage, gift sets (they're doing very cute gift sets at the moment).
Kit Cosmetics
I love Kit, heck, even more than I love Mecca Cosmetica in Australia. The store is often colourful, and the staff friendly and fun. It's very difficult to walk into Kit Cosmetics and not come out with something because the people are so nice!
Kit Cosmetics stocks a lot of international brands like Mario Badescu, Too Faced, Bare Minerals, Origins, Smashbox, Soap and Glory, Korres, etc but today I'll be recommending the in-house brand itself, which is Kit. Oh and not to forget, Lipstick Queen!
Kit Cosmetics has a lot of colourful beauty tools and their nail polish collection is impressive. My first foray into Kit Cosmetics was their nail polishes which I bought a lot of when I first moved to Australia. Their lipsticks are good too. I once wanted to get a particular shade of tangerine from MAC but as their service was so poor (typical), I left, went to Kit Cosmetics and bought a similar shade instead. It ended up looking even better than MAC's.
If you're a lip colour lover, then you cannot go past Lipstick Queen. I have the Medieval Tinted Treatment and their classic Saints and Sinners lipsticks, which are amazing. My next ones to try are the Butterfly Ball Shimmer Treatment Lipsticks.
Kit Cosmetics is available at standalone stores, MYER or Mecca Cosmetica.
My top picks: Kit Cosmetics lipsticks, nail polish, body care products (the Pomegranate and Pink Grapefruit range smells so good!), any of the Lipstick Queen lip products. Check out the Big Bang Theory Illusion Gloss that look like lipgloss in test tubes. They're very cute.
Mecca Cosmetica
I can't talk about Kit Cosmetics without mentioning Mecca Cosmetica too. Mecca is Australia's version of Sephora. You'll notice that they stock a lot of boutique brands that you don't necessarily see at departmental stores, e.g. Dyptique, Chantecaille, Darphin, Dr Brandt, Ellis Faas, Hourglass, Kate Somerville, Sunday Riley, Radical Skincare and so on.
Mecca Cosmetica stocks mainly international brands which, to be honest, are quite overpriced in Australia (although to their credit, they're working on lowering prices on many of their items).
I would still recommend that you check out the store when you're here because they do have a lot of lovely products. Mecca Cosmetica has their own brand too with the same name. I've tried their nail polishes and To Save Face sunscreen and they're good.
Another brand I recommend you check out at Mecca is Aurora Spa Rituals, which is also an Australian one. Technically, they're not makeup but hey, since you're already there, why not check them out too, eh? I adore their body care products, especially the body creams.
My Top Picks: Mecca Cosmetic To Save Face SPF30+, Mecca Cosmetica nail polishes, Aurora Spa Rituals body creams, Mecca Cosmetica face makeup brushes (very soft), the boutique fragrances e.g. Dyptique, Byredo Parfums, Serge Lutens and Editions de Parfums by Frédéric Malle.
I hope you've enjoyed this 2-part series of shopping for beauty products in Australia. I'm sure that there are plenty of Australian makeup brands that I haven't mentioned, so if I missed out on any of your favourites, please let us know in the comments below.
Here's wishing you safe journey and have a fabulous time in Australia. 😀
Do share with us what your favourite Australian makeup brands and products are that you'd recommend to people visiting Australia!