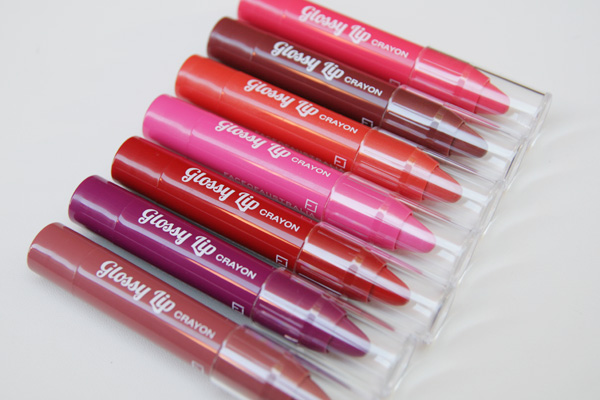 If you live in Australia, you're in for a treat because Face of Australia recently launched an entire line of lip crayons. And they are good!
When they first launched a trio of sheer lip crayons a while back, I wasn't that big of a fan. I liked it at first but in the end got tired of how much lip product I had to use because as the name would have it, it goes on sheer. When the Glossy Lip Crayons were launched, I picked up the Raspberry Coulis from Priceline and I was hooked.
Whaddyaknow, a week later, a parcel was delivered by Face of Australia and in there were all of the colours of the lip crayons. I won't deny that I did a little victory dance right there and then. 😛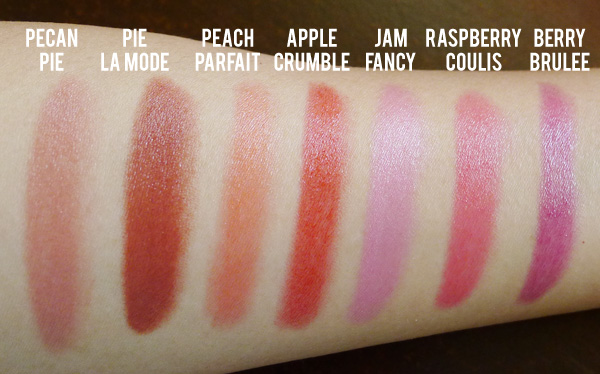 There are 7 shades in the collection:
Pecan Pie: Cool-toned nude, sateen finish
Pie La Mode: Reddish brown, pearlescent finish
Peach Parfait: Coral with a hint of gold shimmer, pearlescent finish
Jam Fancy: Candyfloss pink, pearlescent finish
Raspberry Coulis: Bright coral-pink, sateen finish
Berry Brulee: Mauve, sateen finish (it's actually darker in real life than shown in the photo)
Apple Crumble: Warm red, sateen finish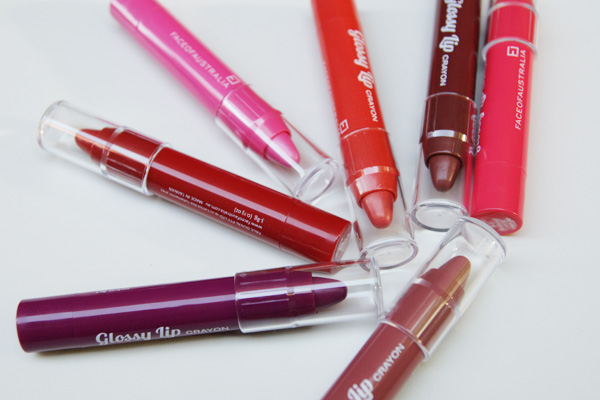 The lip crayons glide on very smoothly over the lips. They're not drying on the lips; I often find that I don't need to apply lip balm prior to the lip crayons. And boy, are they pigmented!
In terms of the texture, I prefer them to Clinique's Chubby Sticks. They're creamier and easier to apply (I find the Chubby Sticks slightly dry, which is why I always need lip balm first). As for staying power, the stronger coloured ones lasts longer on the lips, e.g. the Pie La Mode, Berry Brulee and Apple Crumble can last for longer hours compared to the rest.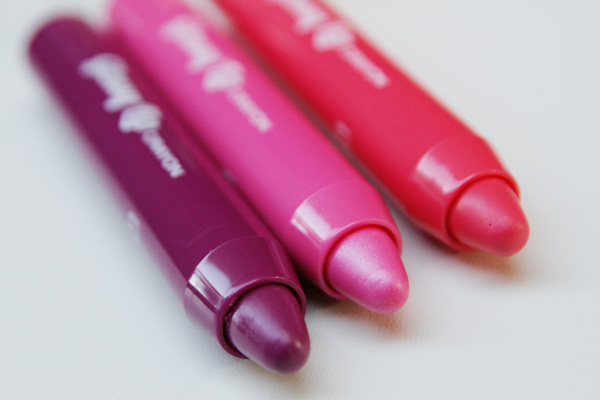 L-R: Berry Brulee, Jam Fancy, Raspberry Coulis
Unfortunately, there are a couple of things I don't like about the lip crayons. Firstly, I'm not a fan of the scent and taste. The description mentions that the lip crayons are infused with a vanilla scent. While it does smell a tad like vanilla, it's very artificial and not very pleasant. The fragrance and taste were quite waxy.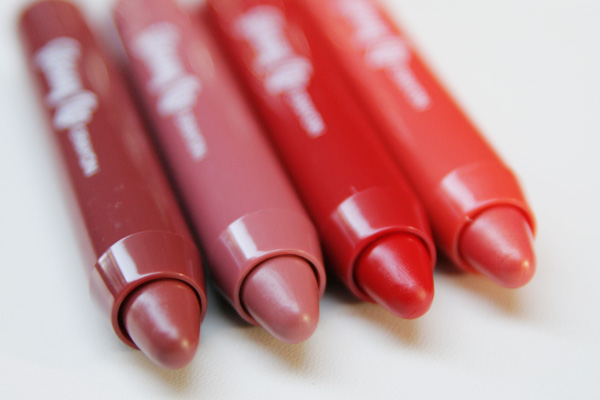 L-R: Pie La Mode, Pecan Pie, Apple Crumble, Peach Parfait
Secondly, the press release mentioned that these lip crayons are limited edition. To be honest, the brand has been coming up with so many limited edition products the last couple of years compared to permanent products that it baffles me. These lip crayons are good (despite the taste and scent) and I feel that they should be kept in the permanent collection.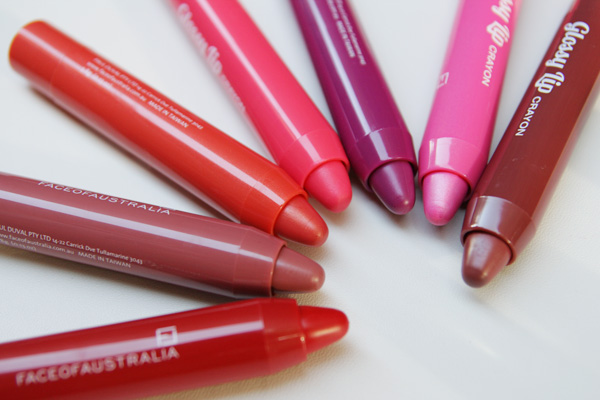 All in all, these lip crayons are definitely worth checking out. My favourite shades are the Raspberry Coulis (that was the first one I purchased), Berry Brulee and Apple Crumble. Such beautiful shades! Surprisingly, I find myself drawn to Pecan Pie too, when I'm usually not a fan of nude lip colours. It's not so nude that it makes my lips look like death. 😛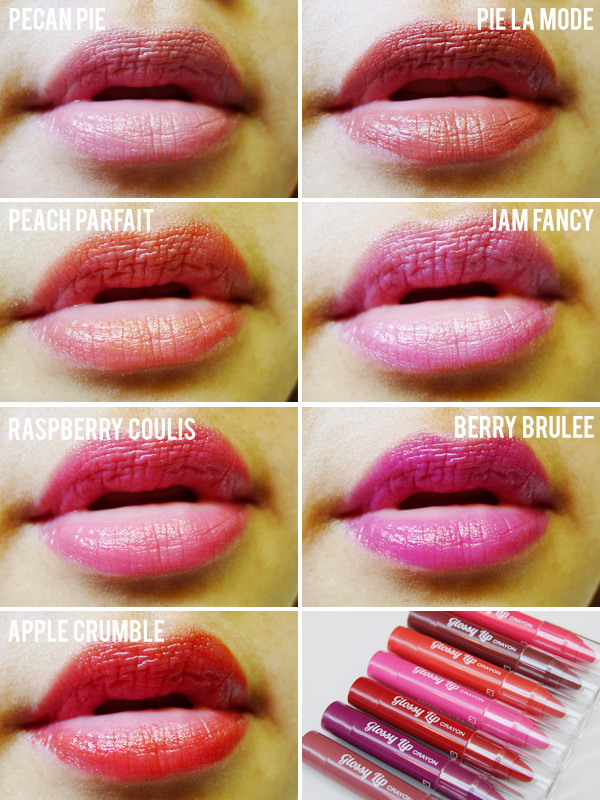 Oh, and have I mentioned the price? Each one is available at the low, low price of AU$4.95. For something that is more than comparable to the popular Chubby Sticks, say it with me … BARGAIN! 😛
What I like about them: Highly pigmented lip crayons (most brands usually make them quite sheer), creamy texture, moisturising, easy to apply.
What I do not like about them: Waxy taste and scent, limited edition.
Have you checked these Glossy Lip Crayons out yet? What do you think? Do you prefer them to the Sheer Lip Crayons or vice versa?
Note: These lip products were provided for editorial consideration.