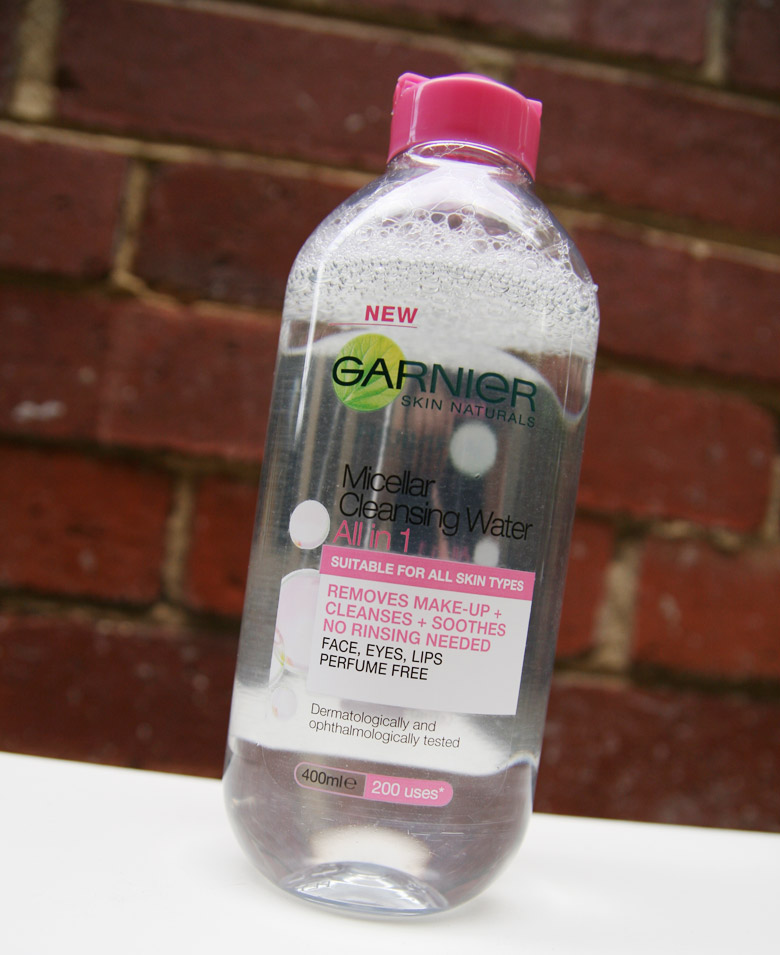 I'm sure you've heard a great deal about Bioderma's Crealine H20. It's the makeup remover of choice by makeup artists and it's so gentle on the skin that it won't sting the eyes, is fantastic on sensitive skin, will remove your makeup in a jiffy, refresh your skin AND you don't even have to rinse your face after using it (even though I still do a very quick one). It's a great product and is one that sits proudly on my bathroom shelf.
I've tried other micellar waters after using the Crealine H20 and sadly, they didn't deliver as well as the Bioderma did. That was until I stumbled upon Garnier's Micellar Cleansing Water. Oh boy, does Bioderma have some competition on her hands or what.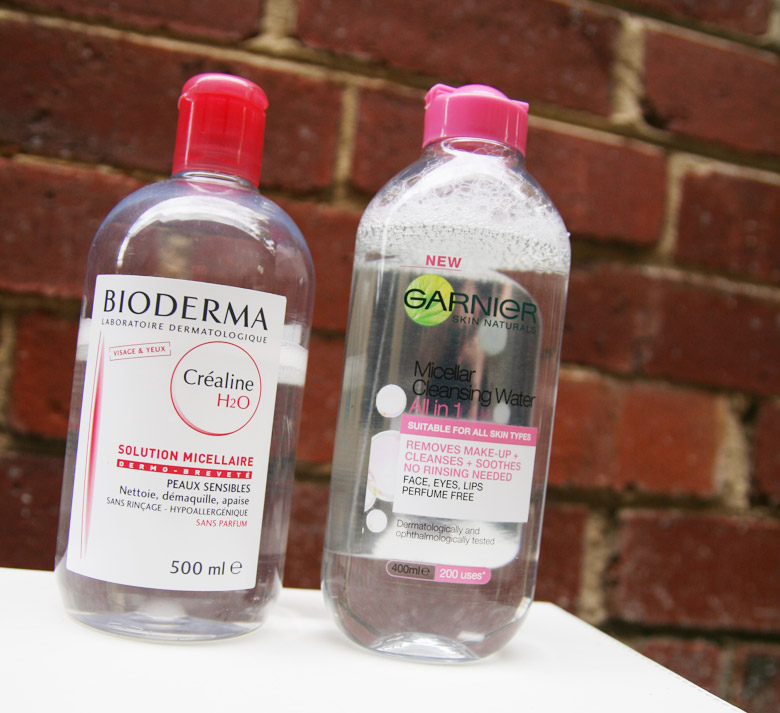 Straight up, I couldn't tell any physical difference between the two. Some people noted that the Garnier Micellar Water has a very subtle soap-like consistency whereas the Bioderma is just like water. As for me, I didn't notice that soapy consistency. It cleansed and refreshed my skin exactly like the Crealine H20. Just like the Bioderma, it doesn't contain any fragrance. It didn't sting my skin nor break me out. I've used it to remove eye makeup, with and without contact lenses, and it didn't irritate my eyes at all.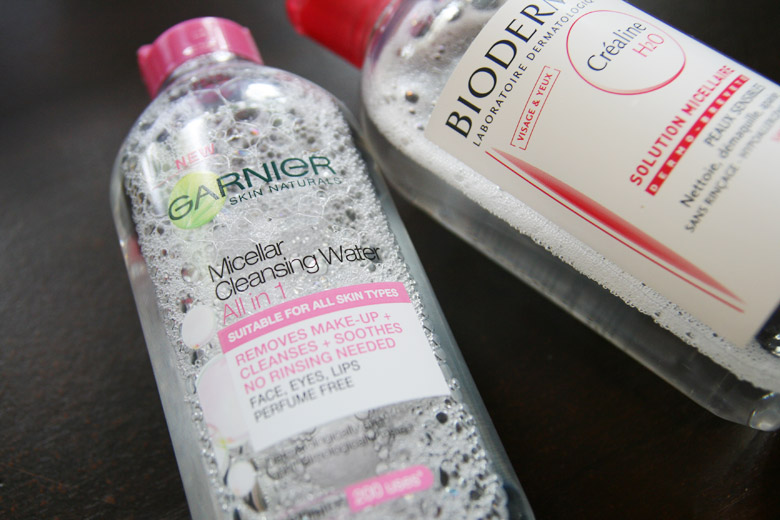 Like the Bioderma, it doesn't remove waterproof eye makeup well. I wouldn't bother using this to remove waterproof eyeliner or mascara because you'll be rubbing that delicate skin unnecessarily when an oil-based 2-phase makeup remover can do a much better job. But other than that, it takes off face and lip makeup well.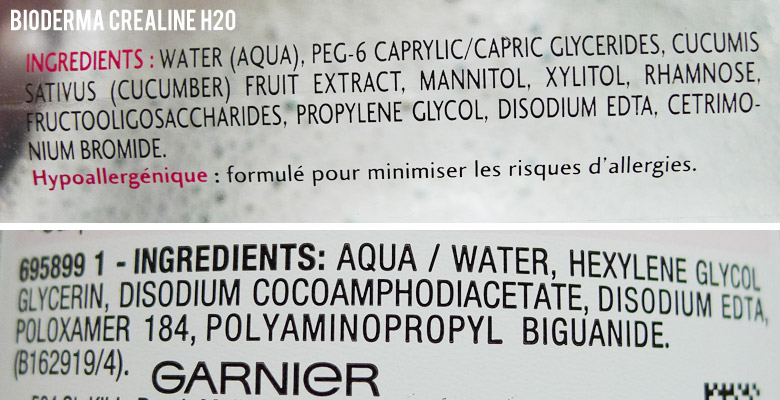 If you take a look at both list of ingredients, you'll see that the Garnier Micellar Water actually contains less ingredients compared to the Bioderma and it still does pretty much the same job. One thing that I've noticed is that if you shake both bottles at the same time, the bubbles in the Crealine H20 take longer to settle compared to the Garnier Micellar Water.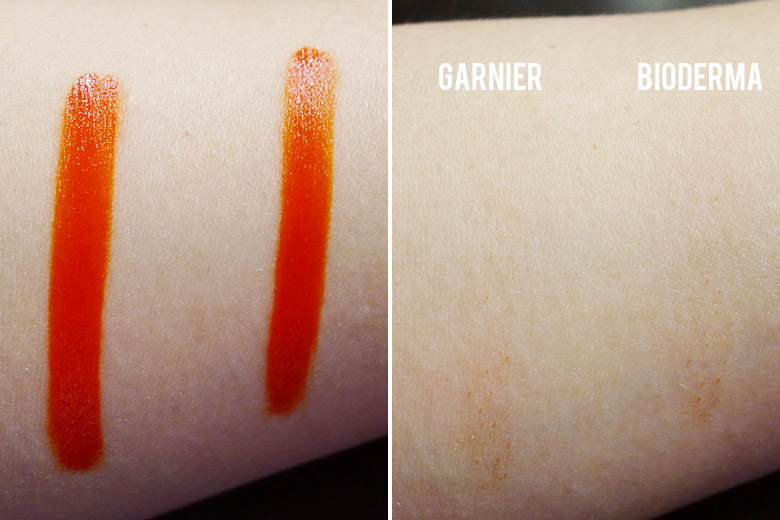 Here comes the important question: is Garnier's Micellar Water a replacement of the Bioderma Crealine H20? For me, it can be. They're so similar to each other yet the price point of the Garnier Micellar Water is so much better than the Crealine H20 (half the price. If it's on sale, then it can be 1/3 the price of the Bioderma). Having said that, I do love my Bioderma and have bottles of it stocked up. So what I do is that I use the Bioderma on my face and the Garnier one to remove my makeup swatches on my hand/arm. I used to use the Crealine H20 to remove makeup swatches and many a time, I find it's such a waste on my hand/arm because it's expensive in Australia. When I'm finally done with all of my stocked up Bioderma, I may just stick to the Garnier Micellar Water after all.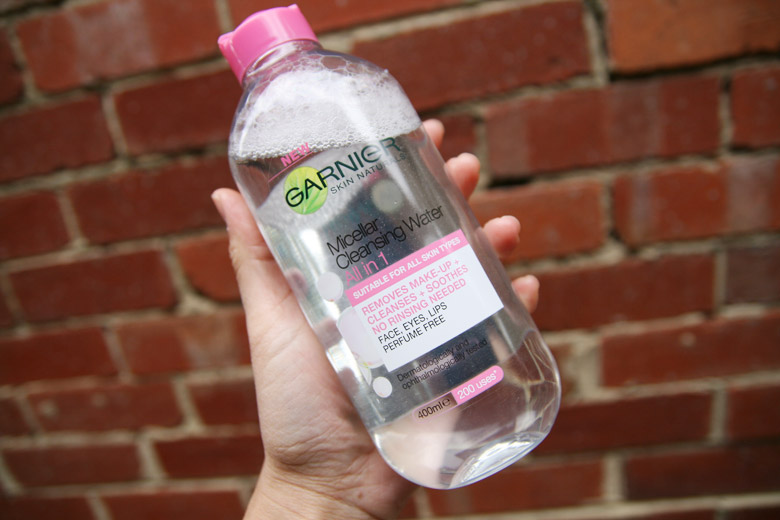 Garnier's Micellar Cleansing Water retails at AU$11.99 for 400ml and is available at Priceline, Target, Big W, Kmart, major supermarkets and selected pharmacies nationally. At the time of writing, Priceline is having a 20% discount on the micellar water so if you hurry, you'll be able to snap this up for under a tenner. That was how I got this! 🙂
What I like about it: Incredibly similar to the popular Bioderma Crealine H20, gentle on my skin and eyes, a very good price for 400ml of product.
What I do not like about it: The Crealine H20 comes sealed but the Garnier Micellar Water does not. Imagine the number of people who may have opened the lid, sniffed the bottle and closed the lid. This is a big minus point. Garnier, please seal the bottles properly. It may be dermatologically and opthalmologically tested but it's not human sniff-proof.
Have you tried the Garnier Micellar Cleansing Water? If you've also tried the Bioderma Crealine H20, how do you think they compare to each other? Which one do you prefer?