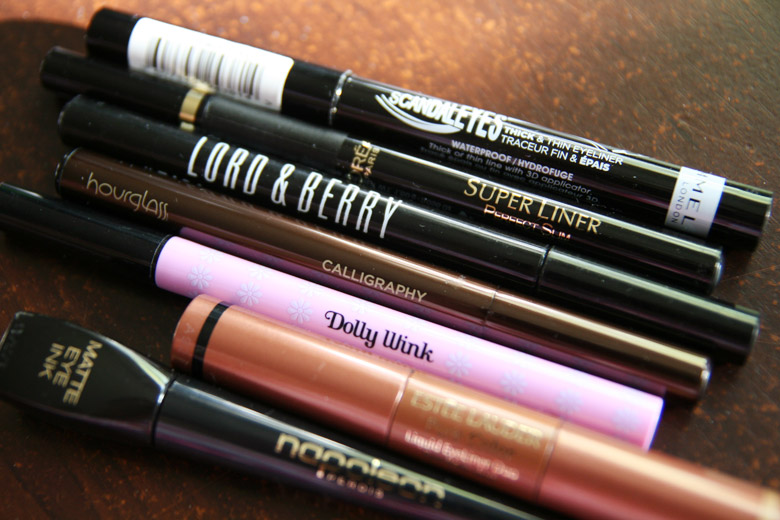 A couple of years ago, I made it part of my new year resolutions that I will master the application of liquid eyeliners. Liquid eyeliners have always been my downfall; I love it on other ladies but I couldn't seem to get it right without 1) poking the damn things in my eyes or 2) drawing crooked lines on my lashlines. It was frustrating to say the least and I was determined to get the application at least decent once and for all.
Two years later, after lots of teary moments from getting poked in the eye, removal with eye makeup remover, try again, getting poked in the eye again, etc, I finally got it right. It's not as smooth and precise as most ladies who wear liquid eyeliners regularly, but it's at least pretty decent. After sifting out the lemons from the lot, these are the liquid eyeliners I'd go for and are my top picks.
I can safely say that these are eye-friendly and not poke-worthy. 😀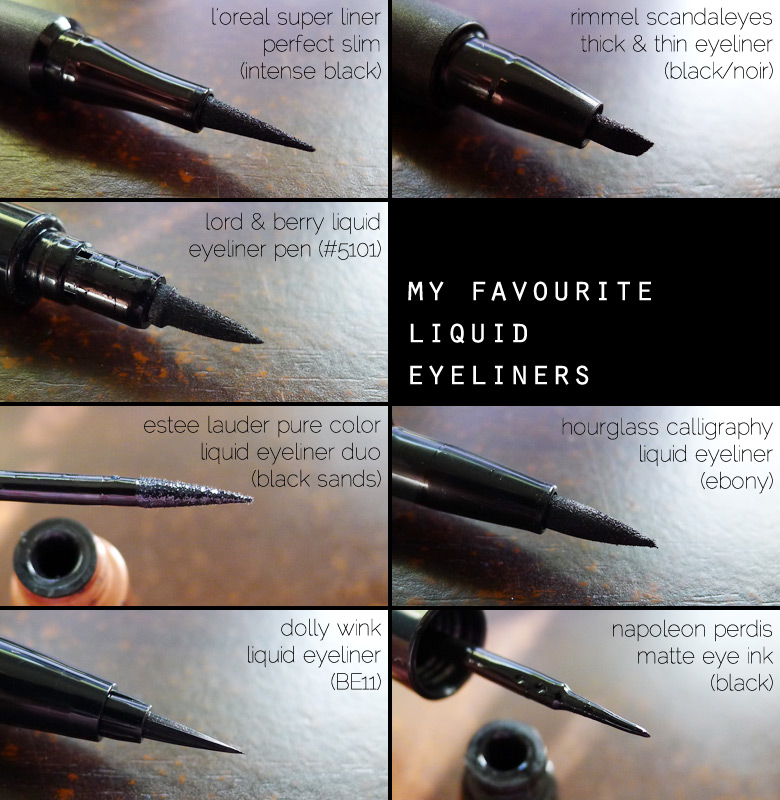 L'Oreal Super Liner Perfect Slim*
I thought this was quite interesting because it has such a long and skinny felt tip. Yet, its long and skinny-ness makes application very easy. I use the side of felt pen to glide along my lash line and the tip to create the wing/flick at the outer corners. It doesn't say anything about it being waterproof on the pen but you'll be hard-pressed to get rid of it that easily even with a makeup remover.
Estee Lauder Pure Color Eyeliner Duo*
I wrote a quick review on this eyeliner a couple of months ago but it's still one of my fast favourites. Even though it takes some time to dry, the intensity and depth of the liquid eyeliner didn't just define the eyes, it made them pop. When this is removed with an eye makeup remover, it flakes off like tubing mascara.
Hourglass Calligraphy Liquid Eyeliner
This was the first liquid eyeliner I bought after dabbling in a few budget eyeliners prior to this collection. I tried it out at the back of my hand at Mecca Cosmetica, liked it, bought it, tried it out at home and loved it. It's not as intense as most of the eyeliners but it's incredibly easy to use. I've not encountered a single mistake when using this eyeliner and for Ms Shaky Hands here, it's saying a lot. This is now my second pen since the older one has expired.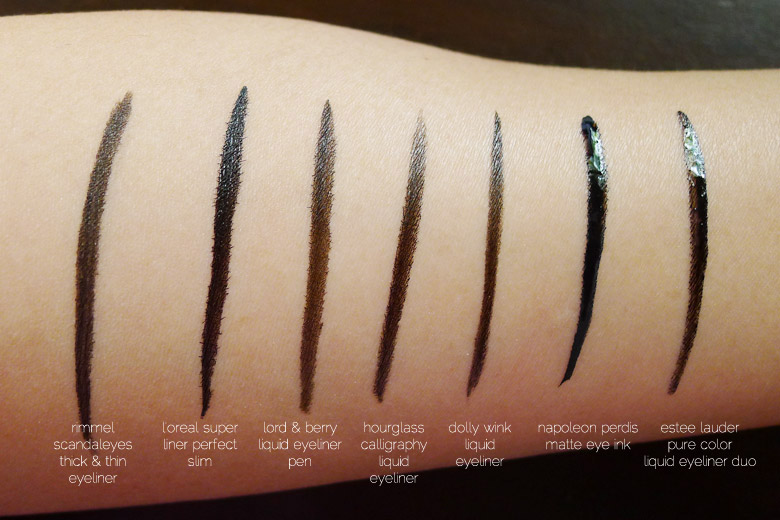 Lord & Berry Liquid Eyeliner Pen*
I was given this at the Beauty Blogger's Utopia a couple of years ago. At that time, I had no idea about Lord & Berry cosmetics. I still haven't tried any other makeup from Lord & Berry apart from this eyeliner and I'll still go for this eyeliner because it's very easy to use. This is incredibly similar to the Hourglass Calligraphy, from the intensity of the liquid eyeliner to the hard felt tip. Sadly, I chucked the pen after writing this post because as you can tell, it's long expired.
Dolly Wink Liquid Eyeliner
I got this in Japan. I've heard great things about Dolly Wink liquid eyeliners and thought it was cheap in Japan, why not try it out? This eyeliner has the softest tip of the lot and while I usually prefer harder tips, this makes it easy to draw very thin lines.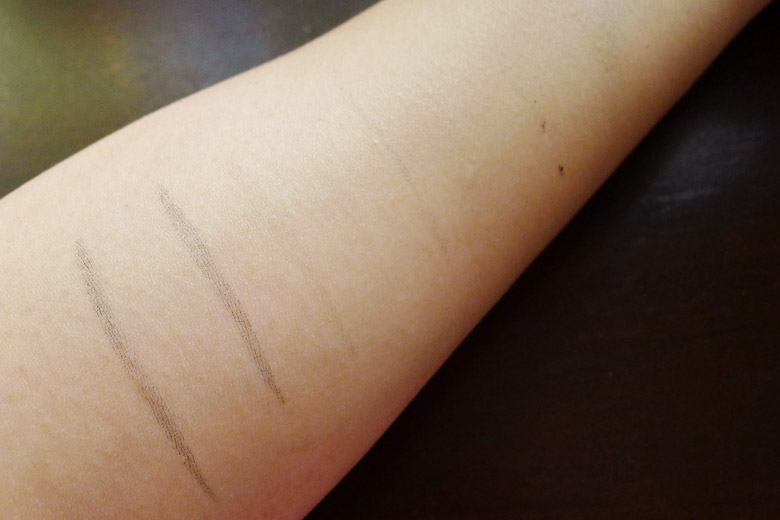 The Rimmel and L'Oreal liquid eyeliner are still standing strong after using a makeup remover!
Napoleon Perdis Matte Eye Ink*
This is very similar to the Estee Lauder liquid eyeliner duo. It applies on the eyes very wet and is very strong in colour too. However, when this dries, it becomes matte (unlike what you see in the photo. Drats, I should have let the eyeliner dry first before snapping the photo. Ooops, my bad!). Even though it doesn't have a pen handle, it's very easy to apply due to its felt-tip applicator.
Rimmel Scandaleyes Thick & Thin Eyeliner
This has got to be my favourite of favourites. It's cheap, has a hard felt tip and the slanted tip makes this pen so easy to use. It's waterproof too so rest assured this will not budge after hours of wear. It even lasts through teary eyes without a single smudge.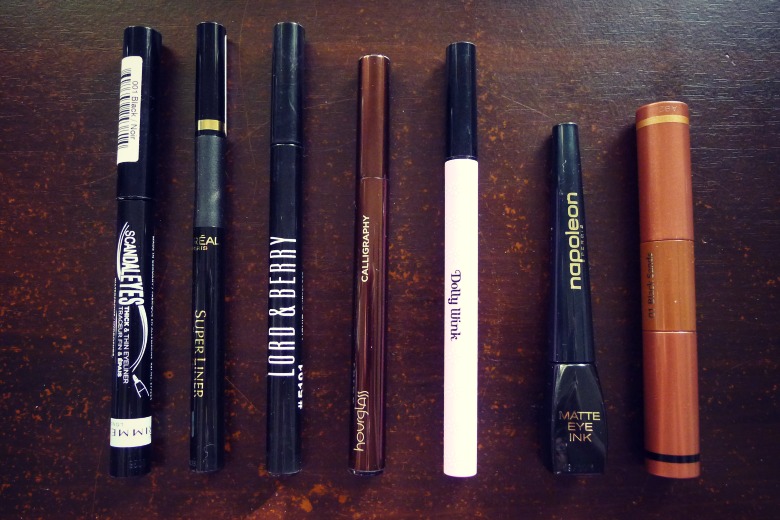 There you have it, my favourite liquid eye liners. I've tried a lot of liquid eyeliners during my "practice" phase and these are the ones that stood out. The ones with harder felt tips like Rimmel, Hourglass, Lord & Berry and L'Oreal are the ones that I usually go for because these are hard to make mistakes with. If I'm to recommend just one for your to check out, then I'd suggest the Rimmel Scandaleyes. It's a great waterproof liquid eyeliner, affordable and very easy to use.
Have you tried any of these liquid eyeliners before? Do you wear liquid eyeliners? What's your favourite? I'd love to discover more!
Disclaimer: Products marked with * were provided for editorial consideration.