THE GIVEAWAY IS NOW CLOSED. THANK YOU FOR PARTICIPATING!
I hope you've enjoyed the series of giveaways I've been doing in May so far. The response has been really good and it's fun reading all of your entries. We've come to the final blog birthday giveaway and I've saved the best for last.
Before I get to the giveaway, I'd just like to say how much I appreciate each and everyone of you who took the time to read my blog. In fact, I don't think I even have the words to describe how much all of you mean to me. A blog doesn't grow without its readers and you have helped it (and me) grow so much over the years. Seven years. Lucky seven! Who knew it would last this long, eh?
I wish I can do an Oprah and say to all of you "You get a car! And you get a car! And YOU get a car!" but sadly I can't (also mainly because even yours truly does not have a car 😛 ). Who knows, maybe one day, eh? 😉
This is just a small way of my showing my appreciation to you. Thank you. From the bottom of my heart.
Oh dear, I'm getting a bit teary here. Right, let's move on to happier things and that's the giveaway! *drumroll*.
One lucky reader will be able to win this:
Here we have a SKII eyeshadow duo, SKII blush duo, SKII lipstick and a SKII Facial Treatment Clear Lotion in a white SKII cosmetics pouch. This was originally a gift-with-purchase I received when I purchased a few items from SKII but really, they're too good not to share so instead of my keeping it, one lucky reader will hopefully get to enjoy them instead. Oh wait, that's not all!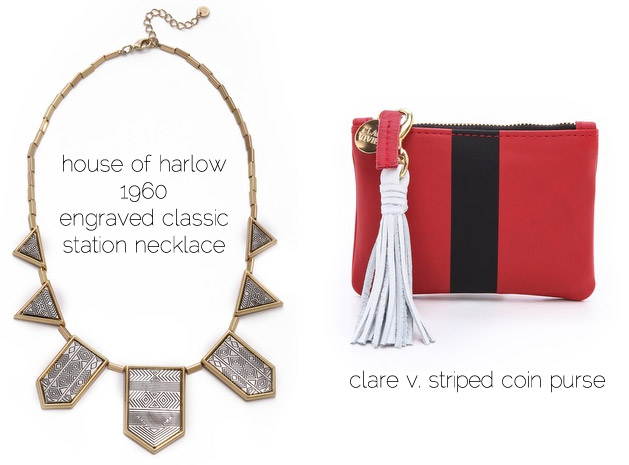 That lucky reader will also win a House of Harlow 1960 engraved classic station necklace and a Clare V. striped coin purse. I bought these gorgeous items from Shopbop and are still waiting for these items to be delivered at the time of writing hence the use of stock photos. My favourite is the necklace. I have a replica of the necklace from Lovisa but it doesn't even compare to the real deal.
But wait! There's more!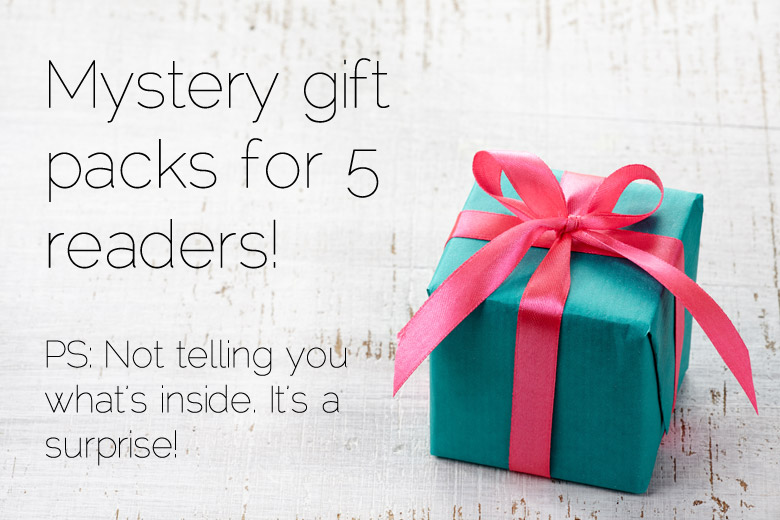 © baibaz
Even though I can't do an Oprah, I can do mini prize packs so another 5 lucky readers will win a mystery gift pack from me. I'm not going to tell you what's in the gift packs but I think you'll like it. I hope you do.
So that's one grand prize and 5 mystery gift packs (I don't like the term 'consolation' prizes) for a total of 6 winners! You get a prize! And YOU get a prize! 😛
HOW TO ENTER:
Simply leave a comment below answering the following questions:
1. What country you're from (this giveaway is open internationally)
2. What's your hidden talent? What is it that you can do that people think you can't? (me, I can raise one eyebrow. Not a big deal but Tim can't and it drives him nuts).
TERMS & CONDITIONS:
1. This contest is open to Australian and international readers.
2. The total value of the prize in the contest is approximately AU$885.00.
3. Anyone can enter the competition regardless of whether you've won anything here before.
4. Only one comment per contestant will be accepted.
5. Please keep it clean and spam-free.
6. The closing date for this giveaway is 12 June 2014.
7. Six (6) winner will be selected at random. The winners of the giveaway will be announced in the Competition/Giveaways page. Winners will also be notified via email.
8. The winners will be required to submit his/her name and contact address to Beautyholics Anonymous, who will be sending the prize out (please read Beautyholics Anonymous' privacy statement for more information).
9. The winner must respond to the notification email to claim the prize within 5 working days.
10. Beautyholics Anonymous reserves the right to change the terms of this giveaway at any time.
Good luck! 😀