THE GIVEAWAY IS NOW CLOSED. THANK YOU FOR PARTICIPATING!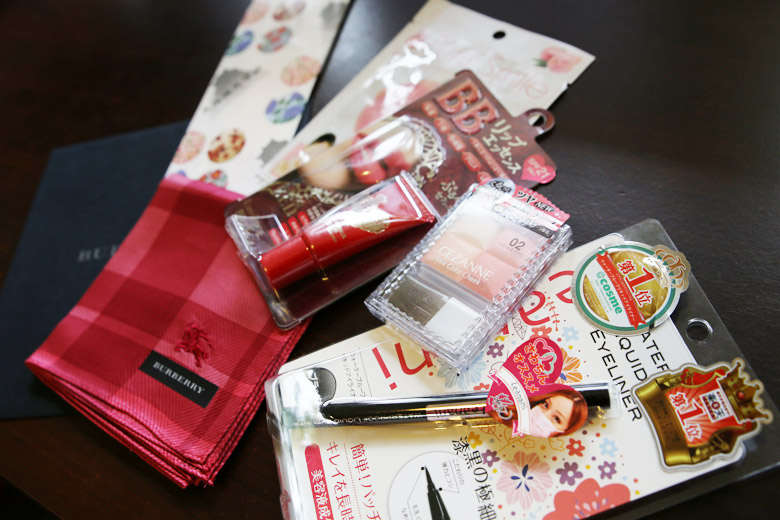 Happy weekend fellow beautyholics!
Now even though I got back from my Japanese holiday last month, I wouldn't just come back with a shopping haul for myself. I got something for you too!
Just a little omiyage (souvenir) from me too you as a quick thank you for being such awesome readers. Nothing too fancy but I still hope you like it nevertheless.
There'll be two prizes, one for an Australian reader and the other for an international reader. Not all of the prizes will be the same so as for who gets what … well, the winners will just have to found out later, won't they? 😉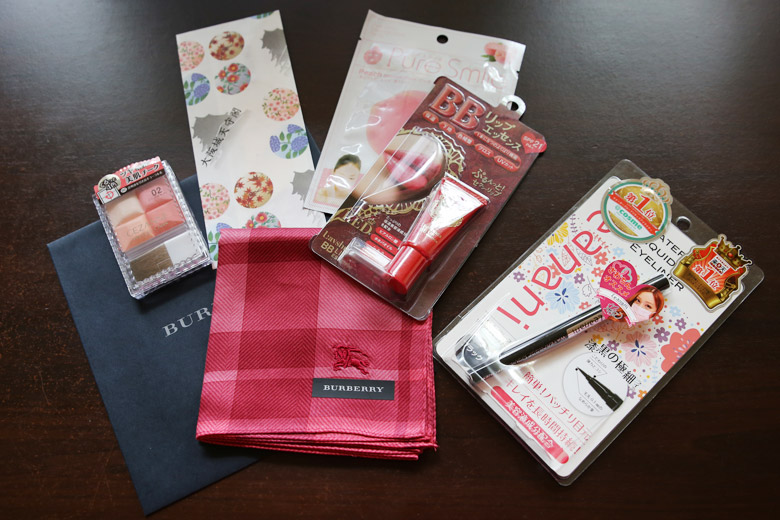 Here's what each reader will win:
A Pure Smile Essence Mask
A Leanani Waterproof Liquid Eyeliner
A Lavshuca BB Lip Essence
A Cezanne Mix Color Cheek Blush
A souvenir from Osaka
A Burberry handkerchief
HOW TO ENTER:
All you have to do is leave a comment below answering the following questions:
1. What country you're from (this giveaway is open internationally)
2. What's your next holiday destination? If a holiday isn't in the books for you at the moment, where would your dream holiday destination be?
Easy peasy!
TERMS & CONDITIONS:
1. This contest is open to Australian and international readers.
2. Anyone can enter the competition regardless of whether you've won anything here before.
3. Only one comment per contestant will be accepted.
4. Please keep it clean and spam-free.
5. The closing date for this giveaway is 15 July 2014.
6. Two (2) winners will be selected at random. The winners of the giveaway will be announced in the Competition/Giveaways page. Winners will also be notified via email.
7. The winners will be required to submit his/her name and contact address to Beautyholics Anonymous, who will be sending the prize out (please read Beautyholics Anonymous' privacy statement for more information).
8. The winner must respond to the notification email to claim the prize within 5 working days.
9. Beautyholics Anonymous reserves the right to change the terms of this giveaway at any time.
Good luck! 😀