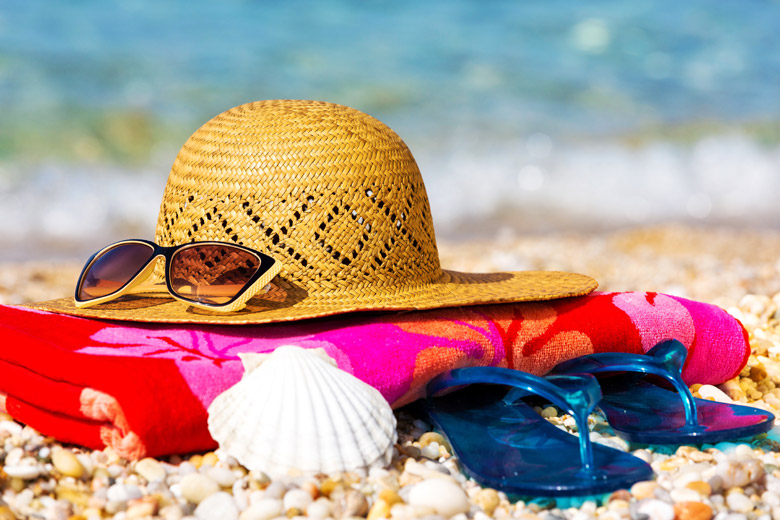 What's the most important item in your skincare routine? Eye cream? Serum? Moisturiser? For me, it isn't any of these. It's sunscreen.
I didn't start wearing sunscreen regularly until I was in my early twenties. I know I should have started a lot earlier but when the only sunscreens I could get were from Banana Boat and Coppertone that didn't only smell bad but were thick and greasy as well, it was hard to jump on the sunscreen bandwagon.
It was a huge relief when Malaysian pharmacies like Watsons and Guardian started selling sunscreen from Japanese brands like Biore and Skin Aqua. Finally, sunscreens that are lightweight, non-greasy, doesn't smell awful and are so easy to use! I like them so much that I don't just use them on my face, I use them on my body as well.
It's better to spend a little more on sunscreen to use all over the body than sticking to only thick body sunscreens that turn me off and not want to use them at all. That's my sunscreen motto!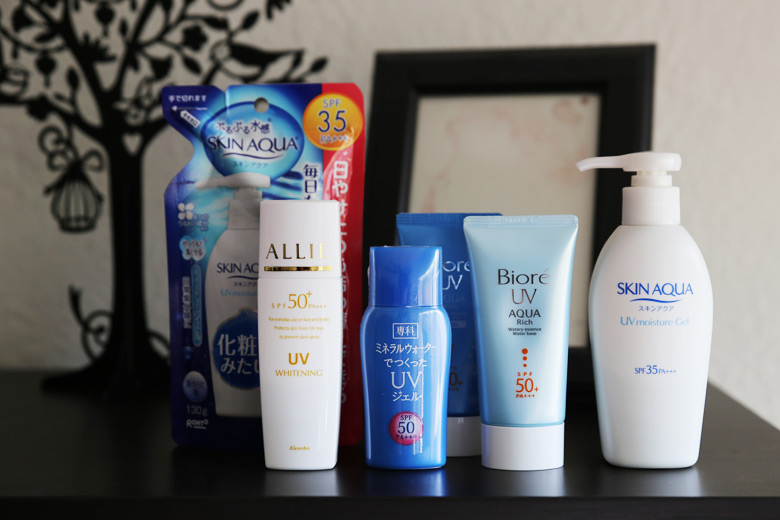 Here are a few of my favourite Japanese sunscreens. I pick these up during my recent trip to Japan, most of which are multiple repurchases over the years. All of them are lightweight and non-greasy. In fact, they're very similar to each other so it really doesn't matter which one you choose. Best of all, they do not have a sunscreen scent (in fact, I've not tried any Japanese sunscreens that smells like sunscreen). Having said that, please bear in mind that these are chemical sunscreens, not physical ones.
Now it will look as though these sunscreens I'm about to show you are all new and unopened. Technically they are but I've used all of them (save for the Biore Aqua Rich Cool) before and these are the ones I've stocked up on in Japan.
Biore UV Aqua Rich Watery Essence Water Base SPF50
This is my favourite sunscreen from Biore. I've tried pretty much all of the sunscreens they have and the one I enjoy using the most is the Biore UV Aqua Rich Watery Essence Water Base SPF50. I love how light it is on my skin and how quickly it dries. When I saw the "cool" version, I quickly picked one up too. Can't tell the difference really. 😛
Kanebo ALLIE UV Whitening SPF50+
The ALLIE sunscreens are slightly pricier than the rest but again, they're very lightweight and doesn't leave any residue behind.
Hada Labo Super Hyaluronic Acid UV Moist Emulsion
There are two versions from the Hada Labo range of sunscreens: the regular sunscreen that comes in a white bottle and the whitening version that comes in a blue bottle. Both of them perform equally well. I didn't notice any difference with the whitening version. I've reviewed the regular version before and I still really like it.
Skin Aqua Moisture Milk Whitening SPF50+
This is also a favourite next to the Biore. I've only seen and purchased the regular-sized bottle but when I saw that Japanese drugstores were stocking the pump bottle version AND there were foil packet refills for the sunscreen, I quickly snapped both up! I can use this on the face and body without any worry about it being thick and greasy. Quite the contrary, in fact!
Shiseido SENKA Mineral Water UV Gel SPF50
This was the only sunscreen I didn't get in Japan. I picked one up in Malaysia last year and Bea kindly brought another one for me when she was here on holiday earlier this year. Again, it's lightweight, non-greasy and effective even on hot and sweaty days.
Shiseido Anessa Perfect UV Sunscreen EX SPF 50+
I didn't buy any of the Anessa sunscreens this time but they were the first Japanese sunscreens I used when I was living in Japan years ago. They're slightly thicker than the rest but still lightweight enough for me to use without any problems. The Anessa sunscreens are the priciest of the lot.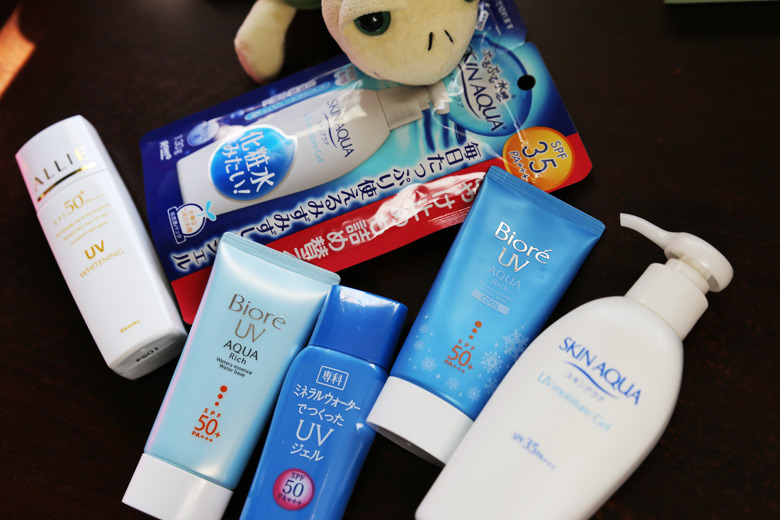 As great as these sunscreens are for me, there's a caveat.
I love Japanese sunscreens, I really do but most of them have one ingredient that can be a deal breaker for many: they contain alcohol. Not every Japanese sunscreen contains alcohol but a lot of them do. E.g. Biore's UV Daily Care Gel SPF30 (the one in the green bottle) contains quite a lot of alcohol even though it feels pretty damn good on the skin. It used to be a deal breaker for me but ever since I moved to Australia and tried most of their sunscreens (e.g. the ones from Cancer Council Australia, Hamilton, Invisible Zinc, etc) and while they're very good, they're still a tad too thick for my liking. It wasn't long before I went back to the Japanese sunscreens. At the very least, they're light, doesn't leave a white cast on the skin, not sticky and doesn't stain furniture if I have them on my legs.
It's a compromise I made to carry on using sunscreen religiously which is why I'm still carrying on Japanese sunscreens. I try my best to get the ones without alcohol or the ones with the least amount of alcohol (unfortunately, at the time of writing, none of these sunscreens that I've mentioned above do). If it's little consolation, it's a good thing that despite the presence of alcohol in the sunscreens, they don't irritate my skin at all nor dry it out. I've not had any negative issues with them at all.
However, if you have sensitive skin or if alcohol is an ingredient that doesn't agree with your skin, then I'd advise checking out the ingredients of the sunscreen first before making a purchase. Like I said, not all Japanese sunscreens have alcohol. Still, if you're unsure, it's better to err on the side of caution and stay away from them.
Where can you get Japanese sunscreens? If they're not easily available where you are, you can try SASA, Imomoko, eBay, Amazon, etc. I usually replenish mine from SASA.com when I've run out. Unfortunately, the prices are quite inflated compared to the original price in Japan but it's not that bad for a good sunscreen.
Have you tried Japanese sunscreens? Do you like them? What's your favourite?
Shop the post!