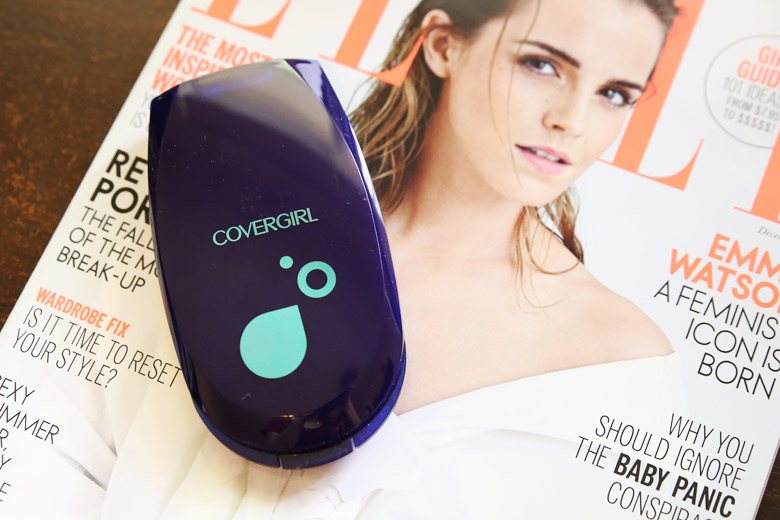 Even though I love me liquid foundations, I'm typically not a fan of compact ones. Y'know, the ones that come in slightly hardened cream in a compact? I've not tried a lot of the compact ones, mind you, but the ones that I've tried were quite thick and gave me far too much coverage that my skin didn't need. It could be due to the lack of skills in application, of course, which is why I usually steer clear of compact cream foundations and just stick to the good ol' liquid ones.
Last month, I reviewed Covergirl's Trublend foundation and reader Sushiroll (love your name!) recommended that I check out Covergirl's Aquasmooth foundation. A week or two later, I discovered that my local Coles were having a 50% off all Covergirl makeup sale and I saw the Aquasmooth compact foundation waaaay at the bottom of the shelf. To be honest, I thought the Aquasmooth foundation would be a liquid one but since it was ten bucks after discount, I thought why not give it a go?
Great recommendation, Sushiroll, because this is possibly the best cream compact foundation I've ever tried!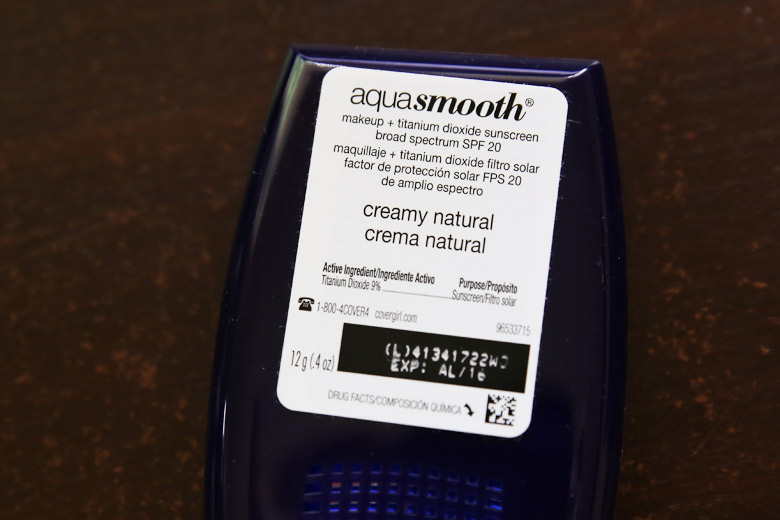 This was love at first swatch for me, which is rare because I usually only judge a foundation when I've tried it on my skin and what it would be like after many hours of wear. The Aquasmooth is very creamy and better yet, it's a cream-to-powder sort of foundation, which I love. It's packed with silicones and gives me a velvety smooth finish on the skin. If you're not a fan of high-silicone makeup, this foundation is definitely not for you.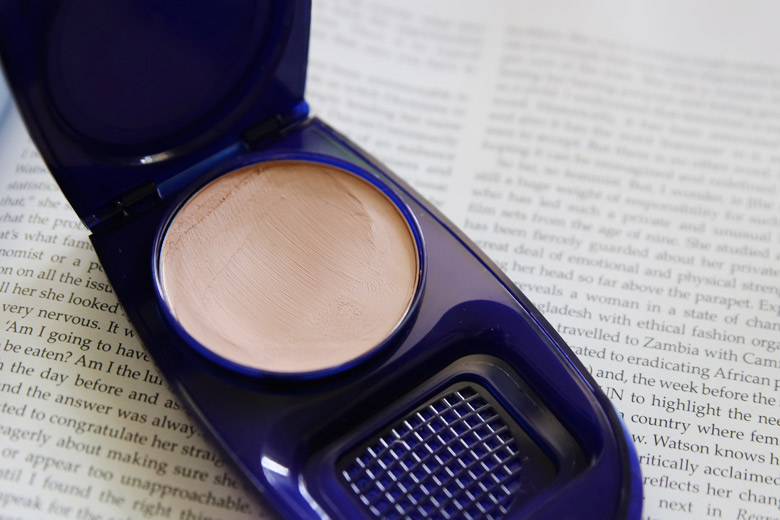 This foundation gives me about a medium coverage but is layerable to a full coverage without looking like you've packed a heap of makeup on. It leaves a matte finish on the skin but it's not chalky nor powdery. If you're looking for a foundation that dries very quickly without needing to wait around, this is it. It feels slightly damp when it's glided on the skin with the enclosed sponge but dries almost instantly, leaving your skin with a naturally flawless finish.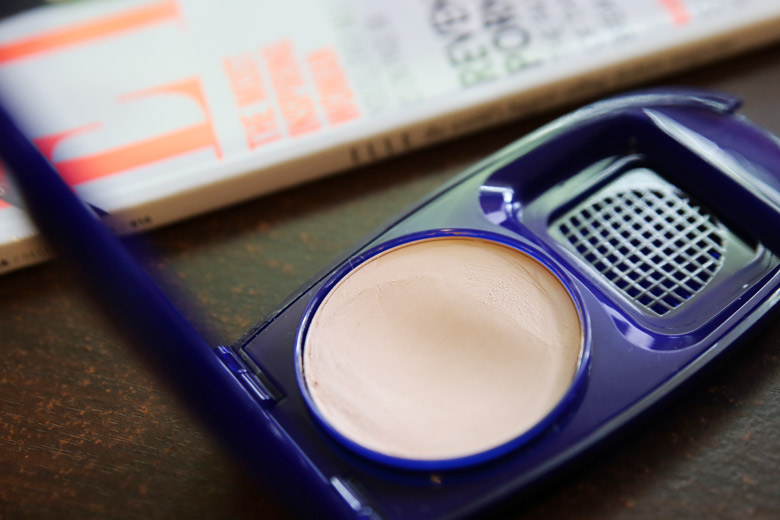 Another thing I like about this foundation is that I don't have to use the sponge if I don't want to. Fingers work just as well. The sponge doesn't last very long though. I've only been using it almost daily for less than a month, washed the sponge a few times and some spongy bits are already falling off. I use this with the Real Techniques Miracle Complexion sponge as well and the results are actually even better.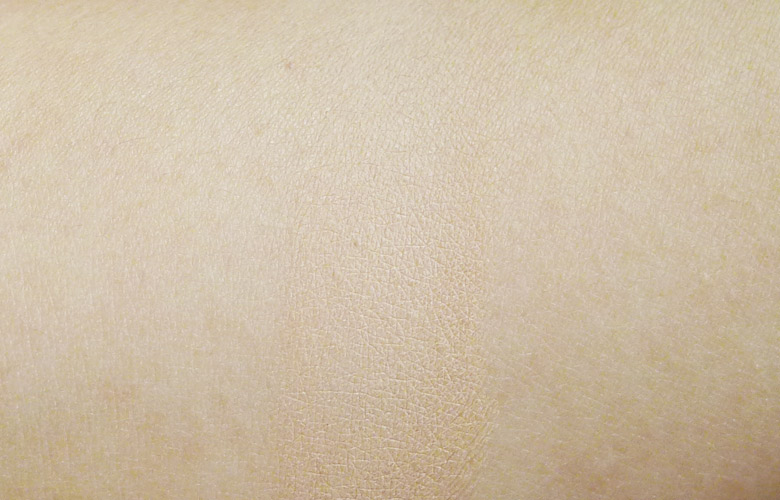 When you can barely see the difference between the foundation and skin, you know you've hit the nail on the head with the choice of shade. The inner part of my arm is the same shade as my face.
There are a couple of things I don't like about the foundation. Firstly, it tends to "skip" the pores on my nose. It would apply very well on the rest of my face but it doesn't seem to "fill" the pores well, leaving very visible holes on my nose. I seldom experience this with liquid foundations so I found that a primer is needed on my nose to fill the "holes" up first in order for the foundation to go over the area smoothly. Secondly, it doesn't last very long on the skin. I've had this one several times for over 12 hours and at the end of the day, a lot of the foundation would have already faded. Having said that, as it's a cream-to-powder foundation, I found it very easy to touch up during the day without needing extra powder to set the foundation.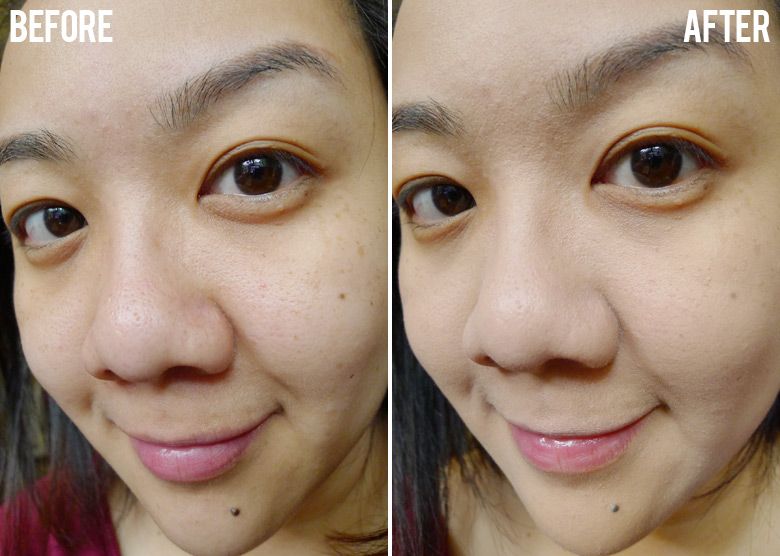 Not my best before and after photo. I should have re-shot this. Sigh.
What can I say? I found a new favourite foundation and to think that it's actually one that comes in a compact! I'll be bringing this with me when I travel. No more worrying about spilled liquid foundations! Oily to combo skin folks? You'll love this one.
Covergirl's Aquasmooth compact foundation retails at AU$21.25 and is available at leading pharmacies and supermarkets nationwide. Look out for this dark blue and green packaging as it's a newer one.
What I like about it: Good liquid-to-powder cream compact foundation. Gives good coverage and looks even better on the skin after several hours. Has an SPF of 20, which is pretty decent for a foundation (separate sunscreen is still essential though so don't skip it!).
What I do not like about it: Doesn't last very long on the skin and doesn't fill the pores on my nose well.
Have you tried the Aquasmooth foundation before? Your thoughts? Yay or nay?