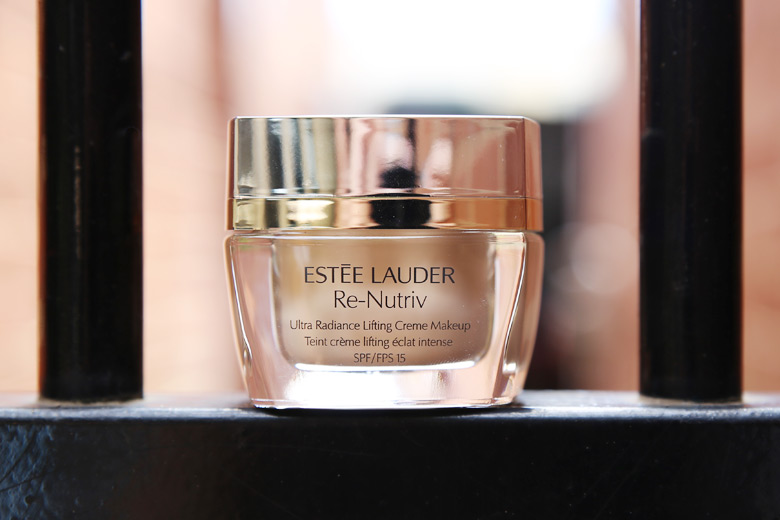 Re-Nutriv is like the mac daddy of ranges under the Estee Lauder brand (not the umbrella brand; just Estee Lauder as its own cosmetics brand). It's targeted towards mature skin and provides rich, intense hydration and "lift" for the skin. My mother has used a number of Re-Nutriv products and she's quite a fan.
Even though I'm not their target market in terms of skincare (touch wood not yet!), I was quite keen to check out their foundations instead. One of them was the Re-Nutriv Ultra Radiance Lifting Creme Makeup. I was half expecting this foundation to be quite thick and rich on the skin but I'm surprised to find that it's actually pretty light. I heard on the grapevine that this is a reformulation of the original Re-Nutriv which was actually a lot thicker and creamier. For selfish reasons, I'm happy for the texture of the reformulated foundation as I find that it suits my skin type a lot better. On the other hand, I'm not supposed to be the range's target users so I reckon a slightly richer formula would suit more mature skin types.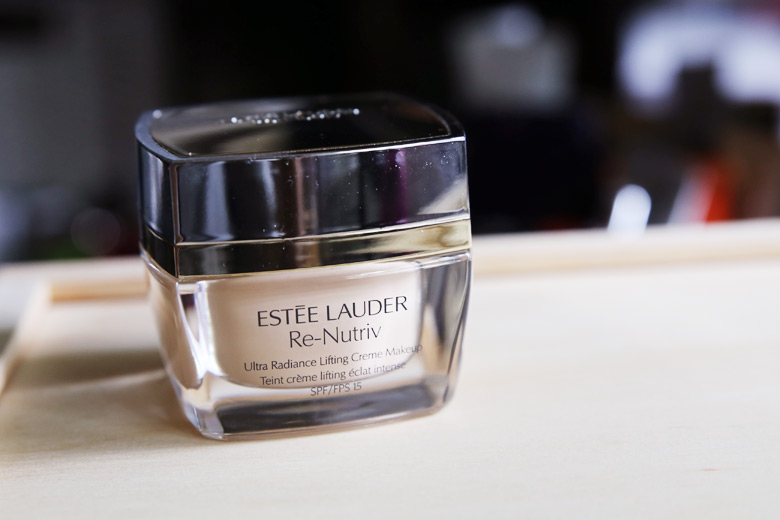 This foundation is creamy and feels like soufflé. It leaves a satin finish on the skin and provides medium coverage. It's buildable to higher coverage but I find that the more I layer this on my skin, the cakier it started to appear, especially around my nose. I'd stick to a thin layer of this and blend it well for it does leave a lovely yet natural finish on the skin.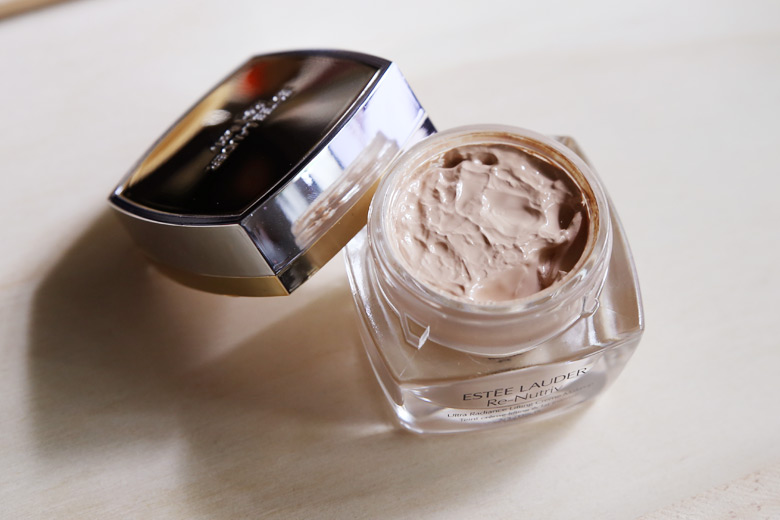 In terms of longevity, it doesn't last the full 12-14 hours I usually subject my foundations to. By the 12th hour, I find that at least half of the foundation has faded, especially on my forehead and nose where I'm oiliest.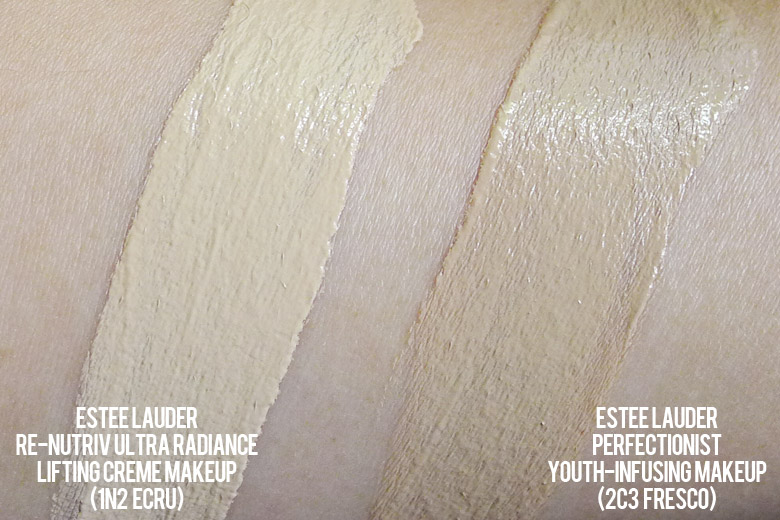 I do like this foundation but I can't help but compare it to the Perfectionist Youth-Infusing foundation, which I find superior to this one. The Perfectionist lasts longer on my skin and while this Re-Nutriv foundation is not rich nor greasy on the skin, I still find it thicker than the Perfectionist. I prefer my foundations as light as possible and long-lasting, and the Perfectionist does a better job than this Re-Nutriv cream foundation. Better yet, at AU$68.00, the Perfectionist is cheaper too!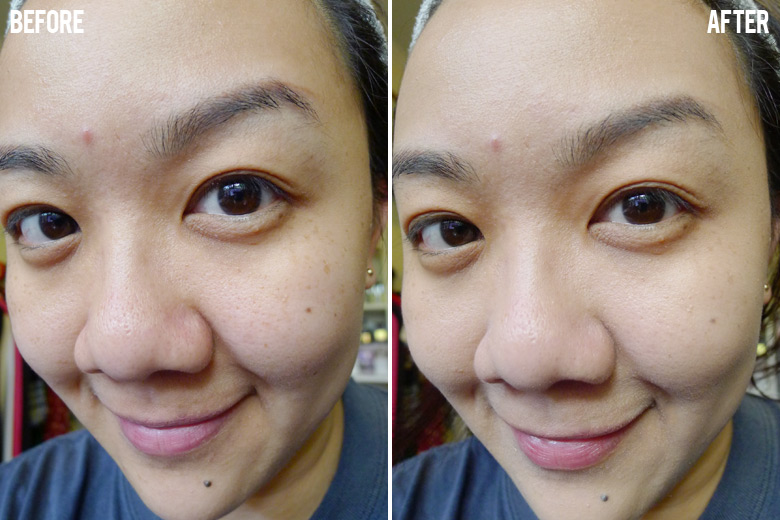 Do excuse the large pimple between my eyes. I didn't want to use concealer for this before and after photo just so I could show you how the foundation looks on the skin
At the end of the day, like I said before, as beautiful as the Re-Nutriv range is, I'm not really their target audience. I'll be passing this foundation on to Mum; I reckon she'll like this one a lot more than I do. As for me, I'm sticking to the Perfectionist, which is becoming a fast favourite of mine.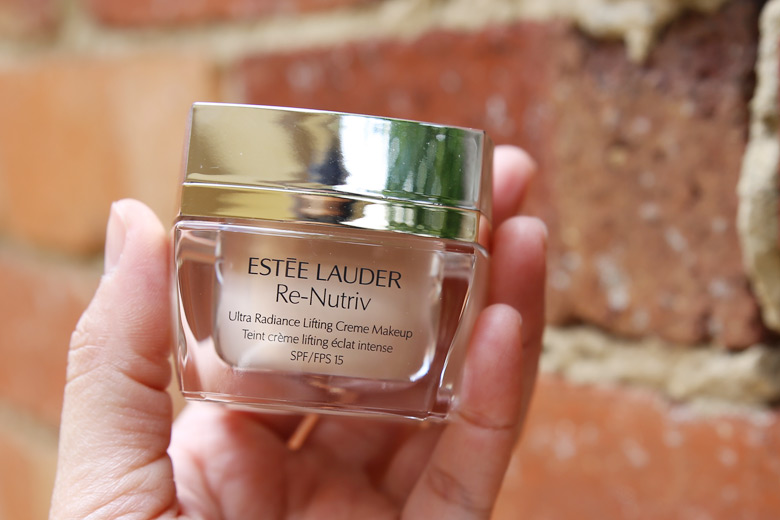 Estee Lauder Re-Nutriv Ultra Radiance Lifting Creme Makeup retails at AU$130.00 and is available at Estee Lauder counters at major departmental stores like MYER and David Jones. It's also available at selected pharmacies nationwide.
What I like about it: Light and creamy, oil-free, leaves a lovely finish on the skin.
What I do not like about it: Pricey, doesn't last very long on the skin.
Have you tried this or the Perfectionist foundation by Estee Lauder? If you have dry skin, does this work well for you?
This product was provided for editorial consideration. This post contains an affiliate link. By purchasing something via these affiliate links (at no extra cost to you), you're supporting Beautyholics Anonymous, which I highly appreciate. For more information, please read our
disclosure policy
.