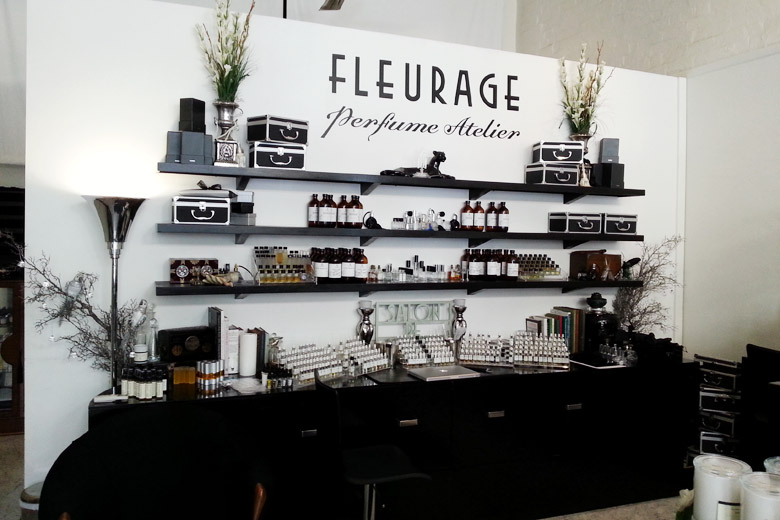 Several months ago, I was binge-watching videos on YouTube when I came across a vlog by Lily Pebbles. She vlogged her experience on creating her bespoke perfume at a perfume atelier in London and I thought to myself, "I wonder if there are any perfumaries in Melbourne that feature bespoke perfumes?" After a quick search on Google, I discovered Fleurage Perfume Atelier. It was located at South Melbourne which is really near the Melbourne CBD. I had a feeling the experience is best shared with a girlfriend and I asked LeGeeque if she wanted to come along as well. LeGeeque adores perfume and very quickly (and enthusiastically too, I might add!) said yes.
Our appointment was made and we waited in anticipation for the day to come. Now, I had no idea what it would be like at Fleurage since I've never heard of the place before. However, the reviews online were good and the photos were even better so I figured we'll be all right.
It was more than all right. It was a bloody amazing experience.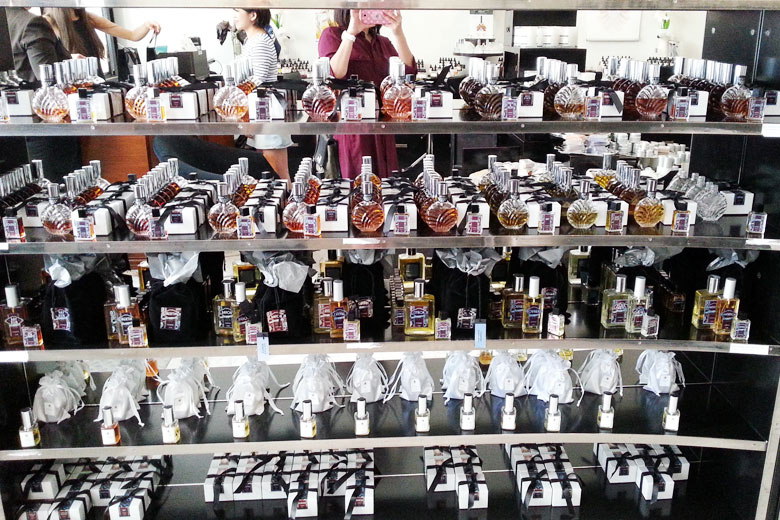 It was a 2-hour workshop at Fleurage. Emma, who was the master perfumer, gave us a lesson on the different top notes, heart notes and base notes that form a perfume. We had to answer a questionnaire that gave Emma an idea on what we're like. She didn't just ask us what our favourite perfumes were; she asked us what our favourites types of scents were, favourite colours, favourite food and what our personalities were like. All these told a story on what our ideal perfume could be.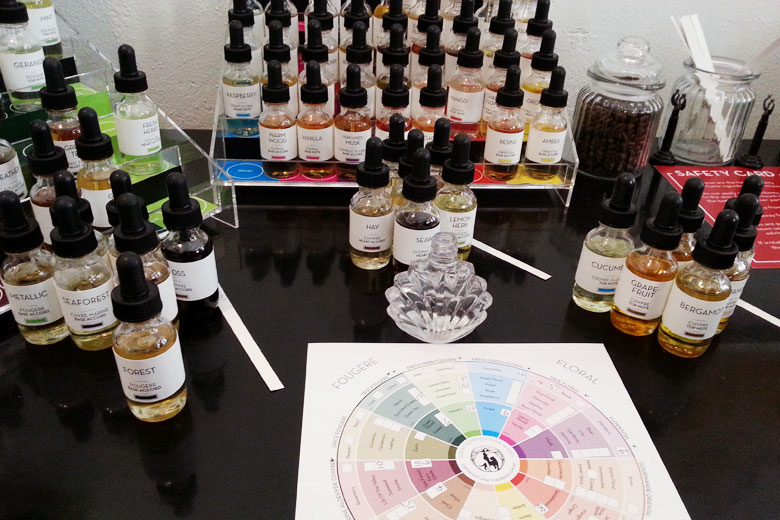 LeGeeque and I have very opposite tastes in fragrances. For me, I'm all for fresh and light scents. I can't stand anything heady, musky or too warm. I don't wear different perfumes in summer or winter. She loves the scent of warm leather and wears different perfumes for different seasons. Our differences in perfumes made the bespoke perfume experience even more fun because we were creating fragrances that were complete opposites of each other.
I led Emma on a secret. Well, it wouldn't be a secret any more since I'm telling you now: I don't like the Chanel No 5. I love reading the history of the perfume and how it became the highest selling fragrance in the world (to date, it still is). But the actual fragrance? I really don't like it. It's too heavy for me and yet, it seems almost blasphemous to say how much I disliked the perfume. Emma reassured me as she admitted that a lot of women don't like it either. In fact, only 10% of women can actually wear the perfume well. Chanel No 5 is something a lot of parents buy for their daughters for their coming of age because Chanel No 5 is a scent of a woman, not a girl. It's unfortunate that only a small percentage can wear that perfume well.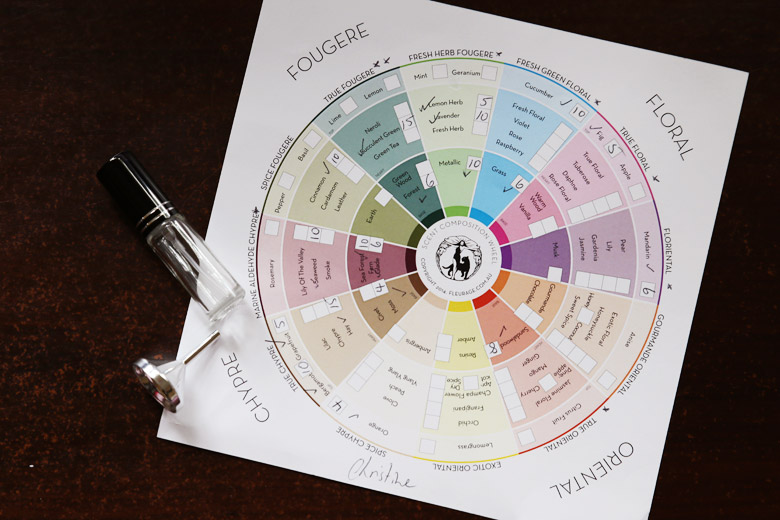 We tested about 100 fragrance oils from the Fougere and Floral categories to the Oriental and Chypre categories. My style and preference were mostly Fresh Herb Fougere and Marine Aldehyde Chypre with notes of lemon herb, metallic, sea forest, seaweed and so on. After selecting the fragrance oils that we liked, it was time for Emma to formulate a fragrance structure for us. As we'd need to wait for her to work her magic, she sent us to a nearby cafe with complimentary coffee/tea and muffin. It was a lovely touch to the service which we really appreciated.
A half hour later, we went back to the perfume atelier and it was time for us to create our perfume. Emma showed us the structure of our perfumes, where the base notes would be, how the top notes would complement the heart of the fragrance and how the heart of the fragrance would tie it all together. With our formula sheet that was created by Emma, we started adding specific drops of fragrance oils into the bottle. We started with the base notes and when we were done with that, Emma checked each one and had us test the base notes out to see if we liked it. If not, some changes had to be made to the formula.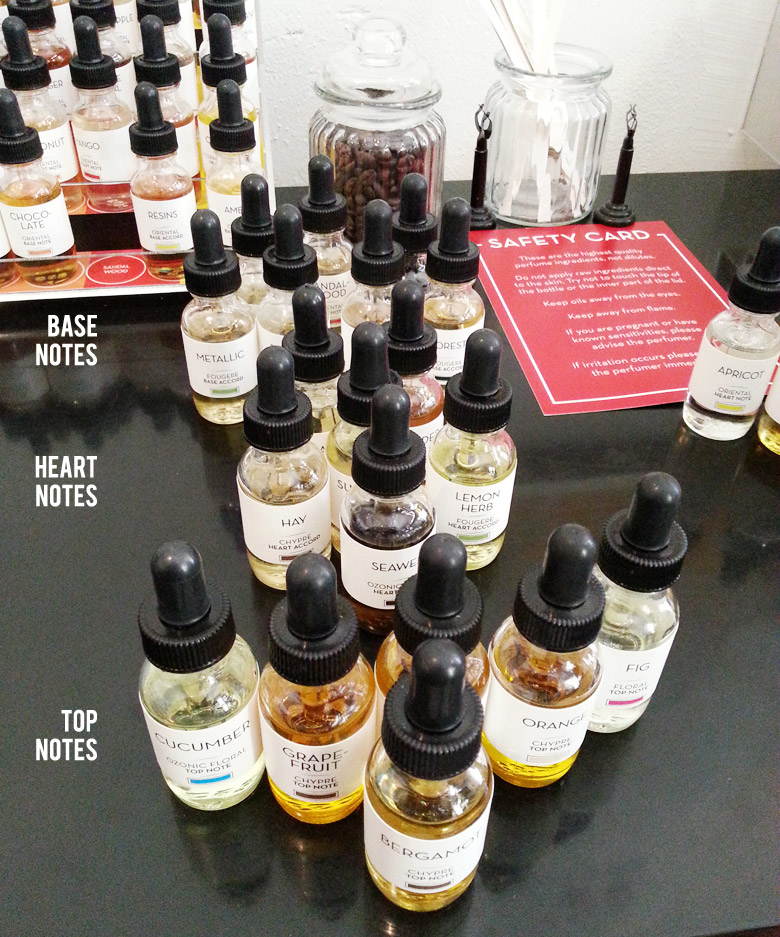 The structure of my perfume
In each step of the process, from creating the base notes to the heart notes to the top notes, we stopped to test the fragrance. To me, my base notes smelled the best of the 3 notes and I was very happy with that as those were the notes that linger longest on the skin. After we've completed all 3 notes, Emma added some other ingredients into the perfume (I forgot to check what they were) and voila! Our bespoke perfumes were created. The problem was, we couldn't use the perfume right away but had to wait 24 hours for the base notes to rise to the heart and for the top notes to sink to the bottom. Man, those 24 hours of waiting time was tough!
All in all, the bespoke perfume experience was absolutely fantastic. LeGeeque and I had a smashing time and I really cannot recommend Emma and Fleurage enough. She's highly knowledgeable, was really friendly and was more than happy to answer any questions we had.
The bespoke perfume experience wasn't a cheap one. We paid AU$250.00 per person for the 2 hour workshop and we also took home a 40ml bottle of the perfume we created (along with a small glass atomiser and funnel for decanting). For me, it was worth every cent for the time LeGeeque and I spent together and the things we learned about perfume creation. And we'd only just scraped the surface!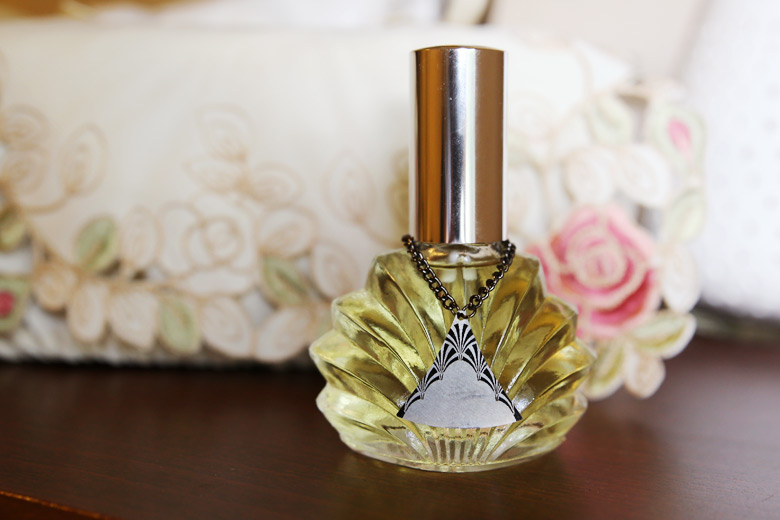 As for my perfume, it turned out to be absolutely perfect. It's very me. It's fresh and light, just the way I like it. LeGeeque's perfume is far more complex than mine and smells wonderful as well. Each perfume comes with a small metal sheet that allows us to engrave the name of our perfumes. Mine shall be engraved "Christine". 🙂
If you haven't had a bespoke perfume experience before, I highly, highly recommend it. Make it a girl's day out with your girlfriend(s). If you're a perfume lover, you won't regret it.
Fleurage Perfume Atelier
280 Park Street
South Melbourne
VIC 3205
Tel: (03) 9036 0326
Have you experienced making your own perfume?