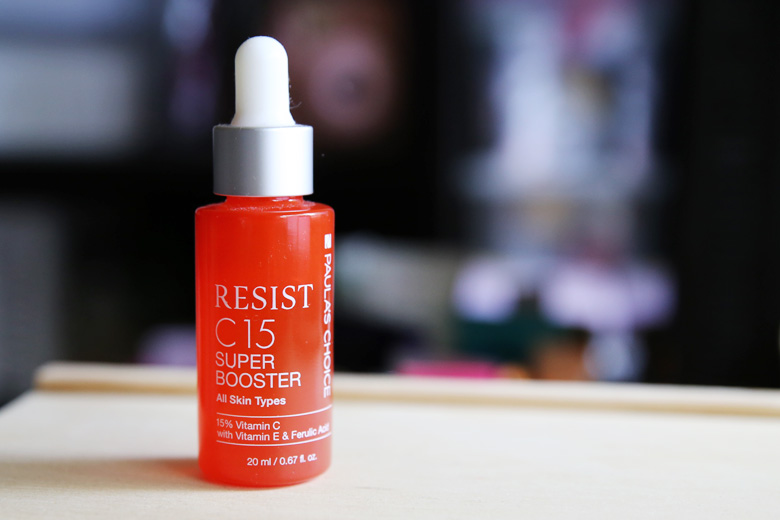 Oooh first review for 2015! Ah … the little things that get me excited, eh? 🙂
The first product review for 2015 goes to Paula's Choice's RESIST C15 Super Booster. I've been having great luck with her RESIST Ultra-Light Antioxidant Concentrate Serum that, on a whim, I decided to give another serum of hers a go. I ran out of my Cosmetic Skin Solutions Vitamin C+E serum quite some time ago and thought that it was high time I give my skin a bit of Vitamin C goodness and brighten it up a little given that it's been looking a tad dull the past number of months.
By the way, just thought I'd give you a bit of a heads up: if you're expecting Vitamin C serums to smell like oranges, they don't. At least, most of the good ones don't. It may have the tiniest hint of a citrus scent but for the most part, they don't usually smell very good.
Ingredients:
Water, Ascorbic Acid (vitamin C/antioxidant), Ethoxydiglycol (slip agent/penetration enhancer), PPG-26 Buteth-26 (emulsifier), PEG-40 Hydrogenated Castor Oil (thickener), Tocopherol (vitamin E/antioxidant), Ferulic Acid (antioxidant), Sodium Hyaluronate (skin-repairing ingredient), Acetyl Octapeptide-3 (cell-communicating ingredient), Glycerin (skin-repairing ingredient), Panthenol (skin conditioning agent), Sodium Metabisulfite (stabilizer/antioxidant), Triethanolamine (pH adjuster), Phenoxyethanol (preservative)
The Paula's Choice C15 Super Booster smells exactly like Cosmetic Skin Solution's Vitamin C+E Serum. The C15 contains a blend of 15% stabilised Vitamin C (that's the l-ascorbic acid), antioxidant Vitamin E, ferulic acid and peptides that CSS' Vitamin C+E Serum also has. In fact, both lists of ingredients are very similar to each other bar one or two ingredients.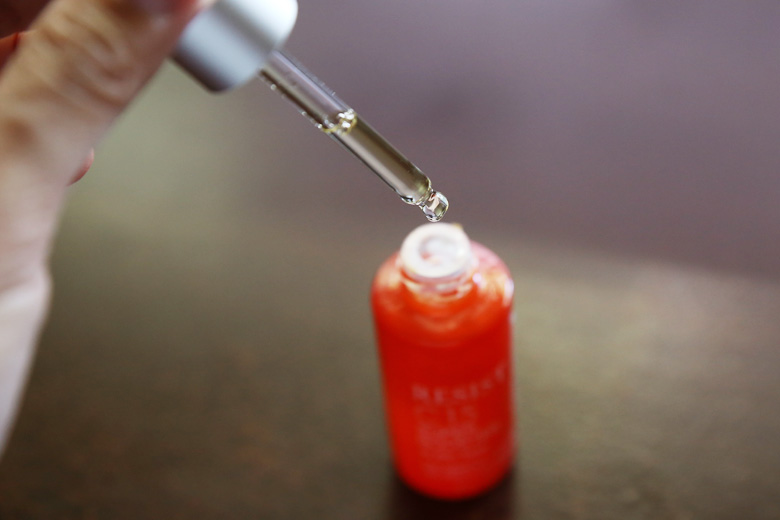 The C15 worked just as well as the CSS Vitamin C+E Serum. After a week of use, I noticed smoother and brighter skin (notice I said brighter, not lighter). A lot of the skin dullness I was experiencing had decreased significantly. The serum is very lightweight and not at all greasy, so oily to combination skin folks will find that suitable for their skin too.
The only gripe I have with the C15 serum is that it comes in a translucent bottle. Now I don't have any issues of serums coming in those forms of translucent bottles. Heck, even the CSS Vitamin C+E Serum comes in a brown, translucent bottle. What I found odd and slightly disconcerting about this packaging is that it came from Paula's Choice.
If you've read Paula Begoun's books on "Don't Go To The Cosmetics Counter Without Me", "The Original Beauty Bible" and even her website, you'll know that she complains a lot about beauty products that come in clear or even translucent packaging. According to her, in order to keep the ingredients working at its best, "packaging has to come in a pump, airless jar or an opaque tube with a very small opening to keep these important ingredients protected during the product's lifespan and to allow your skin to reap the rewards"*. This serum comes in a translucent glass bottle that doesn't come with a pump but a dropper. For someone who's been preaching so much on the importance of good packaging, you'd think that this serum would come in an opaque bottle with a pump, wouldn't you?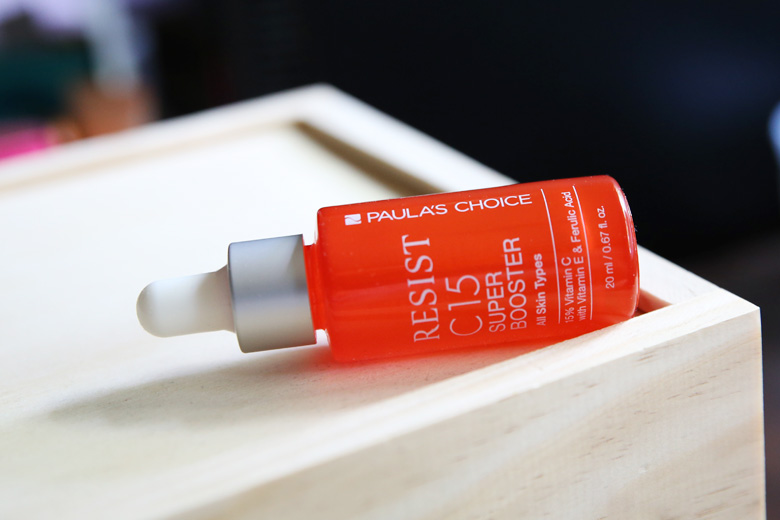 At the end of the day, the C15 is a very decent serum. It works very well on my skin and is something I'd be to happy to recommend. Having said that, if you were to ask if I'd prefer the RESIST C15 Super Booster or Cosmetic Skin Solutions' Vitamin C+E Serum, I'd say go for whichever one you prefer. I think they're both equally good.
After currency conversion, the CSS Vitamin C+E serum is about AU$5.00 cheaper than Paula's Choice but it is based in the USA so it will take some time for it to arrive compared to buying a very, very similar serum from Paula's Choice Australia, which will arrive sooner. Bear in mind though, that Paula's Choice's C15 serum comes in a 20ml bottle whereas the CSS one comes in a 30ml bottle. So, taking cost per ml into consideration, the CSS serum (US$39.85 for 30ml) is still cheaper than Paula's Choice's.
Paula's Choice RESIST C15 Super Booster serum retails at AU$55.00 for 20ml and is available Paula's Choice's website.
What I like about it: It's very, very similar to one of my favourite serums, Cosmetic Skin Solutions' Vitamin C+E Serum. Gives me smooth and bright skin.
What I do not like about it: The double standards in terms of packaging. Personally, I have no issues with translucent packaging for this sort of serums but for Paula Begoun who has preached on many occasions the benefits of using opaque packaging, I didn't expect this product of hers to come in a translucent bottle.
Have you tried this serum before? What are your thoughts on the packaging? Do the double standards bother you as well?
*Source: Paula's Choice on Jar Packaging: A Waste of Good Antioxidants and Money
UPDATE: Reader and fellow blogger Gio delved in a little deeper at Paula's Choice's website and found this explanation by Paula Begoun on the packaging: "A great deal of thought went into the packaging for this product! Because Resist C15 is a water-light liquid, a bottle and dropper-tip applicator were the only way to go for measuring the perfect amount per use while ensuring the product wasn't messy to dispense. To protect the potency of the formula, tinted glass prevents UV exposure and an internal restrictor (when you pull the dropper out, airflow into the bottle is drastically reduced). In rigorous testing, these packaging safeguards were more than adequate to preserve the effectiveness of the Resist C15 Super Booster! For maximum potency, we advise using C15 Super Booster within three months of opening."