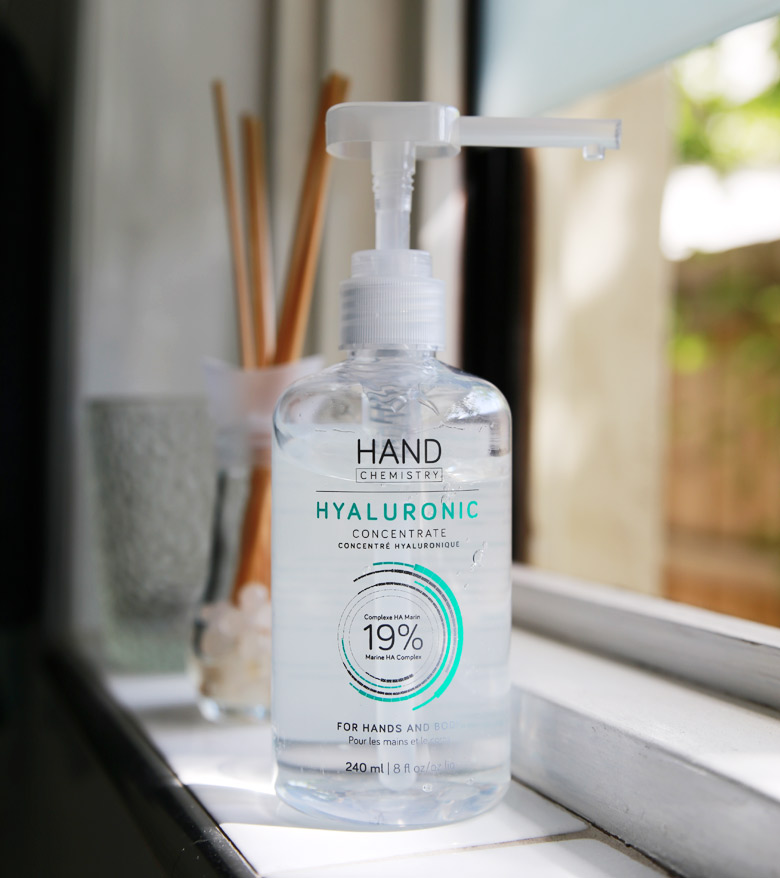 I hadn't heard of the brand Hand Chemistry until I stumbled upon a blog post by Jane from British Beauty Blogger. At that time, she and goodness-knows-how-many British beauty bloggers started talking about Hand Chemistry products and I must say, I was really intrigued by the Hyaluronic Concentrate for Hands and Body. Jane rates this very highly, which made me wonder, how the heck am I going to get a hold of this because I'm obviously not based in the UK? I wondered. And then I forgot about it.
Fast forward many months later, I saw one of the Hand Chemistry Hyaluronic products mentioned in one of Caroline Hirons' YouTube videos and I remembered "hey, I wanted that Hyaluronic Concentrate!". So I went to the website and whaddyaknow, they actually ship to Australia! This is what happens when I don't do my research properly. Tsk tsk. 😛
I picked up a couple of items from the DECIEM website (that's the umbrella brand for Hand Chemistry) and a couple of weeks later, they arrived. I've been using the Hyaluronic Concentrate for about a month now and I've formed a bit of a love-hate relationship with it.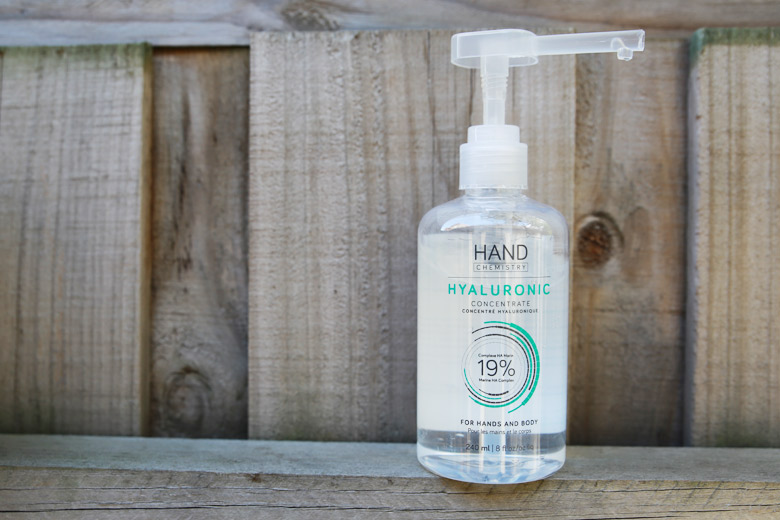 Description:
You may have heard of Hyaluronic Acid, the expensive hydrating active famed for holding 1,000 times its weight in water. Typically only available in very small pots to purchase for the face. Hand Chemistry is changing the industry, by offering this powerful moisture-sealing ingredient in a very large tub at an affordable price – so your whole body may reap the benefits. Due to an extremely high concentration of three different types and molecular weights of Hyaluronic acid, Hand Chemistry's Hyaluronic Concentrate allows for actives to be easily absorbed into the skin for optimal results. Our formula contains a complex of five active technologies from marine and plant sources, which repairs dry skin and protects it from the elements. Hands and body are visibly transformed to a softer and more comfortable state thanks to the high moisturising and regenerating effects of a Pseudoalteromonas Algae Complex.

Ingredients:
water (aqua) • propanediol • panthenol • hyaluronic acid • tremella fuciformis sporocarp extract • tamarindus indica seed gum • ahnfeltia concinna extract • glycerin • betaine • hydroxyethylcellulose • potassium sorbate • pentylene glycol • chlorphenesin • hexylene glycol • caprylyl glycol • phenoxyethano I
The Hyaluronic Concentrate looks like aloe vera gel or a waterless hand sanitiser. It's a clear gel that absorbs incredibly fast onto the skin. It has a serum-like consistency and feels cool on the skin.
This body gel is great in the summer months. It actually reminds me of Vaseline's Aloe and Cucumber Gel but this absorbs quicker. If you have dry skin and prefer rich body lotions or body butters, this product isn't for you because you'll find yourself needing to reapply very often. But if you love light body lotions especially gels, methinks you'll like this.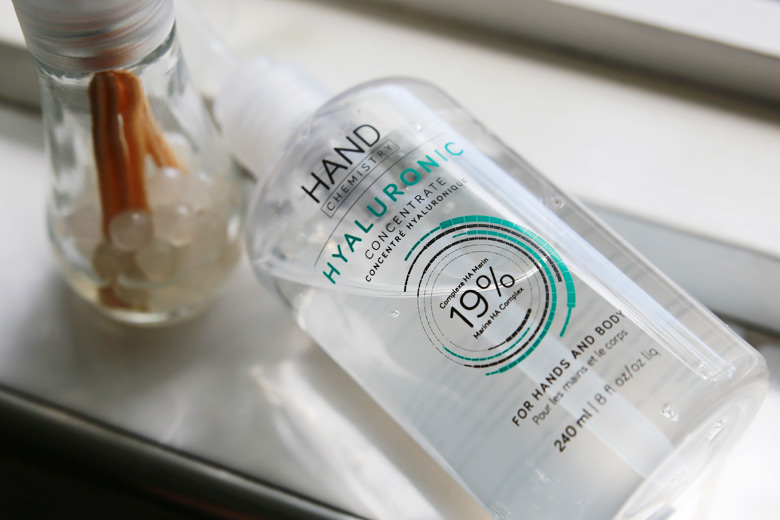 I've also been using this as my "working" hand cream. This is what I use when I'm at my computer. If you hate applying hand creams because you cannot wait for the cream to absorb onto the skin quickly enough and/or you hate leaving greasy marks on your keyboard, this is perfect because I can seriously guarantee you this: this will not leave a single mark on your keyboard. Think of it as applying hand sanitiser but without the alcohol. That's how quickly this gel absorbs onto the skin.
Having said that, I do have a couple of problems with this. The first problem I have with it is that the hydration it gives the skin doesn't last long. After an hour or so, I find myself needing to reapply the product. As it's so easily and quickly absorbed, I don't mind slathering very generous amounts of it on my skin. But when I'm out and about, that's clearly a problem for me because this doesn't provide long-lasting hydration.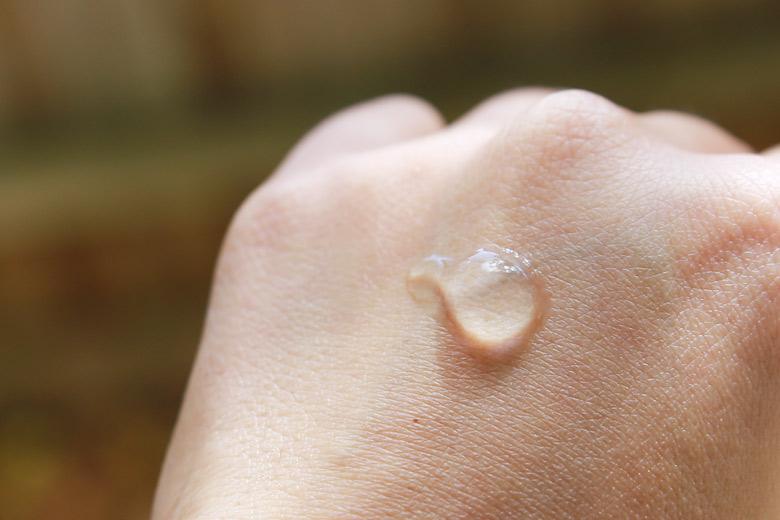 Secondly, this hand and body gel is pricey. It retails at AU$50.00, which is pretty bloody hefty for a body moisturiser that doesn't last that long. As a hand cream that I use at my computer, yes it's really good but I'm not sure if I'm happy paying that much for it to be only used as a hand cream.
There lies the love-hate relationship with the Hyaluronic Concentrate. I love how quickly it absorbs onto my skin, how cooling it feels and that it leaves ZERO residue on my skin (especially my hands). On the other hand, the hydration it initially provides the skin also vanishes pretty quickly, which is just crummy.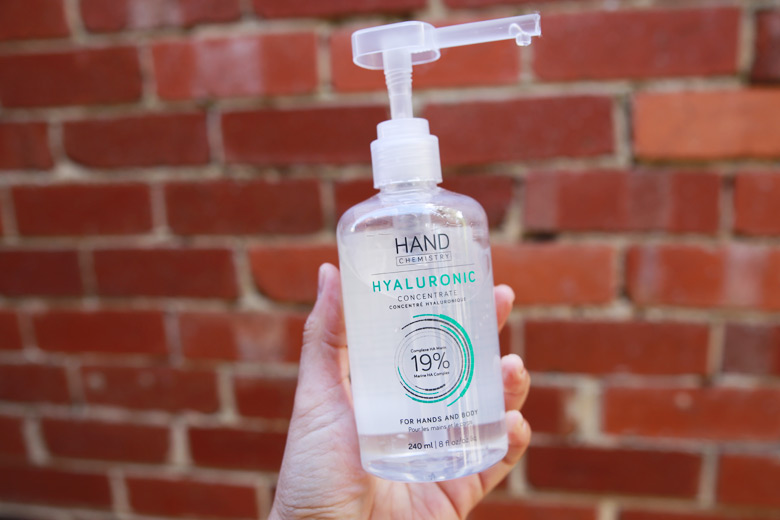 Will I repurchase this? No, I don't think so. As much as I like how quickly this product absorbs onto my skin, I'm not keen on the fact that it absorbs too quickly. Oh I know; I complain about greasy body lotions not absorbing quickly enough and now I'm whinging about a product absorbing too quickly. There's just no pleasing this beauty blogger, is there? 😛
At the moment of publishing to 31 March 2015, you can get 15% off all Hand Chemistry products on the DECIEM website (including other brands under the DECIEM family). Just enter the code STPATRICK15 at the checkout. Again, this discount code expires on 31 March.
What I like about it: Absorbs very quickly, doesn't leave any hint of greasy residue on the skin.
What I do not like about it: Pricey, doesn't provide long-lasting hydration.
Have you tried any products by Hand Chemistry or anything else under DECIEM? Your thoughts? Yay or nay?
PS: The other product I bought from Hand Chemistry is an absolute winner, so do stay tuned for a review on that! Hint: it's something to do with your feet.