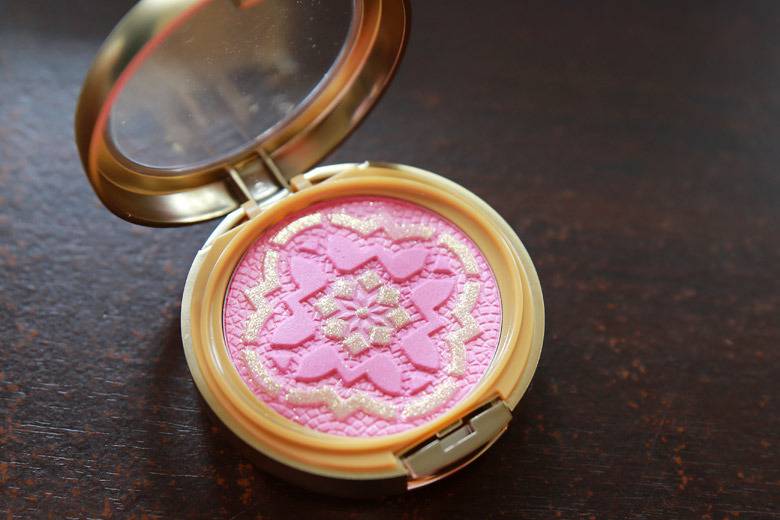 I didn't realise that Physician's Formula would be releasing their Argan Wear blushes in Australia that soon. I was *this* close to buying this exact blush on iHerb until this landed on my desk for review. I've only seen this blush in pictures and I knew I wanted it but when I saw this in real life, I gasped. Phwoar it sure is pretty!
Needless to say, I put this to good use almost immediately. I said almost because, y'know, gotta do the whole beauty blogger thing and photograph it first before I stick my brush in it. 😉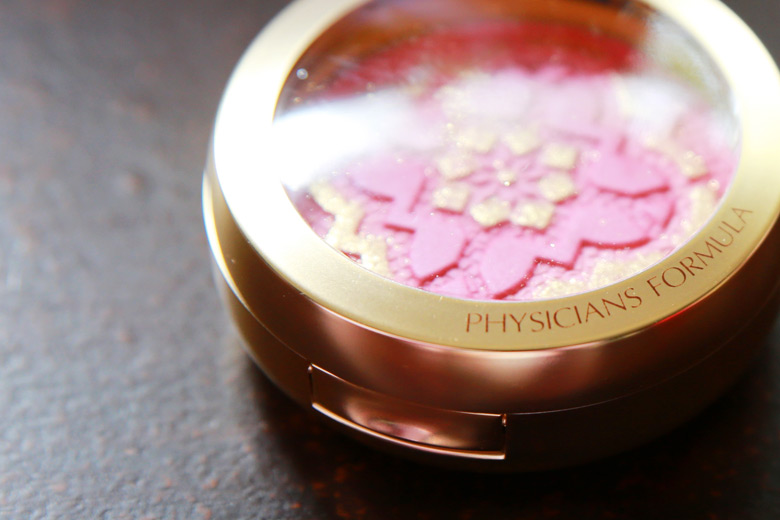 Description:

Infused with 100% pure argan oil, known as "liquid gold" for its rich conditioning benefits that can improve skin's brightness, tone, texture and elasticity, this magical ingredient from Morocco transforms skin, smoothing the appearance of fine lines, brightening dull skin and renewing suppleness, helping to enhance skin's youthful glow. Its exotically scented formula instantly delivers a lit-from-within glow.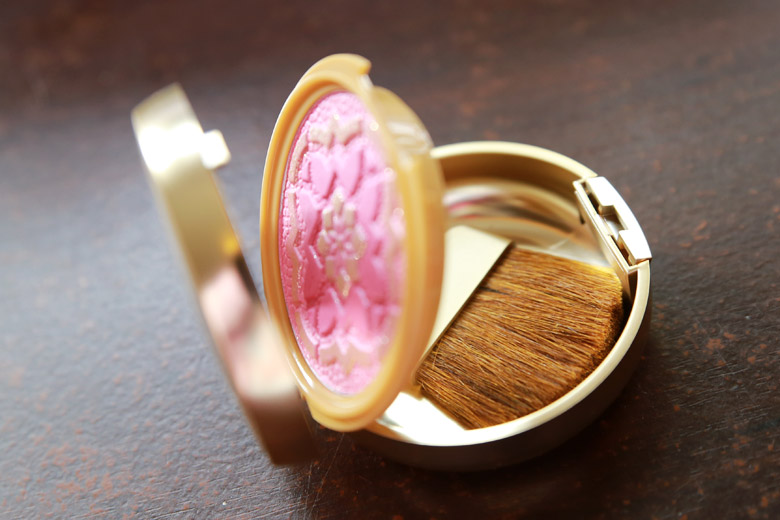 That has got to be the fanciest description for a blush I've seen in a long time. You know me, as soon as I read that, I was like … REALLY? *insert very skeptical expression*. Okay, I don't know about all that argan oil infusion because I sure as heck didn't get all that improvement of texture and elasticity from a blush because let's face it, it really is just a blush. 😛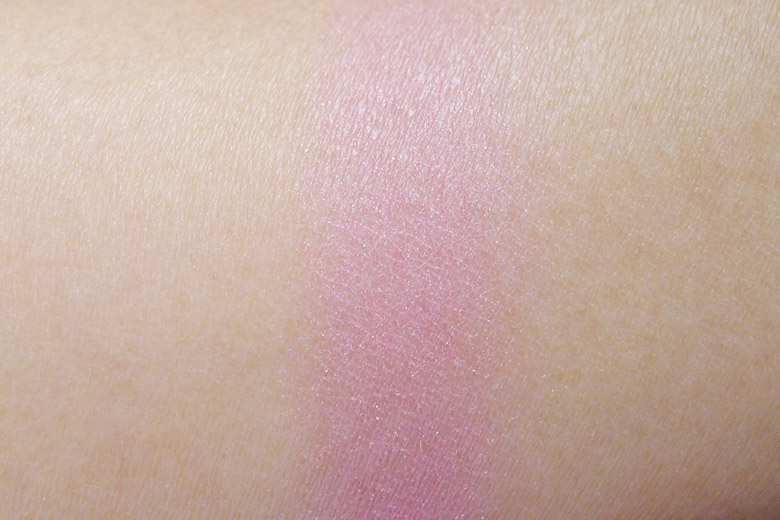 Having said that, if we're just seeing this as an item of makeup alone, then yes it sure is a pretty one. Physician's Formula does very beautiful (albeit almost always very shimmery) blushes and this one's lovely. The design alone is a winner in my books. The embossed Moroccan motive is absolutely gorgeous and the gold overspray complemented the whole design very well. Thumbs up on the design, no doubt about that.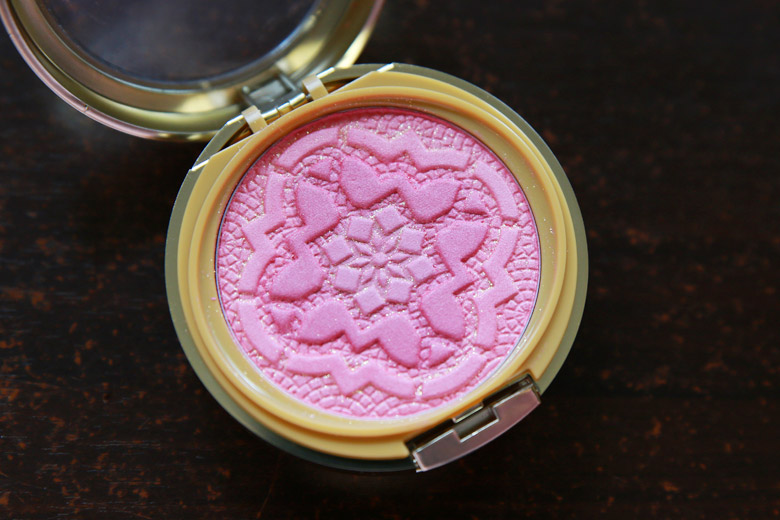 Gold overspray removed
I'm really not a fan of the overspray though, so thankfully it's only just the top layer of the blush. If you use the blush together with the gold overspray, it'll make your face very sparkly. Unless that's the look you're looking for, that amount of glitter is really quite over-the-top. So what I did was to wrap a tissue around my index finger and I wiped all of the overspray away. This leaves behind a beautiful, bright pink matte blush behind that is so much more useable than all that gold glitter. The blush still looks good without the overspray.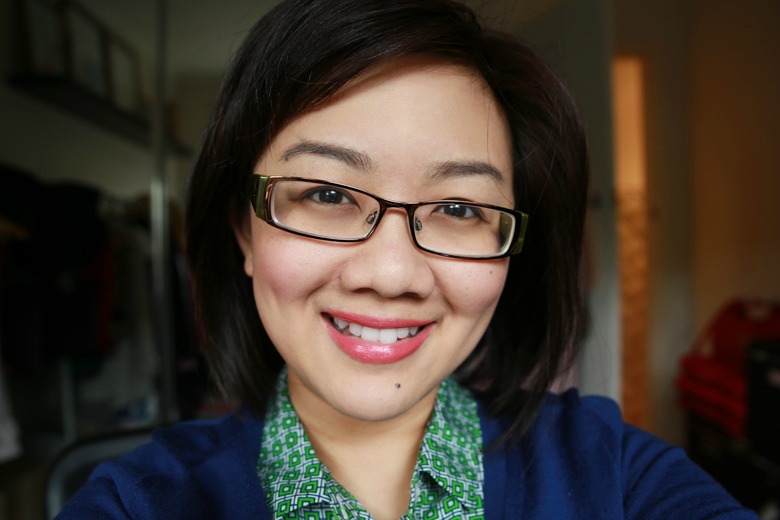 The blush does get a tad powdery and there's quite a bit of fallout from the pan so that's a bit of a negative point for me. Other than that, the blush looks mighty pretty on the cheeks. It gives the cheeks a beautiful, healthy glow without trying too hard. It's richly pigmented so a light hand with a brush will do. I don't use the attached brush but it's a good addition in case I do bring this with me when I'm travelling.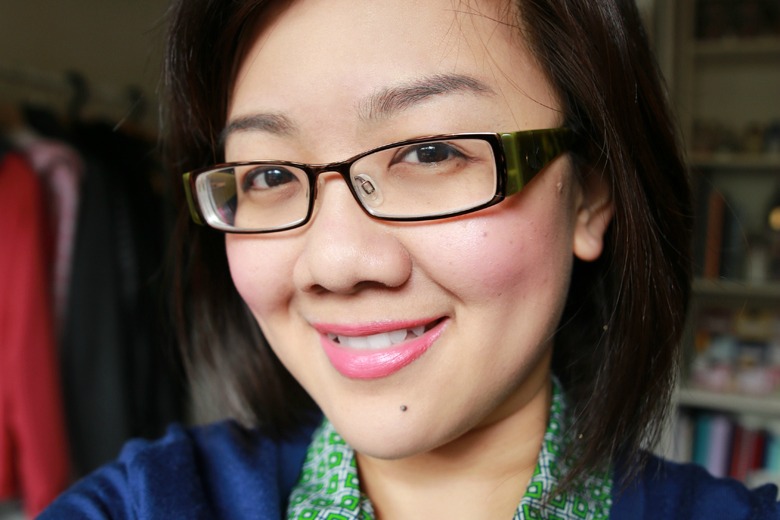 All in all, it's a lovely blush, it really is. I'm so taken by the embossed design. I understand the aesthetic reasons for the gold overspray but practically speaking, it's really unnecessary. The absence of the overspray makes this a very wearable blush and that's all right with me. As for the argan oil infusion thing … well, you could probably see me rolling my eyes from where you are. 😛
Physician's Formula's Argan Wear Ultra-Nourishing Argan Oil Blush is available in 2 shades (Natural and Rose) and retails at AU$21.95. You can get Physician's Formula at most Priceline pharmacies nationwide.
What I like about it: The design is stunning. Once the overspray is removed, it leaves behind a lovely matte, strongly pigmented blush.
What I do not like about it: The gold overspray is very glittery and it really isn't my thing (thankfully, it's only the top layer and is easily removed). I fail to see how the the argan oil infused into a powder that could actually nourish my cheeks but hey, I'm happy to be proven wrong. Beauty scientists, help us out!
Have you tried this or any other blushes by Physician's Formula? Your thoughts? Yay or nay? What about that claim about the argan oil infusion? Does it really work?
This product was provided for editorial consideration. For more information, please read our
disclosure policy
.