I don't think there's another skincare serum more lauded these days than Sunday Riley's Good Genes. Heck, that spot used to go to the ubiquitous little brown bottle but these days, every other blogger's going "OMG have you tried Sunday Riley's Good Genes? It's so good!". At the time I first heard about it, I wasn't very interested to be honest. I was already trialling a serum then and I didn't think I had room for another just yet.
Then LeGeeque bought it, tried it and raved about it so much to me that I knew that I had to at least give it a go. I had a small sample sachet of it to try out and thought "oh why not". She did warn me about the scent though (which I'll discuss more about later) and when I used it, the smell turned me off. I didn't get instant results but I didn't expect to. I really didn't like the scent so I told LeGeeque, nope, it's not for me.
This was a number of months ago. More and more reviews of this serum popped up left, right and centre and it was long before I thought "okay, there must be something really good about this serum that people are willing to overlook that godawful scent for". That was when I decided that I was going to splurge on a full-sized bottle.
Guess what? It was sold out almost Australia-wide. I couldn't get it on the Mecca website, none of the Mecca stores I went to or called had this in stock. In hindsight, I should have just ordered one from Net-a-porter but at that time, the harder it was for me to get the serum, the more I wanted it. I know. I'm such a child. 😛
Long rambling intro aside, when Mecca finally restocked this, I snapped it up and gave it a proper go. I'm sold, folks. Totally sold. I finally know why so many people love this so much and I'm now going to tell you why you should get a bottle too.
Description:
Everyone wants the unmistakable look of having "good genes". This amazing treatment is formulated with key ingredients which will plump fine lines, reveal brighter, newer skin, and improve circulation for a smooth, vibrant complexion. Long term use will help restore damaged skin, reduce hyperpigmentation and scars, reduce the depth and number of line and wrinkles, even out skin tone, and increase epidermal thickness and firmness.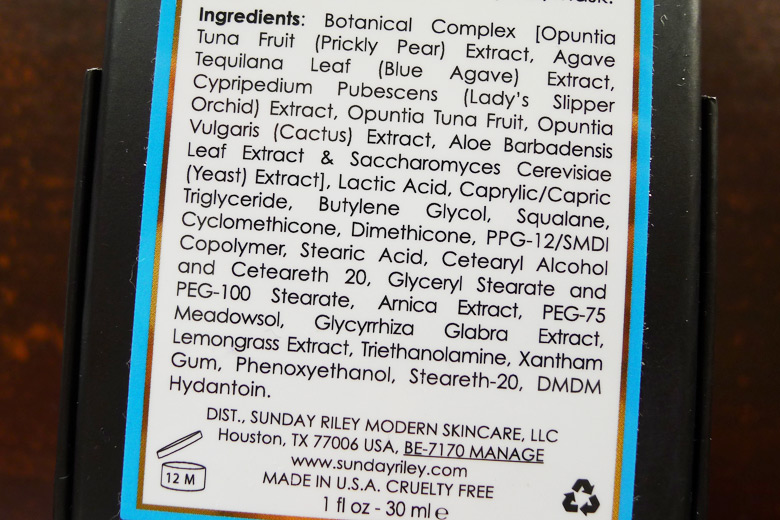 Sunday Riley's Good Genes is what I call a chemical exfoliant serum. It contains 40% lactic acid that exfoliates and refines the skin. The other more "natural" ingredients like lemongrass, licorice, arnica and yeast helps to boost circulation, soothe and heal the skin. It's a light serum that is quickly absorbed onto the skin.
I've used exfoliating serums before but those were mostly glycolic acid serums. This is the second time I'm using a lactic acid serum and it works just as well. At 40%, it's pretty damn high so it can be strong for many, especially if you have sensitive skin. I don't normally have sensitive skin but even so, whenever I use this, I experienced a slight tingling on the skin. On days when I have slightly sensitive cheeks, this stings the skin quite a bit. Still, it's nothing too uncomfortable that I couldn't tolerate.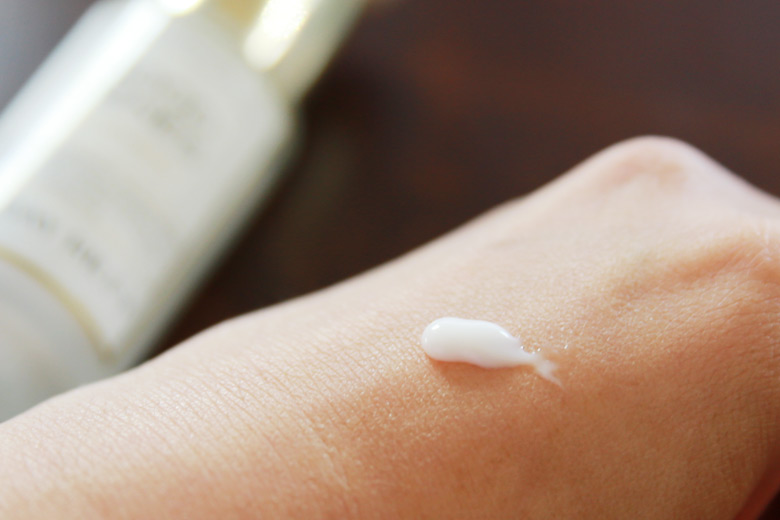 Most importantly, this serum gave my skin amazing results. My lines are softened, my skin is smoother and brighter. It feels and looks really good and I had to give it to the Good Genes. It's amazing stuff. I achieved those results in just a week. The sample sachet wasn't even enough for me to use past two days, which was why I thought this serum was just meh at the time I used it.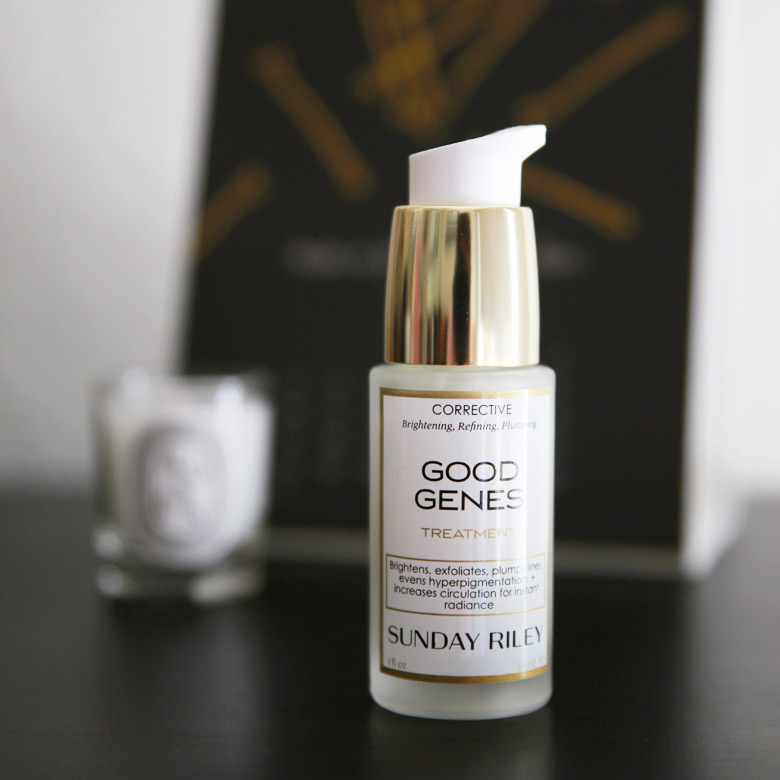 Now comes the part about the serum that turned me off in the first place: the scent. LeGeeque and I were discussing on how to describe the scent and the only thing I could come up with was toilet cleaner. It smells like a loo detergent. The mixture of lemongrass and yeast doesn't make this a pleasant-smelling product at all. The first few days were particularly hard; I almost wanted to give up because I couldn't stand the smell. Thankfully, my skin showed really good results after a week and that was when I knew I had to jolly well suck it up because this is a damn good serum.
As the serum is pretty strong, I don't use this daily. I use the Good Genes on alternate days now and even so, it maintains my skin very well. Occasionally my skin breaks out with a pimple or two but I don't think it's the work of the serum.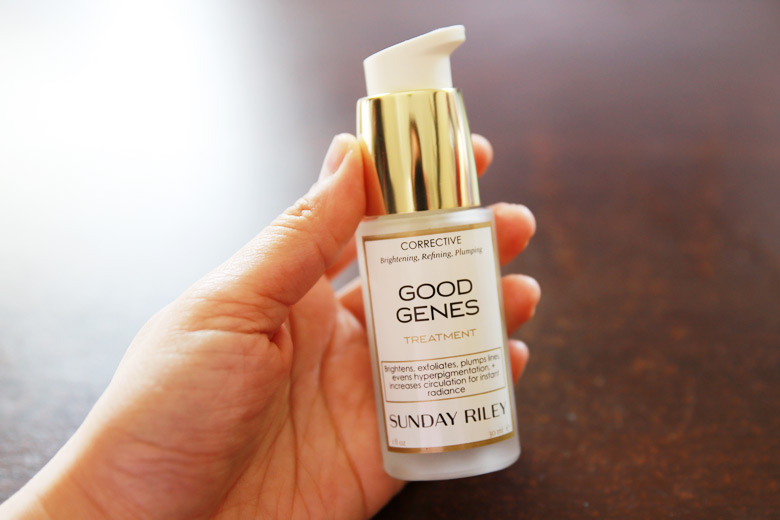 Do I recommend you get this? YES. Is it expensive? OH YES. At AU$125 per bottle, it's slightly more expensive than Estee Lauder's Advanced Night Repair but like the little brown bottle, this works. Is it worth the splurge at all? Most definitely. I would rather give up buying a blush AND a lipstick if that meant that I could buy this serum. But if you asked me to give up a month's coffee worth for this … erm … I think we might have a problem. 😛
Sunday Riley's Good Genes retails at AU$125.00 for 30ml and is available at Mecca. It is also available on Net-a-porter.
What I like about it: It has a high concentration of lactic acid. Gave me great results (softened lines, smooth and radiant skin) in just a week.
What I do not like about it: The smell. Oh the smell. *pinches nose*
Have you tried Sunday Riley's Good Genes? What did you think? If you haven't, is this something you'd like to give a go? Last Q: do you use any lactic acid products?
This post contains an affiliate link. By purchasing something via these affiliate links (at no extra cost to you), you're supporting Beautyholics Anonymous, which I highly appreciate. For more information, please read our
disclosure policy
.