Today's post isn't so much a review per se but something I recently purchased that I'd like to show you. In other words, drown you with lots of photos because my goodness, this one's a beauty. It's the Mecca Cosmetica Jet Set Travel Collection.
Now I've been lusting after the Anya Hindmarch Inflight Bag for quite some times now, but the thought of paying US$250 for a plastic cosmetic pouch is almost sickening to my ears, heart and wallet. So I watched blogger after blogger, YouTuber after YouTuber use this and I salivated in envy. That was, until a few days ago, when I was browsing the Mecca website and I stumbled upon the Mecca Jet Set Travel Bag. Now I haven't technically seen nor felt the Anya Hindmarch bag in person but in photos alone, the Mecca Jet Set Travel Bag looks awfully similar. And it was only AU$50!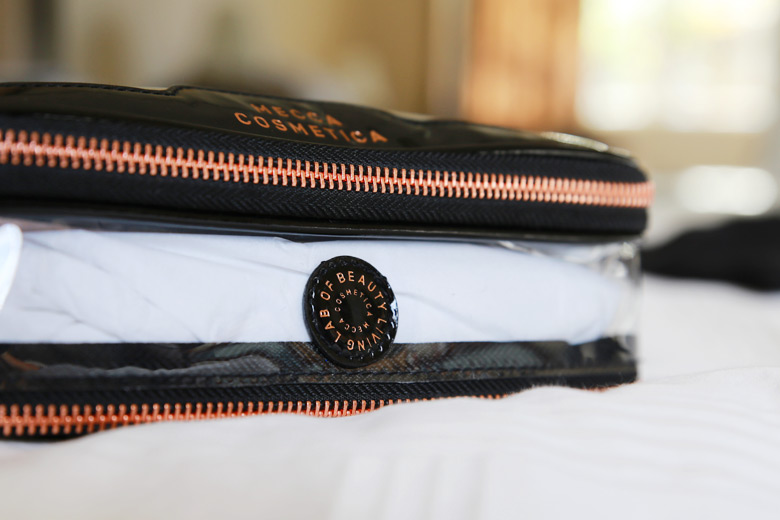 Unfortunately, the Jet Set Travel Bag is mighty popular; it's sold out online and almost in all stores. I didn't want to think too much about it given that I probably won't be able to get it. That was until I stepped into a Mecca store and saw the Jet Set Travel Collection.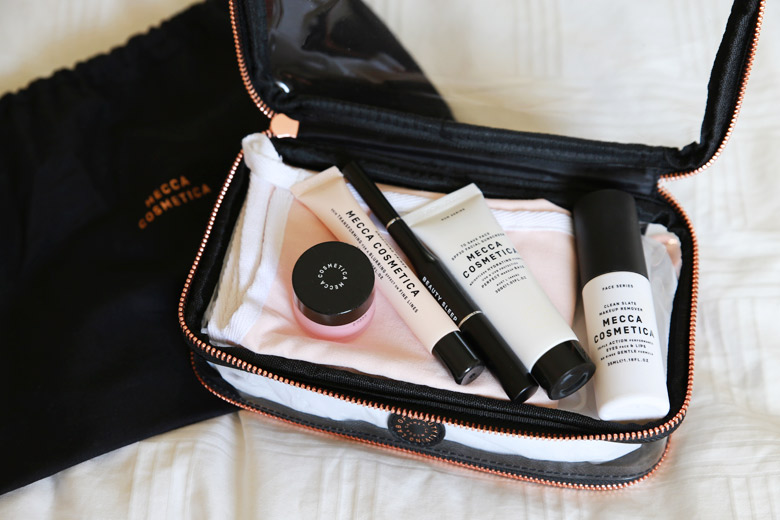 I must say, the bag looks far better in person than it does in pictures. The Travel Collection doesn't only come with the bag but also a few Mecca Cosmetic items like the Lip de Luscious SPF 25 Lip Protectant (7ml), Soft Focus Smoothing Primer (15ml), Beauty Sleep Artistry Eye Brightener, To Save Face SPF 30+ (30ml), Clean Slate Remover (35ml) and Clean Slate Face Washing Cloth. The items were so tempting that I ended up getting the Travel Collection instead of just the Travel Bag.
I've only used the Mecca Cosmetica To Save Face SPF30+ sunscreen and while it's not typically the type of sunscreen I'm drawn to, it's actually not bad. I'm pretty keen on giving the rest a go.
The hardware for the bag comes in rose gold and while I'm not usually a fan of rose gold, I must admit that it looks really fine with the clear and black plastic. One compartment is deeper than the other. The zippers are sturdy and the bag can fit quite a lot of things.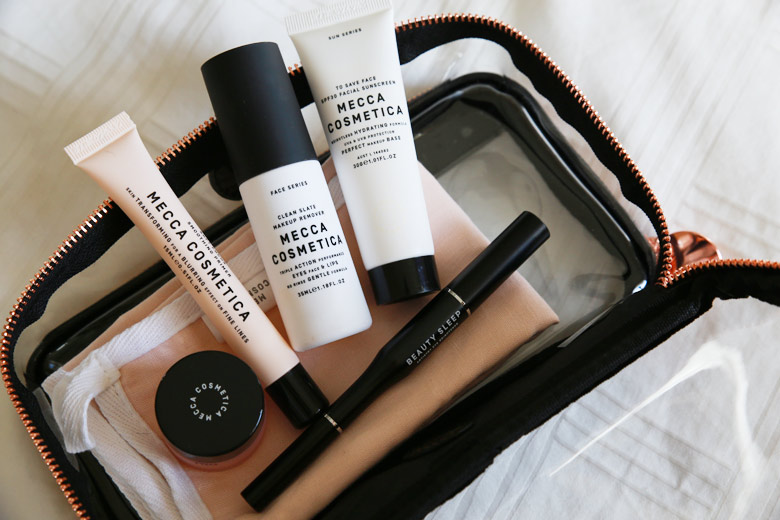 The standalone pouch retails at AU$50 and the entire travel collection retails at AU$110. It's actually not a bad deal given that these aren't just deluxe sample sizes.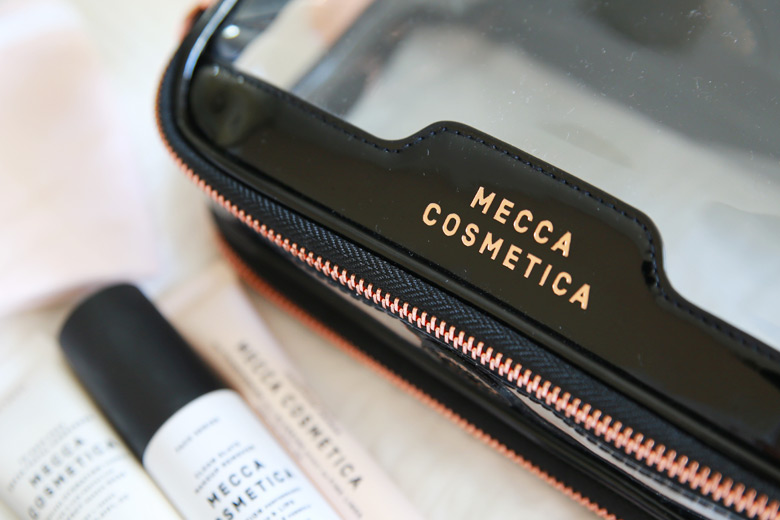 I can't wait to bring this along the next time I travel. Sorry Anya Hindmarch, I'm over your Inflight Bag now that I have this. 😀
Have you seen this in store? Do you have that Anya Hindmarch pouch? What's your favourite toiletries/makeup bag?
This post contains an affiliate link. By purchasing something via these affiliate links (at no extra cost to you), you're supporting Beautyholics Anonymous, which I highly appreciate. For more information, please read our
disclosure policy
.