THE GIVEAWAY IS NOW CLOSED. THANK YOU FOR PARTICIPATING!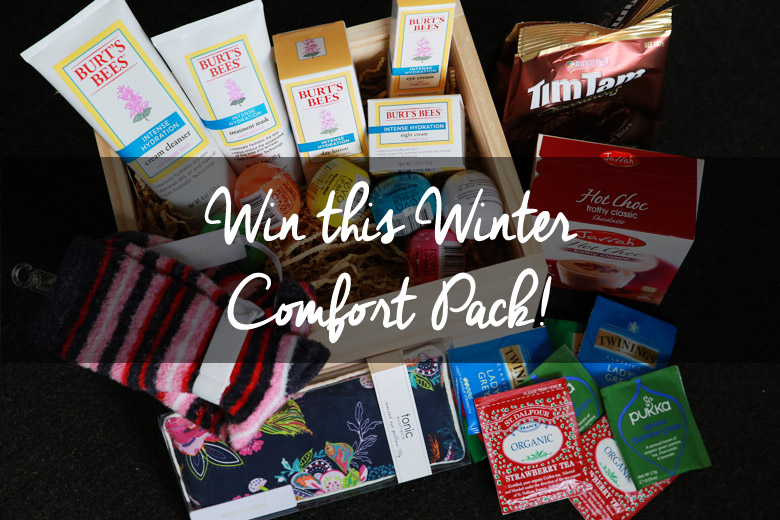 Okay I know that it's stinking hot in the Northern hemisphere now but where I am Down Under, geez Louise, it's cold. It's typical winter weather we've been having now and all I want to do is stay in bed under the warm doona! For those of you in Australia and New Zealand, you know what I mean, right?
With the wintry weather comes the heater, and that means very dry and warm air that can do havoc to our skin. Winter is the time when I amp up my skincare level to "ultimate hydration" with lots of hyaluronic acid serums and face oils. I've been incorporating a few drops of face oil to my night cream every night and even though my face looks like a greasy pot, it's soft and smooth the next morning. Totally worth the grease and shine, I tell ya!
Since we're in the wintry months, I thought I'd give away a winter comfort pack that I've put together for one lucky reader. This giveaway is for Australian and New Zealand readers only this time because we need all the comfort and warmth we can get! 🙂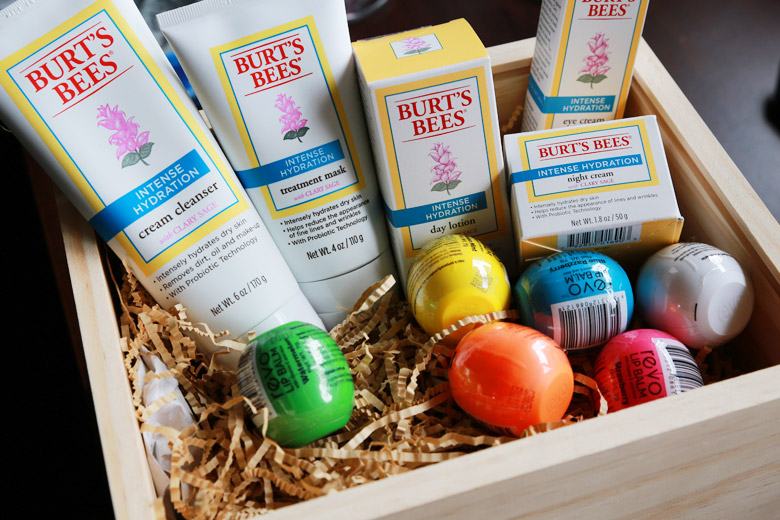 Wooden box is not included. Photography purposes only. Ahem.
I've teamed up with the lovely people at Burt's Bees to provide a lovely pack of their Intense Hydration range to give you that hydration you'll need to combat the dry air from all that heating. You'll get a Cream Cleanser, Day Lotion, Night Cream, Eye Cream and a Treatment Mask, all formulated to give your skin an added boost of hydration.
The nice folks at Revo Lipbalms have also kindly provided a few of their lip balms in the winter comfort pack. If you're familiar with EOS lip balms, you'll find these awfully similar. Gotta keep those dry and cracked lips at bay!
A winter comfort pack isn't just about skincare, so I've added a few items into the pack as well for your comfort. You'll find a pair of snuggly woolly socks, a scented eye pillow (this is my favourite!) and sachets of tea and hot chocolate to keep your belly warm. Oh, and Tim Tams! My winter is not complete without Tim Tams. 😛
HOW TO ENTER:
Simply leave fill in the form below answering the question:
What's your ultimate winter comfort treat? (mine is hot chocolate and an electric blanket 😛 )
TERMS & CONDITIONS:
1. This contest is open to Australian and New Zealand readers.
2. The value of the prize in the contest is approximately AU$250.00.
3. Anyone can enter the competition regardless of whether you've won anything here before.
4. Only one comment per contestant will be accepted.
5. Please keep it clean and spam-free.
6. The closing date for this giveaway is 11.59pm, 31 July 2015 (Australian EST). Comments submitted after this time will not be considered for the giveaway.
7. One (1) winner will be selected at random. The winner of the giveaway will be announced in the Competition/Giveaways page. The winner will also be notified via email. Please ensure that you've entered the correct email address because I'll be using that email address to contact you if you've won (not via social media).
8. The winner will be required to submit his/her name and contact address to Beautyholics Anonymous, who will be sending the prize out (please read Beautyholics Anonymous' privacy statement for more information).
9. The winner must respond to the notification email to claim the prize within 3 working days.
10. Prizes are not redeemable for cash and are non-transferable.
11. If for any reason beyond the Promoter's control that the agreed prize is not available, a product of equal or greater value will be provided.
12. Beautyholics Anonymous, Burt's Bees and Revo are not responsible for prizes once they have been dispatched to the winner. Beautyholics Anonymous, Burt's Bees and Revo reserve the right to change the terms of this giveaway at any time.
Good luck! 😀