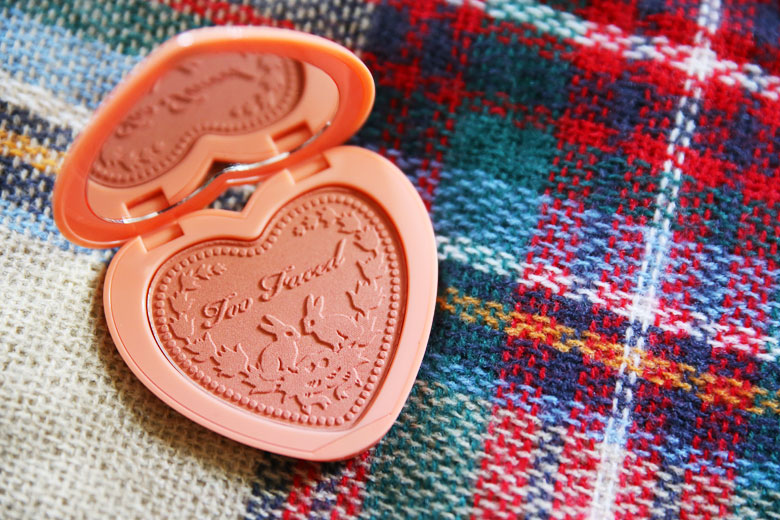 Never in my life did I think I'd be actively chasing after something that Kim Kardashian wore, liked and made popular. Sorry Kim K fans, me, I'm just not a fan. Don't throw rotten tomatoes at me, okay? 😛
In fact, I had no idea that the reason this Too Faced blush, especially this shade in I Will Always Love You is so popular simply because it's Kim K's favourite blush (or something like that). I was simply checking out the Too Faced shelf at a Mecca Maxima store one day and after a bit of swatching, fell in love with this shade. It was the sales assistant who served me who enlightened me of the fact. After staring at that shade and swatches hard, I was already thinking "Kim K who? I WANT THIS!". Unfortunately, just like their Born This Way foundation, this shade is very popular and it was sold out. I searched 3 Mecca Maxima stores before I finally bought the last one a particular store had.
The hype with Kim K aside … oh my, this is a beauty. A real beauty.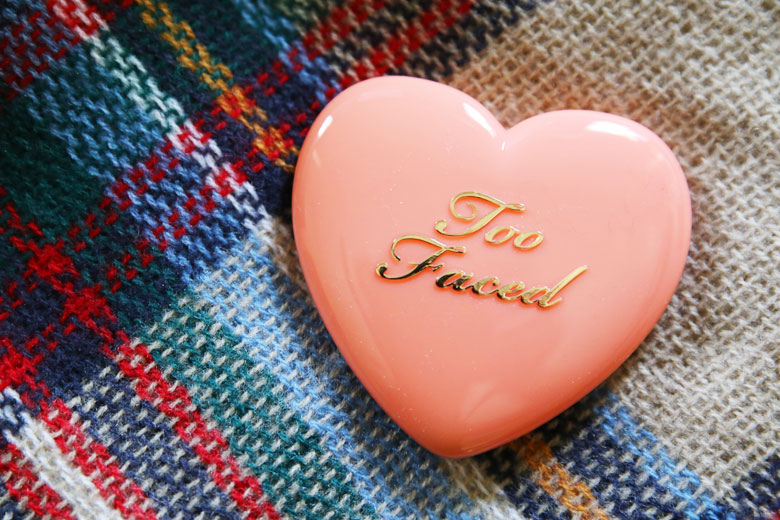 As far as packaging goes, it's cute. The heart-shaped compact is all right in my books, even though it's not really something I'd immediately go for. The embossed design, on the other hand, now that's just lovely. It's very pretty and I'll be sad to see it fade the more I use the blush.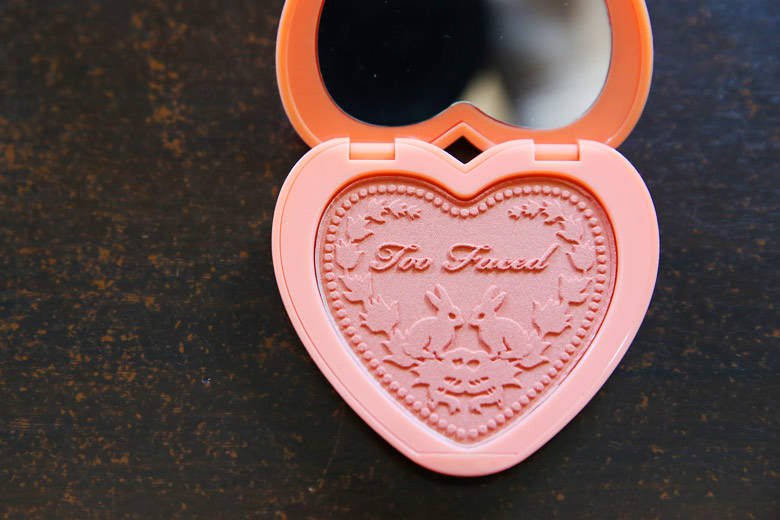 It's the shade that knocked my socks off. It's peach and gold. The swatch photo may not look like it but under the light, that unassuming matte shade is almost iridescent. In some instances, it's a little more gold than peach. You'd think that this is more of a highlighting shade and I would agree. Having said that, the peach holds very well and when it's applied on the cheeks, the gold makes them glow. The gold bits are not overwhelming that all you see are shiny cheeks, but it complements the peach so well that it leaves the skin looking radiant.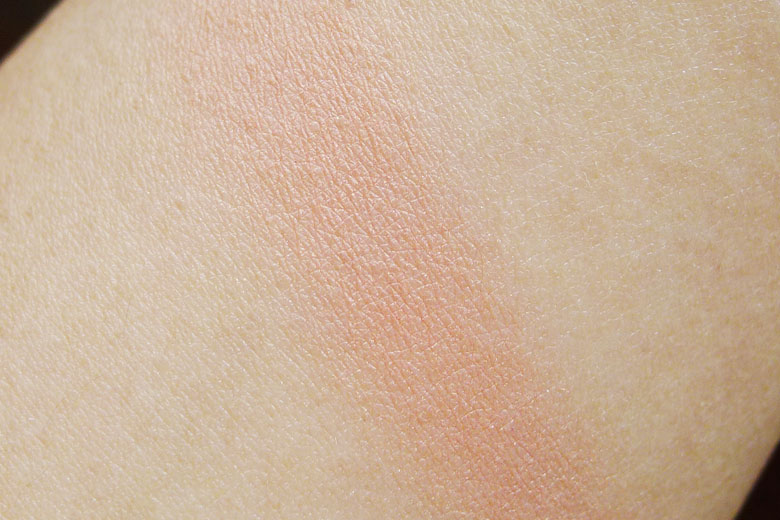 This blush contains a lot of gold pigment so a light hand is needed during application lest you end up with really shiny cheeks (again, you can't tell it from the photo but swatch it in person and you'll know what I mean). I find that one press of a fluffy blush brush on the powder and very light sweeps on the skin yields the best results. As for lasting power, this blush lasts on my skin all day, even on hot days.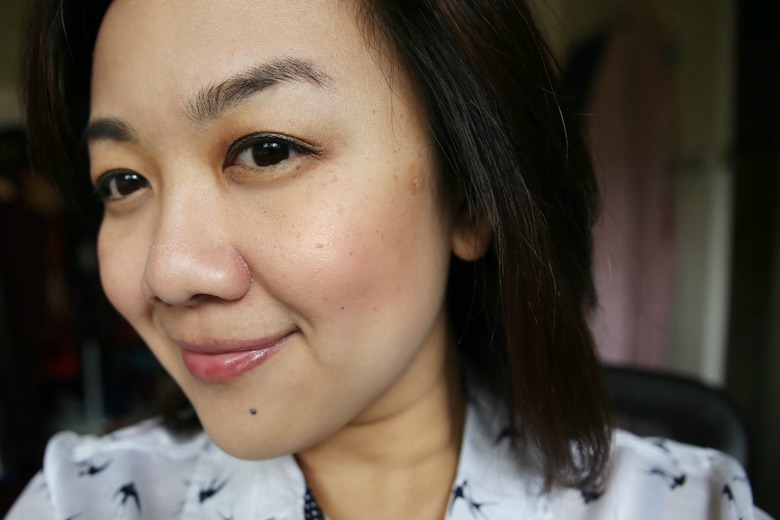 The shade "I Will Always Love You" is a very summery shade but you know me, I wear all sorts of blush shades all year round so I wouldn't hesitate using this in colder months too. Too Faced hit the ball out of the park with this beautiful, beautiful shade and blush. Why, no wonder Kim K's a fan. 😉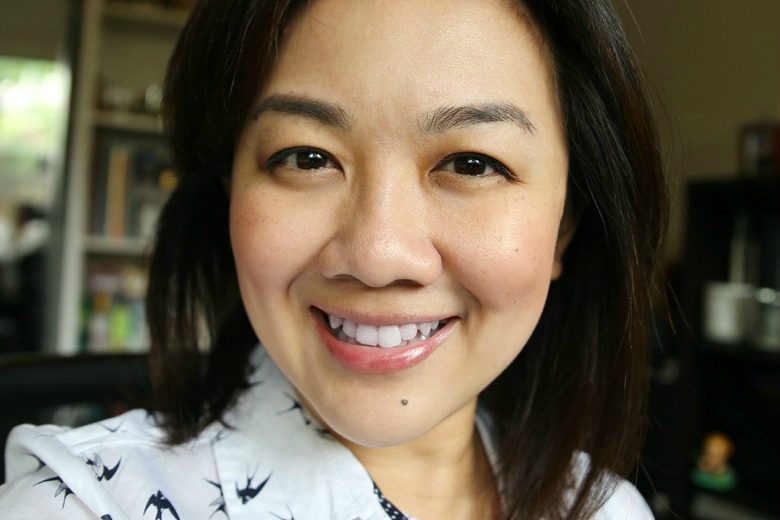 Too Faced Love Blushes retail at AU$38.00 each and there are 6 shades to the range. You can get them at Mecca Maxima stores or Mecca.com.au. It retails at US$26.00 in the US, and with the current currency exchange, they're pretty much the same price, which is very good.
What I like about it: Gorgeous colour, beautiful design, richly-pigmented and long lasting power. It ticks all the boxes for a good blush!
What I do not like about it: The gold overlay on the surface of the compact will rub off and fade when the blush is handled frequently. Other than that, I have no issues with the blush.
Have you tried the Love Flush blushes by Too Faced? If you have, which one did you get? Did you like it?
This post contains an affiliate link. By purchasing something via these affiliate links (at no extra cost to you), you're supporting Beautyholics Anonymous, which I highly appreciate. For more information, please read our
disclosure policy
.