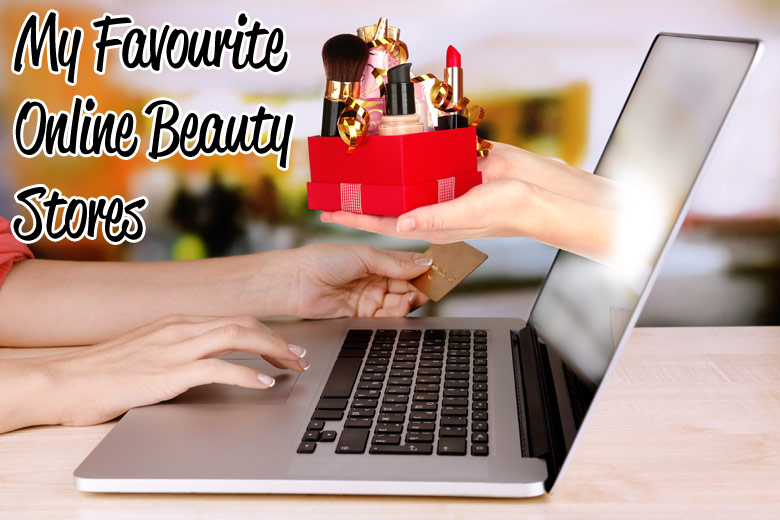 Yesterday I blogged about buying cosmetics on eBay, and while I don't buy them on eBay, there are plenty of online beauty stores out there I love and happily purchase from. When it comes to cosmetics and things that we apply on our skin, particularly near our eyes and mouth, it's vital that we go for genuine, good-quality products. Trying to save a few bucks on counterfeit cosmetics may jeopardise your health. I'm not saying that all cosmetics sold on eBay are bad. Caveat emptor and all that. 🙂
These are the online stores I've shopped with over the years and the ones I'd recommend to you. These websites have a good amount of stocked brands and their shipping rates are reasonable. So far, I've not had any issues shopping on these websites but with all activities online that requires a credit card and personal information, it's still important we exercise caution regardless of how popular they are.
I've purchased cosmetics from Cult Beauty several times and I love that UK-based website. They stock brands like Caudalie, Sunday Riley, Alpha-H, Zelens, Emma Hardie, Pixi, Tata Harper and much more. My favourite skincare guru, Caroline Hirons, have collaborated with them on several beauty boxes that are so incredibly popular, they sell out within hours. Shipping from Cult Beauty is also very quick; they usually arrive within a week (this includes weekends!).
Feel Unique is another online beauty store based in the UK. Would you believe it, I managed to get a large jar of the popular Emma Hardie Moringa cleansing balm at 50% off from Feel Unique! They don't do sales very often, but when you do, oh the bargains you can snag! Shipping from Feel Unique is not as quick as Cult Beauty's. My orders usually arrive within the 2nd to 3rd week mark.
I love shopping from Beautylish. If only their items aren't so terribly expensive! Then again, they do stock premium brands like Charlotte Tilbury, Omorovicza, Chikuhodo, Wayne Goss, Viseart and many more so I suppose I should know what I'm buying, eh? 😛 Shipping from Beautylish is quick; I get my packages from that US-based website quicker than I do packages from Australia!
There are mixed reviews to this website where some customers complained that the items were not packed properly or that they never arrived. I've purchased makeup from Kiss and Makeup NY several times and I never once encountered that issue. This was my go-to for NARS makeup before Mecca lowered their prices in 2014. Before that, a NARS blush in Australia would retail for AU$60! Kiss and Makeup NY also stocks brands like Trish McEvoy, Laura Mercier, Fresh, Kevyn Aucoin, Tatcha, Tata Harper and many more. Some of their prices are slightly lower than retail.
This is my number one Australian beauty online store to go to. While most of their items are the same price as retail prices in stores, they do sales and promos very often and you'd be able to score a quick discount every now and then. If you're looking for Dermalogica products, you can get them cheaper on Adore Beauty compared to departmental stores like David Jones. Their customer service is impeccable and you always, ALWAYS get a Tim Tam with every order. The one time they missed out on placing a Tim Tam with my order, I jokingly tweeted them that I was looking forward to that Tim Tam. In my next order, they popped in three! 😛
Even though there are plenty of Mecca stores in Melbourne and I do like popping in every now and then, I actually prefer to shop via their webstore instead. This is not to say that their brick and mortar customer service is bad; most of the time, their service is excellent. The good thing about buying online from their webstore is that you don't have to brave the crowds, especially on late night shopping Thursdays and weekends. Those are the times when the level of service drops drastically. For me, it's just easier to buy the same items online. PLUS, you always get free samples with each order. I only get about one free sample out of every ten times I buy from the actual stores.
iHerb isn't typically the website to go to for cosmetics but they do sell a lot of the natural brands that aren't easily available here in Australia. It's a great place to buy makeup from Physician's Formula as it's so much cheaper on iHerb than it is in Priceline pharmacies here. Their shipping fees are reasonable and shipping times are quick, especially with DHL shipping.
There are plenty of mixed reviews to this website where customers complained about the poor customer service and how cluttered the website is. While I'm still not a fan of the amount of "stuff" they have on the home page, thankfully I've not had any problems shopping with them. This is where I go to for Asian cosmetics. I've purchased boxes of My Beauty Diary masks from Sasa's online store. They stock plenty of Chinese, Japanese, Korean and Taiwanese brands. I wouldn't touch the brick and mortar stores with a ten foot pole (annoying sales assistants who would stick to you like glue even though you tell them many times that you're just browsing) but shopping on their website? It's all good!
You'll probably notice that I didn't include the very popular beauty website, Strawberrynet, in this list. I hesitated putting it in because it's a grey market website (this means that Strawberrynet is not the official distributor for the products they sell on the website). As such, authenticity and safety of the products cannot be guaranteed. Having said that, I have purchased from Strawberrynet many times and thankfully, I've had no problems with any of the products I bought. Still, many of the websites mentioned above stock what is available on Strawberrynet albeit more expensive. It's up to you if you'd like to buy from Strawberrynet. I haven't purchased anything from them in a while now and I don't see myself buying anything from them in the foreseeable future. Just beware of the items that are heavily on sale; they're often the ones that are close to meeting their use-by dates.
There you go, my favourite online beauty stores to go to. If you're looking for recommendations on good online beauty stores, I hope this will answer some of the questions you may have. I've willingly handed my money over to these stores many times and I don't see myself stopping. 😛
Do you have any favourite online beauty stores you frequent? If they're not on this list, do share your favourite ones with us! I'm always on the lookout for more.