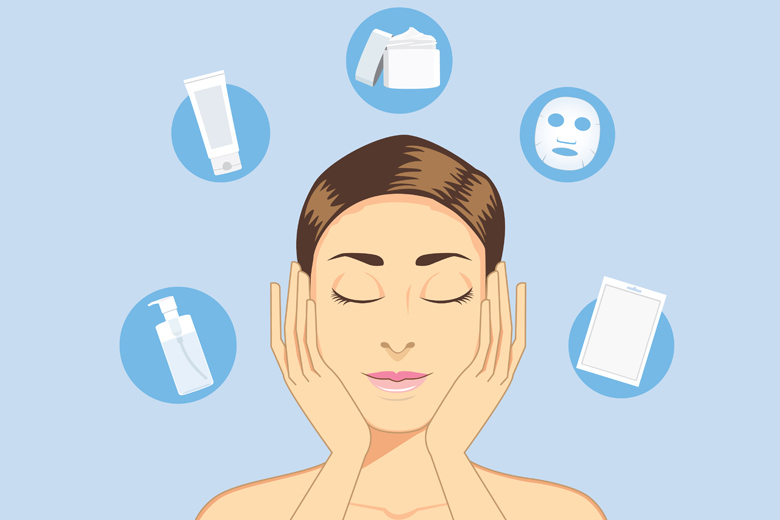 What's your skincare routine like? How many steps do you go through in your routine before it's finished? Three? Four? Believe it or not, the Koreans are famous for their 10-step skincare routine. I've also added the Japanese into this because they do just the same. But before you think "geez, these people sure are high maintenance. Where the heck do they find the time for this??", they don't actually go through 10 steps in the skincare routine twice a day on a daily basis. While their skincare routine is longer than their Western counterparts, it doesn't actually take that long.
There's a reason Korean and Japanese women's skin look so good – they take the time to look after their skin. They've made it a priority in their lives. If this means that they have to wake up earlier to get their skincare routine on just right, they would. They address particularly concerns on different parts of their face instead of just slapping one serum on in hopes that it will do the trick for all of the problems on the skin (*ahem* me *ahem*). For example, they could have one serum just for their T-zone to target oiliness, one serum just for their cheeks and chin to target dryness and so on.
The thing is, this famous 10-step skincare routine needn't just be for the Koreans and Japanese. We can do it too as long as we make taking care of our skin a priority. We just have to want it badly enough. While my skincare routine doesn't come up to all these 10 steps, it's at least 7 steps and the entire routine doesn't take more than 10 minutes (excluding facial sheet mask). It really doesn't take long at all. 🙂
But enough about me, we're here to talk about the famous 10 step skincare routine. And here it is!
1. Makeup remover and oil cleanser
Cleansing of the skin doesn't just involve micellar water and we're done with it. The Koreans and Japanese use proper makeup removers to remove all of the eye and lip makeup. After that, it's time for an oil cleanser or cleansing balm to break down all of the oil-based debris on the skin, e.g. makeup, sunscreen, pollution from the air and so on. As for me, I like to massage my skin with a cleansing balm at this stage before emulsifying it with water.
2. Cleanser
Double-cleansing is not just very popular amongst the Koreans and Japanese but they're highly recommended by beauty therapists and estheticians as well as this helps to remove all the dirt and impurities from the skin.
3. Exfoliator
You can use a physical or chemical exfoliator during this step to get rid of the dead skin cells that have been accumulating on your skin. This improves the skin's texture and brightens the complexion. This is not carried out on a daily basis but just 1-2 times a week.
4. Toner
Many Koreans tend to use hydrating toners than the typical astringent ones favoured in the West. Toners are used to remove all residue from cleansing and preps the skin to effectively absorb the serums and moisturisers to follow.
5. Essence
Many people confuse essence with toner when in fact, they're not the same thing. Essences adds another layer of hydration to the skin, which helps contribute to that radiant chok chok appearance. Personally, I don't use toners anymore but skip to essences instead, and found that it has added to the improvement of my skin significantly.
6. Serums
In Korea, they typically call these ampoules whereas we refer to them as serums. Even though they're still very light in texture and consistency, they're still thicker than essences. Serums are used to target specific skin concerns. They can help to brighten skin, smoothen fine lines, control hyperpigmentation and more.
7. Facial sheet mask
This is typically done 1-2 times a week but when my skin is feeling particularly parched especially during winter, I like to use it every other day. It gives the skin an instant boost of hydration.
8. Eye cream
Some beauty experts claim that eye cream is just an expensive marketing ploy by cosmetics brands when they're pretty much just the same as moisturisers. I like using a separate eye cream that's lighter than my moisturiser to not only keep the puffiness and dark circles at bay, but to keep the area well-moisturised.
9. Moisturiser
If this is your night-time routine, then the skincare steps end here. The moisturiser will be the thickest portion of the skincare routine to not only lock in your essences and serums, but to also keep your skin hydrated. Koreans like to use a sleeping mask as a moisturiser for that intense overnight hydration.
10. Sunscreen
The best anti-aging skincare product of 'em all – the almighty sunscreen. This goes over the moisturiser and is worn during the day, regardless of cloudy days or staying indoors but sitting near a window.
Multi-tasking products are generally not recommended as they don't perform as well as the ones used to target specific issues. For example, the Koreans and Japanese will still use a sunscreen under their BB creams and makeup and not just use a BB cream with SPF. This is why Korean and Japanese beauty stores are fun albeit slightly confusing to shop at because there are just so many products for different purposes.
Even though it sounds crazy when we mention "OMG 10 steps?!" but when you break it down, it's actually not that long. Most of us probably already do at least 7-8 of these anyway. If not, try adding 1-2 more steps to your skincare routine and whatever you do, do not skimp on step #10, which is the sunscreen. It's the most important step of all.
Do you do the famous 10-step skincare routine? Or does it sound just a bit too much?