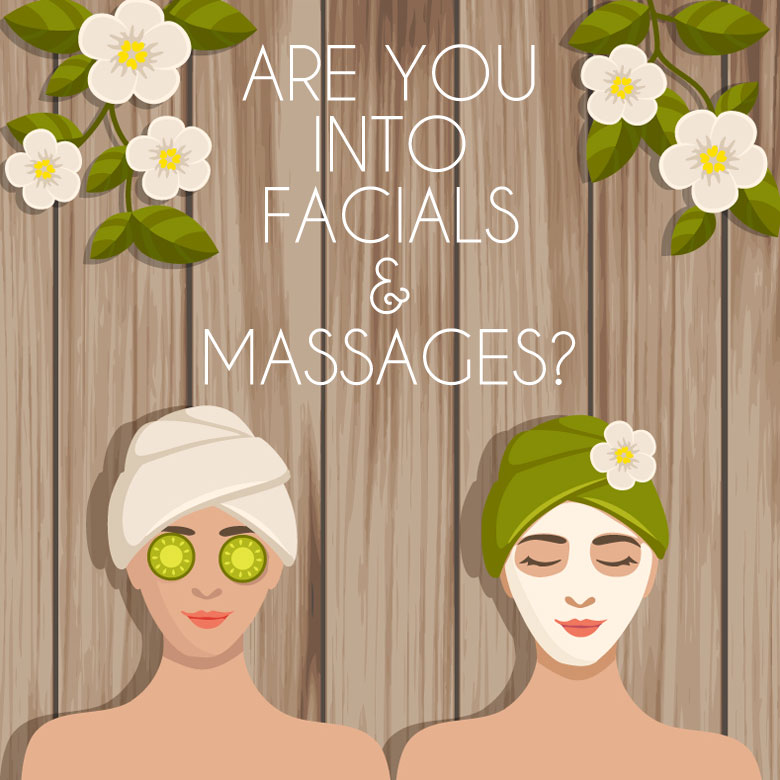 I have a friend who absolutely hates facials, massages or any sort of therapeutic remedies that involve strangers touching her face and body. In fact, even if it was someone she knew, she'd rather not have them touch her face or body. Needless to say, she doesn't go for facials and massages. I find that very interesting because most people I know adore facials and massages.
I'm one of them.
But I haven't always liked them. In fact, facials and massages took years of getting used to before I started to enjoy them. Back then, I used to think they were akin to torture methods. 😛
My mum introduced me to facials. She adores them and makes it a point to go for one at least once a month. She'd purchase facial packages at beauty salons that use brands like Kanebo and Thalgo, and she'd treat me to them every now and then. Facial packages are very popular in Asia; for example, you'd pay a large sum of money for 5 facials and they'd give you a treatment or two for free.
I was in my mid teens when mum treated me to my first facial. I'd gone with her to her facial treatments and was fascinated with all that skin stroking and massaging, and it was finally my turn to experience all that! Oh how I felt utterly grown up back then. An adult was actually giving me, a kid really, a facial!
In hindsight, it was a regular facial with facial cleansing and lots of facial massage. It was not a bad one. But boy, I hated it. I didn't realise my jaw, neck and shoulders were that sensitive to touch (or at least, no one but me had ever touched those areas. Mum doing that to me as a baby didn't count). I was cringing, squirming left right and centre throughout the entire facial because I was so ticklish. The whole 1.5 hours felt like torture. I didn't understand why mum enjoyed it so much because I told myself I'd never, ever have another facial again. Why would people subject themselves to this?! 😛
I didn't have another facial till many years later when I started working. I decided to bite the bullet and give facials one more go. I braced myself for all that tickling feelings on my neck and shoulders. You'd think that I was crazy paying so much for something I didn't even think I'd enjoy, right? The funny thing was, I really enjoyed that facial! Sure, my neck was still a tad sensitive but the overall experience was lovely. I left the salon feeling like a million bucks. Maybe it was because I had a boyfriend then and … well, let's just say, I wasn't the only who touched my neck and shoulders anymore. 😉
From then on, I splurged on monthly facials. Technically, they don't do all that much to my skin other than feeling very soft and smooth from all that scrubbing and massaging. It was the relaxation and pampering I was after, and am still after now.
I only started enjoying body massages within the past 10 years. I love back massages but when it comes to my legs – especially the thighs – I'd grip the towel so hard because the areas are terribly sensitive and ticklish. I still remember the time when I went for a full body Thai massage with my cousin Beetrice in Bangkok and she laughed so hard at me laughing so much because I was so ticklish. The massage was good but the entire experience of us laughing like crazy (including the massage therapists who found us terribly amusing) is something I won't forget.
These days, I tend to go for remedial massages. As I've taken up running, I needed firm massages targeted at my back and lower legs, especially the calves, usually using massage balms with camphor. They're not relaxing massages and can often be quite painful (think silently screaming into the massage table hole). But the relief I feel after a remedial massage is simply fantastic.
If you've not super ticklish like I am, aren't a fussbudget when it comes to strangers touching your skin and have never tried a facial or massage before, why not give either one or both of them a go? As always, research the beauty salon, check out their reviews online, etc before making your appointment. If you're based in Australia, I highly recommend Endota Spa*. They're more expensive than independent beauty salons but they're renowned for their service, hygiene and safety. I've tried many beauty salons from my Groupon days and after less-than-savoury experiences in certain beauty salons, I now only go to Endota Spa. If you're in Melbourne or Queensland (particularly near the Palazzo Versace), I also recommend Aurora Spa*. It's pricier yet more luxurious than Endota Spa.
Have fun!
What about you? Do you enjoy facials and/or massages too? How old were you when you had your first facial/massage? Was it a cringe-worthy experience like mine or did you enjoy it?
*not sponsored or affiliated with any of these spas.