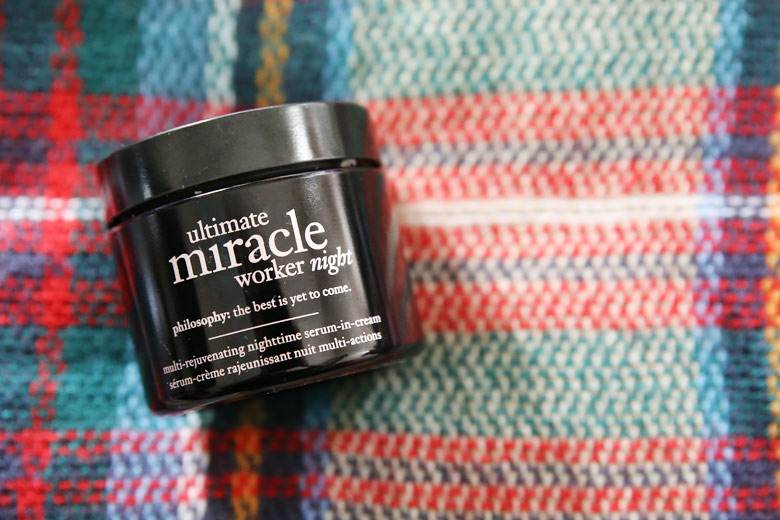 While I've used a number of bath products by Philosophy, I must admit that I've never given their skincare much thought because when I tested them in store, they were often too rich for my liking or just plain meh. So when the Ultimate Miracle Worker Night Cream landed on my desk for review several months ago, I wasn't terribly keen on giving it a go. When I'd scraped off every last bit of the night cream I was using at that time, I knew I either had to buy a new one or give that Philosophy night cream a go. No prizes for guessing which one I went for. 😛
Okay, I take back what I said about Philosophy skincare being meh, or at least too rich for my liking. This night cream's simply a blast! And by that, I mean it was pretty damn good.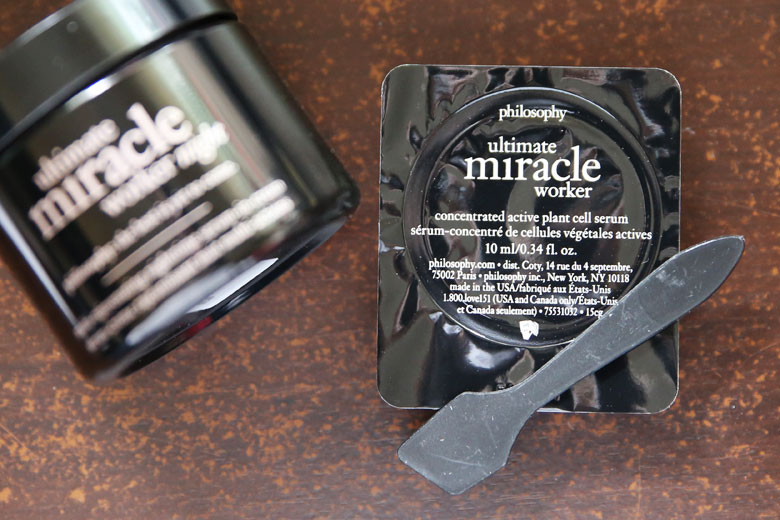 Description:
For the first time, we have combined the concentrated power of a serum with the nourishing benefits of a cream to help dramatically reduce the signs of present and past skin-aging, while you sleep. our exclusive formula targets all major signs of aging including lines, wrinkles, firmness, texture, pores and radiance. its patented technologies and ingredients are proven to help improve skin regeneration and epidermal repair, while helping skin rebuild its natural collagen and rejuvenate its appearance layer by layer.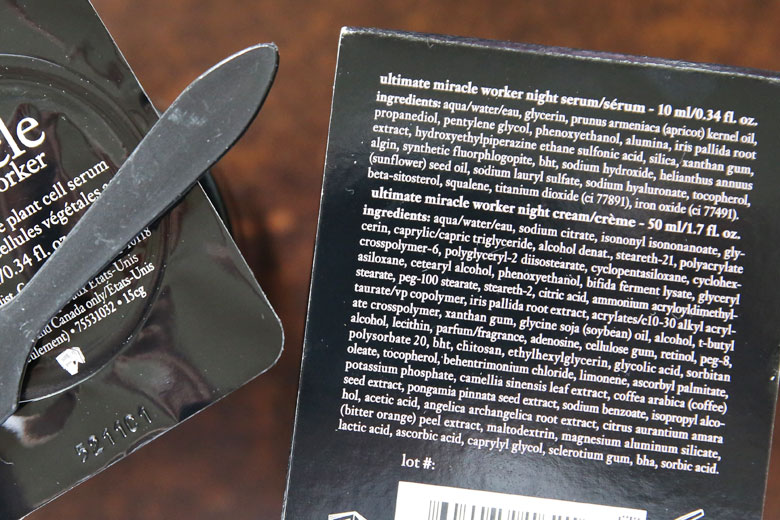 According to Philosphy, this is a multi-rejuvenating nighttime serum-in-cream moisturiser. The "serum" came in tiny pearl pods that were packed separately from the moisturiser. I was intrigued by the experiment-y bits of this night cream. In order to use it, I had to mix the pearl pods in with the cream, let it set and dissolve for 5 minutes and then give it a good mix for the serum to properly combine with the cream.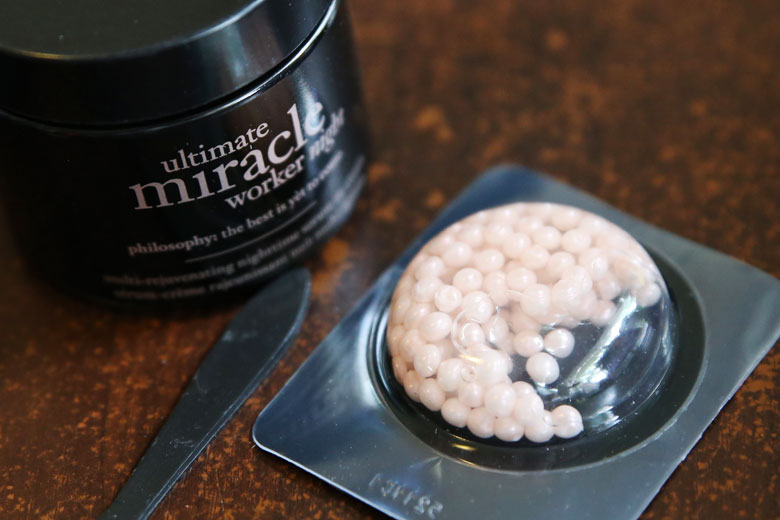 I'm accustomed to rich and creamy night creams but this night-time moisturiser is different. It's very liquid-y, which is strange because it came in a jar instead of a tube/bottle. It's more of an ultra-light lotion than a cream. Even so, I only needed a very small amount of the cream to apply on my face, neck and decolletage because even though it feels very light, it's also very emollient on the skin.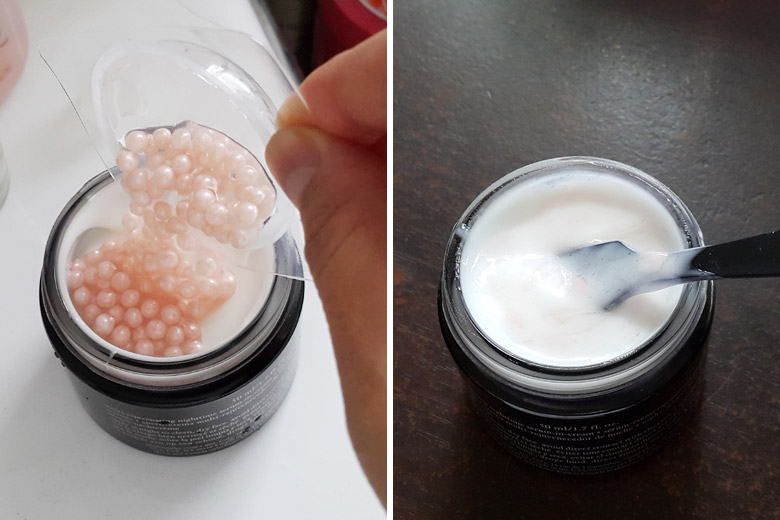 This night cream contains retinol, which is an added boost to the retinol and exfoliating serums that I'm already using. Philosophy doesn't mention the percentage of retinol used in the cream but I have a feeling it's a low-grade one.
This is an interesting night cream and one that I enjoy using. To be honest, I can't tell the difference with the pearls on my skin but I suppose the combination worked because my skin loves drinking this moisturiser up at night and as a "topper" to seal in my active serums, this kept my skin well-hydrated throughout the night and I wake up with soft and boing boing skin. Looking at the ingredients, I suspect that even without the so-called "pearls", the night cream would still work well because the bulk of the good stuff is in the cream, not so much the pearls. Still, it's a gimmick that I quite enjoyed. 😛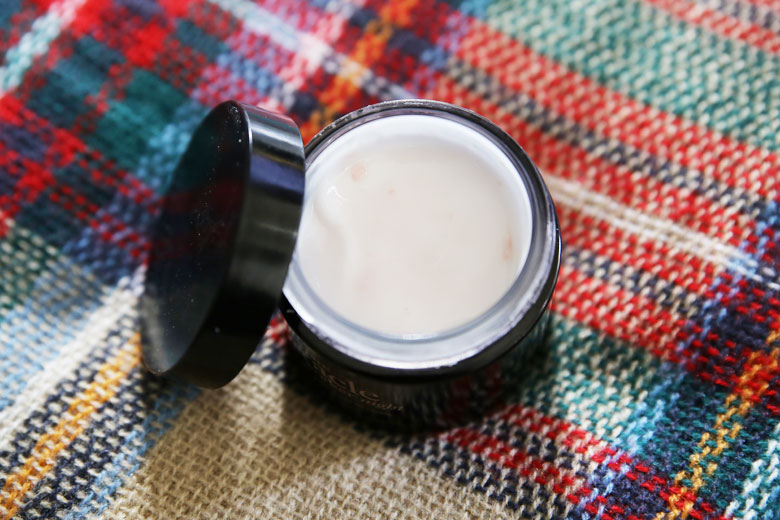 Since I only need very little of it at one time, this massive jar is going to take me ages to finish. I've been using this moisturiser for 2 months and it looked as though I've barely scratched the surface. It does seem expensive to begin with but the same amount of a different brand of moisturiser had me using the latter up much quicker. I'd say the cost per use for this moisturiser, along with what it did for my skin, is worth the $$$.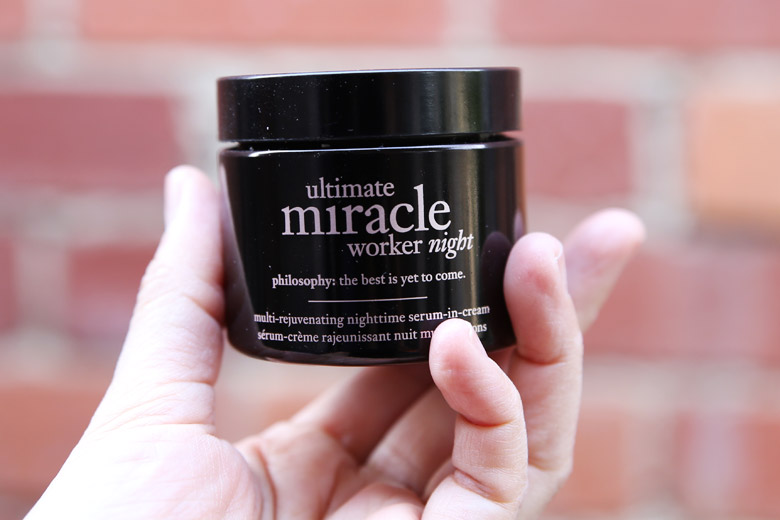 I give this night cream an enthusiastic thumbs up!
Philosophy's Ultimate Miracle Worker Night cream retails at AU$120.00 for 60ml and is available at Mecca Maxima, David Jones and Sephora.
What I like about it: Interesting experiment-y concept of combining the serum pearls with the moisturiser, lightweight yet hydrating for a night cream, absorbs quickly, not sticky on the skin.
What I do not like about it: Pricey to begin with but it'll take ages to finish, so it's not too bad.
Have you tried this or any of Philosophy's skincare before? If you've tried Philosophy's skincare, what else would you recommend?
This product was provided for editorial consideration. This post contains an affiliate link. By purchasing something via these affiliate links (at no extra cost to you), you're supporting Beautyholics Anonymous, which I highly appreciate. For more information, please read our
disclosure policy
.