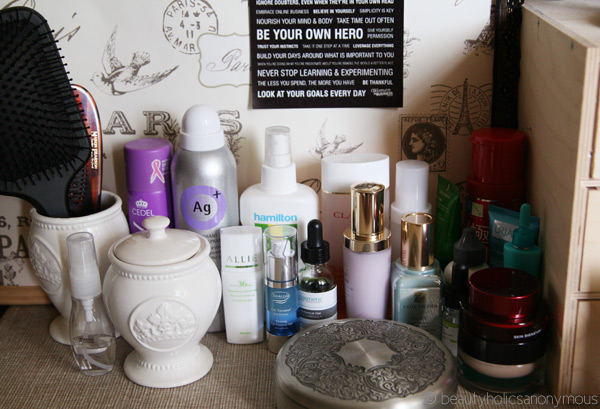 I haven't done an update on my skincare routine in a while. To be honest, there really isn't much to update you on. Most of the products I've been using are the same as before. Seldom do I make drastic changes to the products I'm using, especially if the products are already proven to work very well with my skin. Hey if it ain't broken, don't fix it, right?
Still, summer is upon us (as you can tell from my complaints about the heat on Twitter and Facebook :P) and it's time to pack the rich creams away and take the light ones out. When it's incredibly warm in the evenings, I really can't be arsed slapping heavy gunk on my skin.
This is what I've been using lately.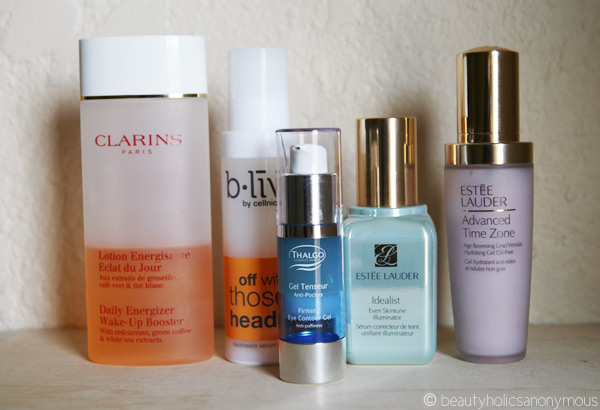 DAY:
Clarins Daily Energizer Wake-Up Booster
b-Liv by Cellnique Off With THose Heads Blackheads Sebum Gel
Estee Lauder Idealist Even Skintone Illuminator
Estee Lauder Advanced Time Zone Age Reversing Line/Wrinkle Hydrating Gel Oil-Free
Thalgo Firming Eye Contour Gel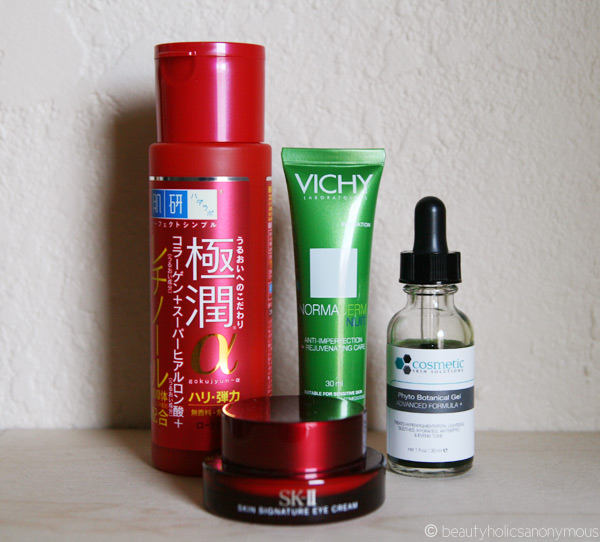 EVENING:
Hada Labo Hada Labo Retinol Lifting and Firming Lotion
Cosmetic Skin Solutions Phyto Botanical Gel Advanced Formula +
SKII Skin Signature Eye Cream
Vichy Normaderm Nuit Anti-Imperfection + Rejuvenating Care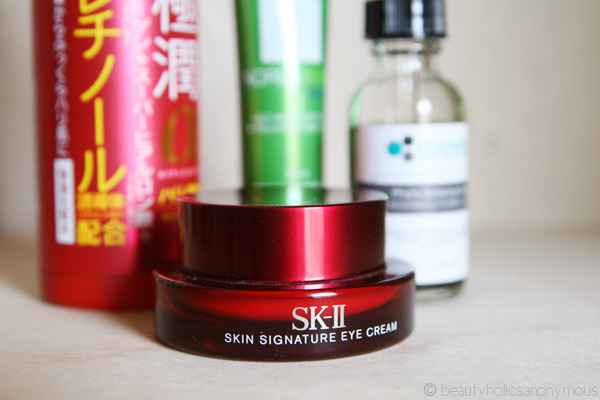 ESSENTIAL SUN PROTECTION:
ALLIE (by Kanebo) Mild Protector SPF36 PA++
Vaseline Healthy Sunblock SPF30
A must have during the very hot days and evenings is facial mists. I'm partial to the one by Uriage. I know this is a bit of a naughty habit because it does dry the skin, but I love to mist my skin and then sit next to a fan. You'd think otherwise when it's 40C outside because it feels so. Damn. Good. Ahhhh …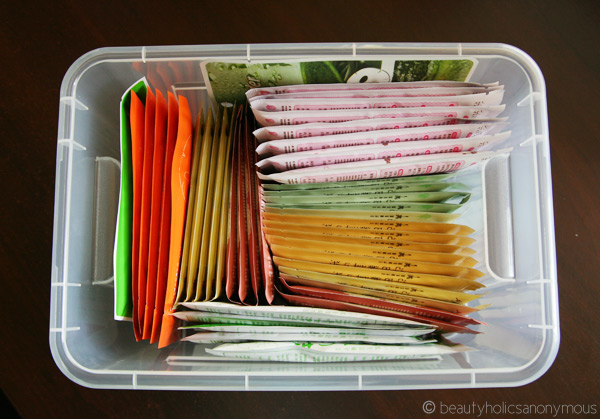 My stash of facial sheet masks. At first glance, they look like packets of curry paste 😛
A good treat every few days is facial sheet masks. These are particularly awesome when it's so hot outside because it feels very cool on the skin. They keep my skin hydrated AND keeps me cool at the same time. If it's hot in the evenings, I highly recommend a facial sheet mask to cool you down. It's even better when they've been placed in the fridge for 30 minutes prior to application.
Balmy nights are when Tim does a sneaky to the fridge and steals my facial sheet masks to use (one time he very nearly got his hands on my precious SKII masks. OH HELL NO). It's not about keeping his skin hydrated, it's just about cooling it down. Good idea, don't you think? 😛
Does your skincare routine change with the seasons? If you don't live in 4-season zones, do you still amend your beauty routine when it gets warmer or cooler?