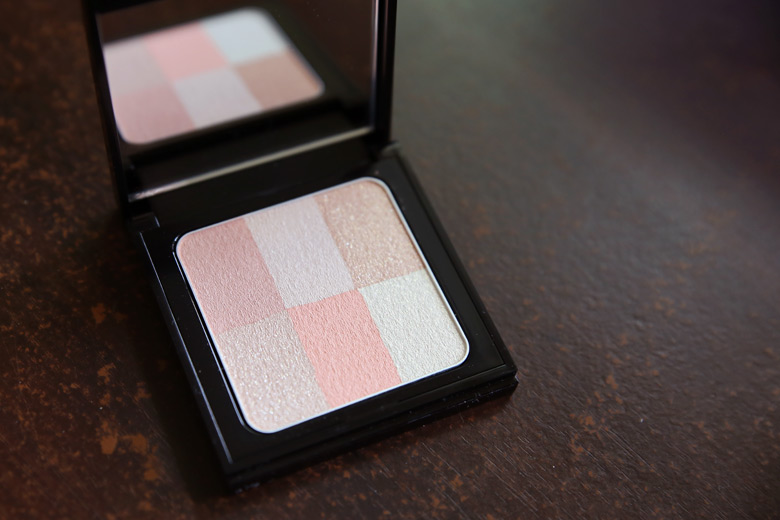 I'm sure many of you have heard of Bobbi Brown's Shimmer Bricks. They're one of Bobbi Brown's bestselling products and several brands have even made dupes of those shimmer bricks. Personally, I'm not a fan of those shimmerbricks, either the Bobbi Brown ones or the dupes because they're simply too shimmery for my liking.
When the new Brightening Brick landed on my desk for review, I must admit, I was apprehensive. While it looked pretty damn good on the compact, the amount of shimmer I saw on the pressed powder was slightly shocking. I like my shimmer very subtly and that Brightening Brick does not lack in the shimmer department. Still, I was keen on giving it a go.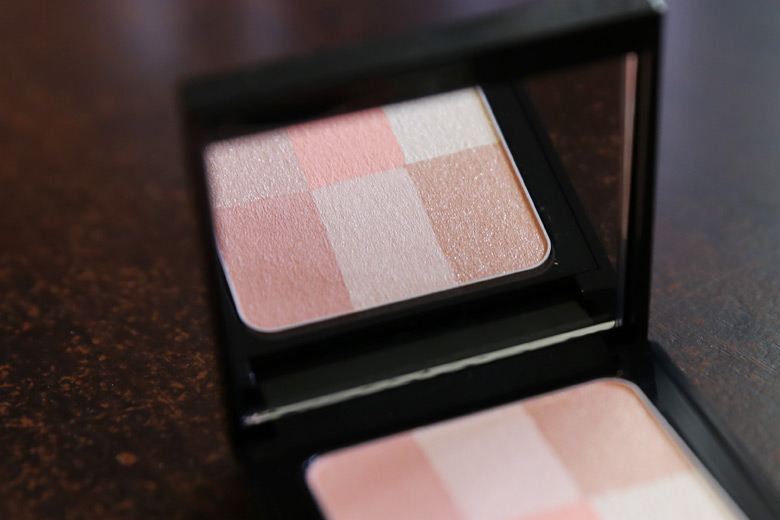 Here's what the Brightening Brick does: it takes the warmth of a bronzer, the pure oclour of a blush and the luminosity of a highlighter in one compact. It imparts a dose of sheer radiance without drying the skin or settling into fine lines. It's a finishing powder (not a setting one) and instantly awakens tired skin, leaving it fresh and glowing.
Right, let's see how it worked for me, eh?
First of all, even though it looks like there are bits of peach in there, this is not a blush. You can use a small makeup brush to concentrate only on the matte peach section but you'll only get a hint of colour as it's pretty sheer. What this is, it's a setting powder, which is not dissimilar to Guerlain's Meteorites or Hourglass' Ambient Lighting Powder. The one I have, which is in Pastel Peach, has warm undertones and gives a slight warmth on the skin.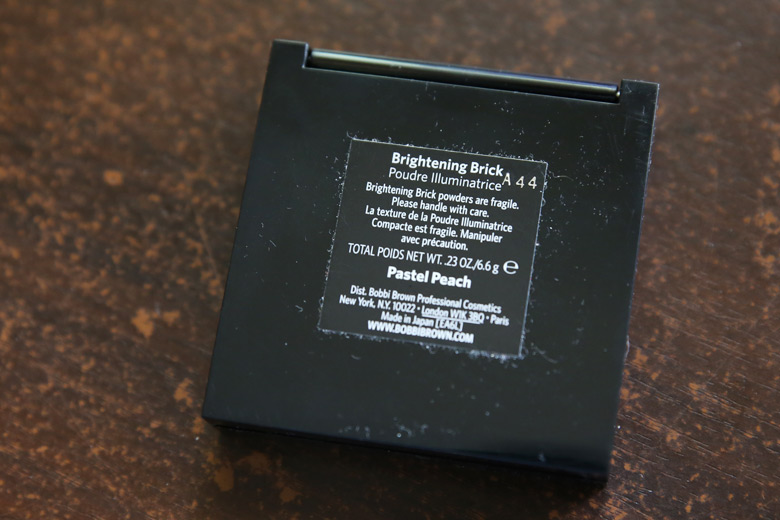 Is it shimmery? By Jeeves, it is. Honestly, the first few times I used it, I didn't like it at all. It was far, far too shimmery on my skin; it was as though I've sprayed tiny bits of glitter on my face! After a couple of uses, I was more than ready to give up on the powder. Then I had a thought; perhaps it's just the overspray of the first few layers that is full-on shimmery and the rest of the powder, not so much. So I used my index finger and rubbed it all over the pressed powder. I rubbed hard and yep, I ended up mixing the colours together, which made the powder not so pretty.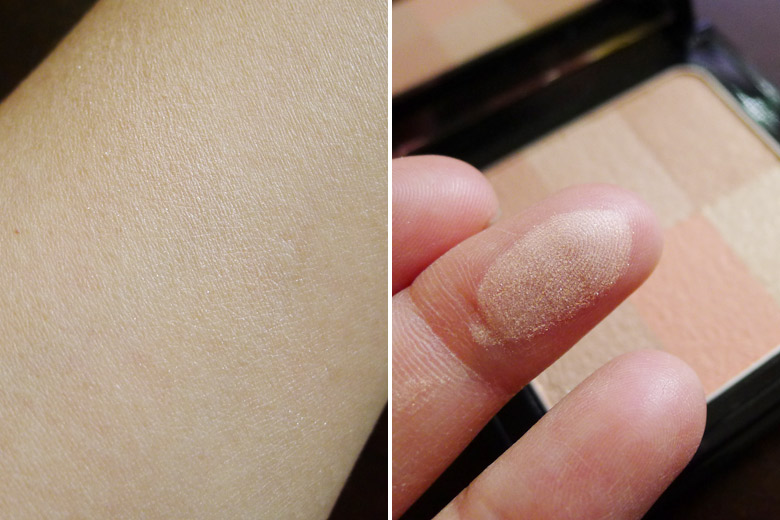 But you know what? After I got rid of the overspray of glitter, the Brightening Brick became so much better to use. Yes it's still shimmery but not to the full extent as before. The bigger bits of glitter were gone and what was left on the skin was a glowy, satin finish that gives the skin a similar effect to Guerlain's Meteorites or Hourglass' Ambient Lighting Powder. The Pastel Peach gives the skin a beautiful warm-ish glow.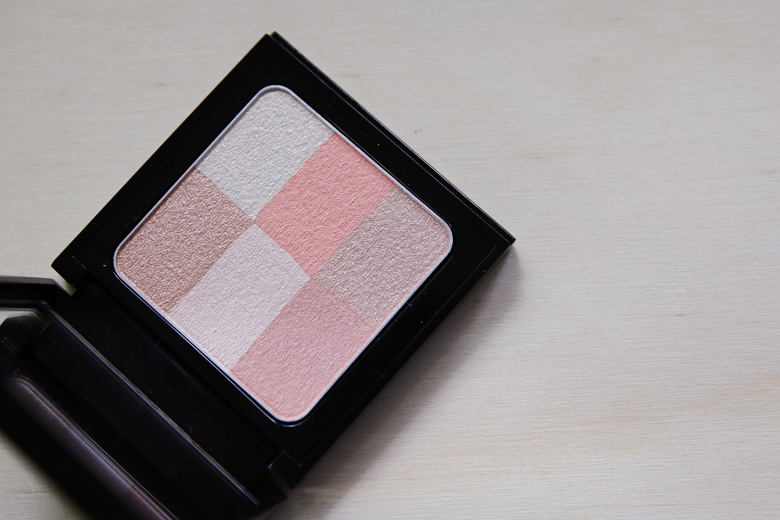 I'm so glad I removed the overspray because now I'm able to use it properly. I don't understand the need for the overspray. Sure it looks pretty when it's new but to people with shimmer-phobia, all that glitter is a mighty turn-off. Since I use a light and fluffy face brush with this, it would have taken me ages to get rid of the overspray. Thank goodness for that lightbulb moment of rubbing all that glitter off with my finger. If not, this would have been a very disappointing finishing powder. Now, without the glittery overspray, the Brightening Brick is a quite a joy to use.
Bobbi Brown's Brightening Bricks retail at AU$75.00 each and are available in 6 shades at the Bobbi Brown Studio, selected David Jones, MYER and Mecca Maxima stores, and also online at bobbibrown.com.au. They retail at US$45.00 in the US.
What I like about it: The finishing powder gives a beautiful warm satin finish on the skin (ONLY after removing the first few layers of glittery overspray).
What I do not like about it: Far too glittery when first used. If you're not a big fan of glitter, rub the overspray off prior to use. This won't make the powder look very pretty but at least you'll get to use it as intentioned.
Have you tried Bobbi Brown's Brightening Bricks? Or even the popular Shimmer Bricks? Do you enjoy them? Or are they too glittery for your liking?
This product was provided for editorial consideration. This post contains an affiliate link. By purchasing something via these affiliate links (at no extra cost to you), you're supporting Beautyholics Anonymous, which I highly appreciate. For more information, please read our
disclosure policy
.