THE GIVEAWAY IS NOW CLOSED. THANK YOU FOR PARTICIPATING!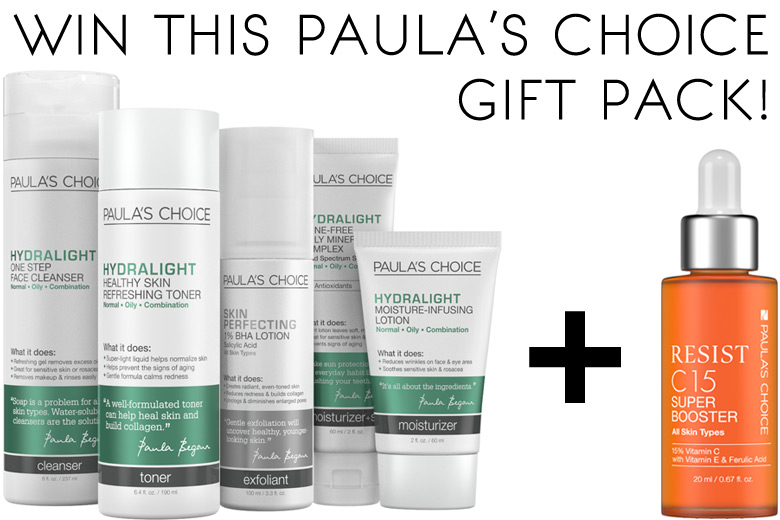 Happy Friday and welcome to the first giveaway on BA for 2015! I originally wanted to do one for January but for odd reason, it missed my editorial calendar. Ah well, better late than never, right? 😛
We're kicking the first giveaway of the year with some goodies from Paula's Choice. Now even though I don't agree with everything Paula Begoun preaches about beauty products (I've mentioned on several occasions on the conflict of interest she has with her own brand of beauty products), I cannot deny the fact that quite a number of her Paula's Choice skincare products are good. One of my favourite serums is the Resist Ultra-light Super Antioxidant Concentrate Serum. The Resist C15 vitamin C serum is a very good one too.
I'd love for you to give Paula's Choice a go too. The lovely people at Paula's Choice have kindly sponsored Hydralight Advanced Kits for 2 lucky readers! Now I haven't tried the Hydralight range but since I do still want you to give something I've tried and recommended a go, they've also decided to add the Resist C15 vitamin C serum too.
So, to reiterate, 2 lucky readers will win a Hydralight Advanced Kit + Resist C15 Super Booster serum worth AU$205 each!
Here's some information about the Hydralight range and the Advanced Kit:
The Hydralight range is targeted towards those with oily to combination skin, particularly if you have extra sensitive skin and suffer from redness. This kit contains 5 products: Hydralight Cleanser, Hydralight Toner, 1% Beta Hydroxy Acid Lotion, Hydralight Shine-Free SPF 15 and Hydralight Lotion. Warning: please do not use the 1% Beta Hydroxy Acid Lotion if you are allergic to aspirin or its derivatives.
Sounds like something that's right up my alley!
Oh and did I mention this giveaway is open worldwide? 😉
HOW TO ENTER:
Simply leave a comment below answering the questions:
1. Which country are you from?
2. Do you have any skin concerns? If so, what are they? E.g. oily, dry, premature wrinkles, etc.
TERMS & CONDITIONS:
1. This contest is open to Australian and international readers.
2. The total value of the prize in the contest is approximately AU$410.00.
3. Anyone can enter the competition regardless of whether you've won anything here before.
4. Only one comment per contestant will be accepted.
5. Please keep it clean and spam-free.
6. The closing date for this giveaway is 11.59pm, 13 February 2015 (Australian EDT). Comments submitted after this time will not be considered for the giveaway.
7. Two (2) winners will be selected at random. The winners of the giveaway will be announced in the Competition/Giveaways page on 16 February 2015. Winners will also be notified via email.
8. The winner will be required to submit his/her name and contact address to Beautyholics Anonymous. The contact details then will be submitted to Tailormaid Communications (the liaison for the competition), who will be sending the prizes to the winners (please read Beautyholics Anonymous' privacy statement for more information).
9. The winner must respond to the notification email to claim the prize within 5 working days.
10. Prizes are not redeemable for cash and are non-transferable.
11. If for any reason beyond the Promoter's control that the agreed prize is not available, a product of equal or greater value will be provided.
12. Beautyholics Anonymous and Tailormaid Communications are not responsible for prizes once they have been dispatched to the winner. Beautyholics Anonymous and Paula's Choice reserve the right to change the terms of this giveaway at any time.
Good luck!