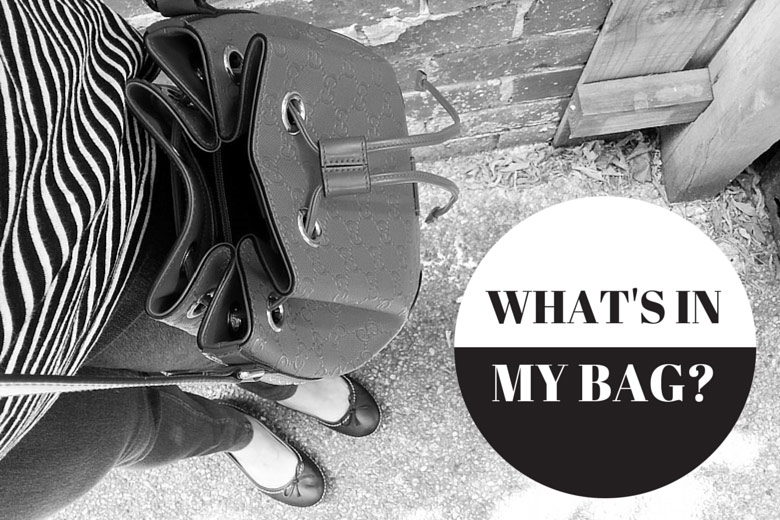 Earlier this year, I wrote about my 52 Week Money Challenge in 2014 and that my goal for completing the challenge (which not only stipulated the minimum amount of money I was supposed to save but more importantly, I wasn't allowed to buy a single bag/clutch/wallet/bag thingie all 2014) was to buy a designer bag. I love my bags and boy, was it hard not to buy one, even when it's on sale! I'm not to buy any bag-related items even if they cost $10. Those were the rules of the challenge and as hard as they were, I stuck with them.
A year later, when the challenge was finally over, I saved about $2400. LeGeeque and I discussed my upcoming bag purchase for many months and when the finishing line was very close, she asked me if I wanted to blow them all on one bag or if I wanted to split the money and buy two instead. After much deliberation, I decided that I wanted to get a new wallet as well, which meant that my budget for the bag was reduced.
Now as I also saved money that wasn't part of the 52 Week Money Challenge, technically, I could add to the Bag Budget if I wanted to but I made it very clear that that was my Bag Fund and I would not spend a penny more than the stipulated amount. I thought hard about what I wanted to get. I went to designer stores and was on Net-a-Porter so often that Tim became quite alarmed at exactly how much I was going to blow on my bag. 😛
In the end, I made my decision, got what I wanted and thought, what better way to show you what I bought than do an updated "What's In My Bag?" post?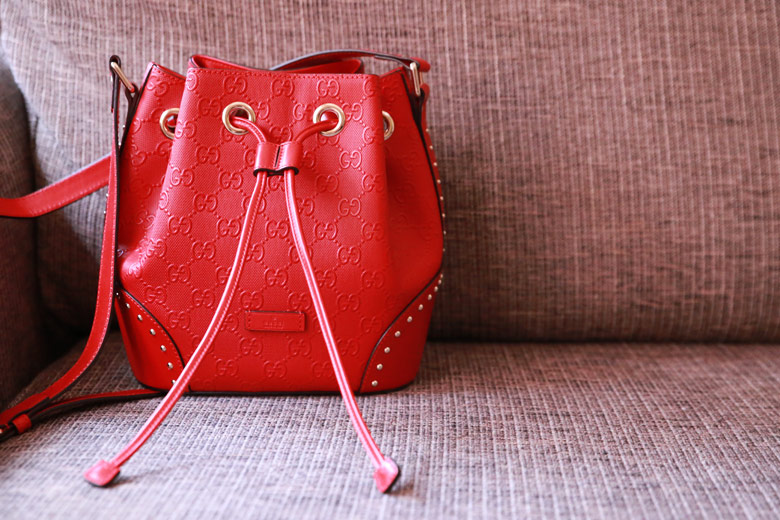 The bag that I got was a Bright Diamante GG Leather Bucket Bag by Gucci. To be honest, I'm not typically a fan of monogrammed bags and I really didn't think I'd actually go for a monogrammed Gucci. However, the monogram on the bucket bag was not noticeable unless you see it close up, which suited me just fine. I love how light the bag is (it's canvas on the inside), how easily I could sling it across my body and the colour just pops. In fact, it was the gorgeous bright red that drew me to this bag in the first place.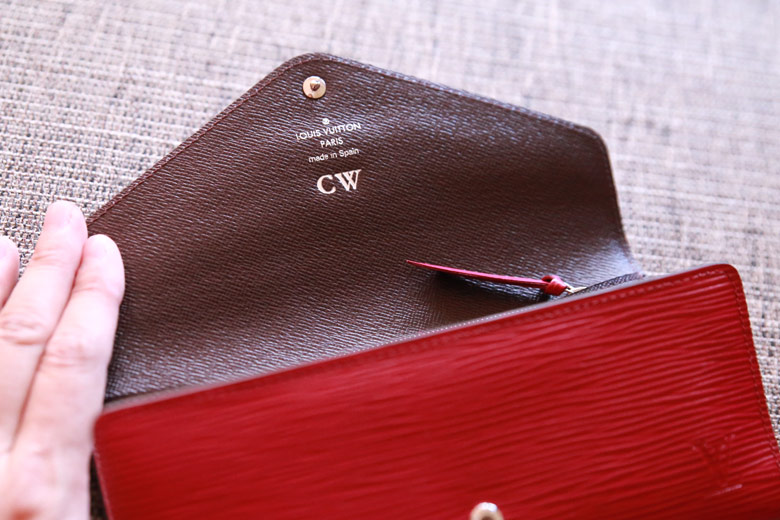 The wallet that I bought was the Louis Vuitton Josephine Wallet in Epi leather. I've always loved their leather goods in Epi and decided that my first item from Louis Vuitton (yes, this is my first. So is the Gucci) should be something in Epi. I went for the one in Fuchsia and it even comes in another block colour on the inside. It looks and feel slim but boy oh boy can you fit lots of stuff in there.
The best part of getting my wallet at Louis Vuitton was getting my initials hot-stamped in my wallet. This adds a personal touch to my wallet, which I love.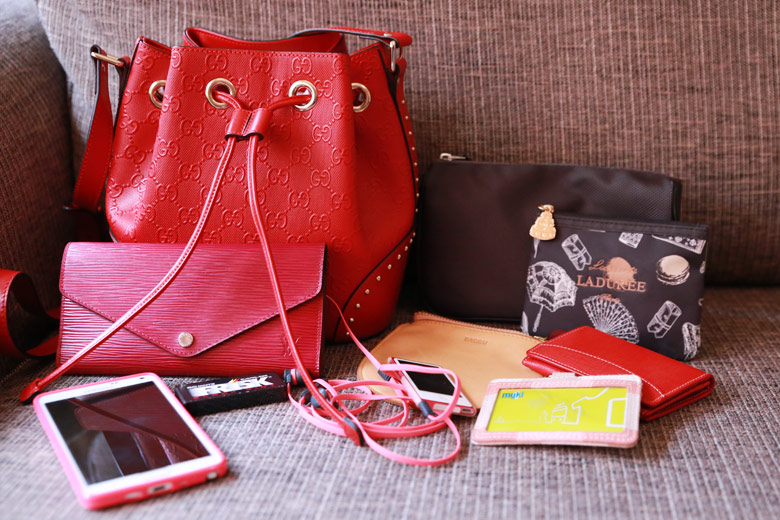 As for the rest of the items in my bag, well, there aren't many changes but I thought I'd show them to you all the same. This is a "What's In My Bag" post after all. 😉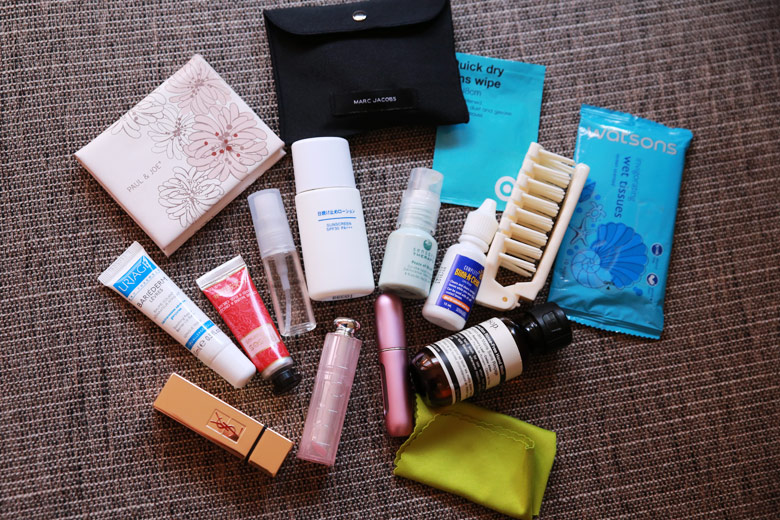 "Makeup" Bag – a small toiletries bag that was a complimentary item when I flew with Eva Air many years ago. Not exactly fancy-looking but it's slim, contains pockets and works a treat. "Makeup" in quotes because the only makeup I have in there are 2 lipsticks. The rest would be a lipbalm, a very old Paul & Joe facial blotter compact that comes with a mirror, a wipe cloth for my glasses, a small pouch that came with a Marc Jacobs Beauty blush which I use for emergency meds, a hand sanitiser by Aesop (best one I've tried so far), hand cream by L'Occitane, Origins Peace-of-Mind On The Spot Relief, a decanted bottle of rubbing alcohol (very useful especially when using public toilets), a foldable comb (I nicked this at a Business Class lounge when I was travelling busines class for the very first time a few years ago. Yes, I'm classy that way.), sunscreen, lubricating drops for contact lenses and a Travalo that has one of my favourite scents, Marc Jacob's Body Splash in Curacao.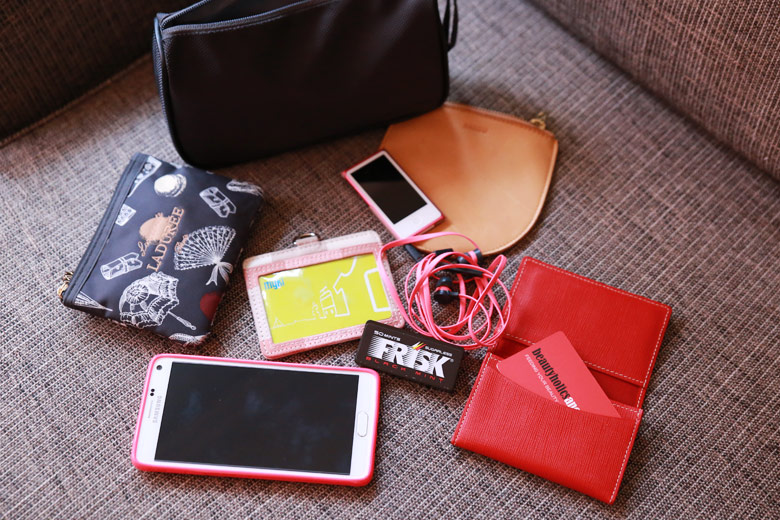 Card holder that has most of my store cards and business cards
Travel pass holder that keeps my MYKI and an emergency ten dollars in case I run out of cash. This way, I still get to go home.
Mints
iPod Nano + earphones in a Baggu pouch
Kindle
Laduree tissue holder (picked this up in Japan) that also contains pantyliners and tampons.
Phone
House and car keys (not pictured)
As you can see, I love my pouches and cases, and have one for almost everything in here. You'd think that I cleaned my bag out of rubbish just for this "What's In My Bag" post but the thing is, I don't chuck rubbish in my bag. All receipts are either in my wallet or taken out as soon as I'm home. I can't stand having them in my bag, which is why it's hard to find random bits and bobs in there.
As I bought the luxury items prior to leaving for Malaysia, I was able to get the 10% GST back at the airport. All up, these two items came to slightly over $2000. The remainder amount of money saved in the challenge will be brought forward to 2015's challenge.
I don't deny that $2000 is a hell lot of money to spend on a bag and a wallet. Different people save their money for different purposes and as this money was saved separately to what I already save, I deemed it my Bag Fund and I'm pretty darn proud of it. I rarely buy luxury goods and decided to put my Bag Fund towards two designer items this year.
As I've already bought these two items, there will be no more for 2015 until the 2015 challenge finishes in the beginning of 2016. Who knows what I'll get then? 😉