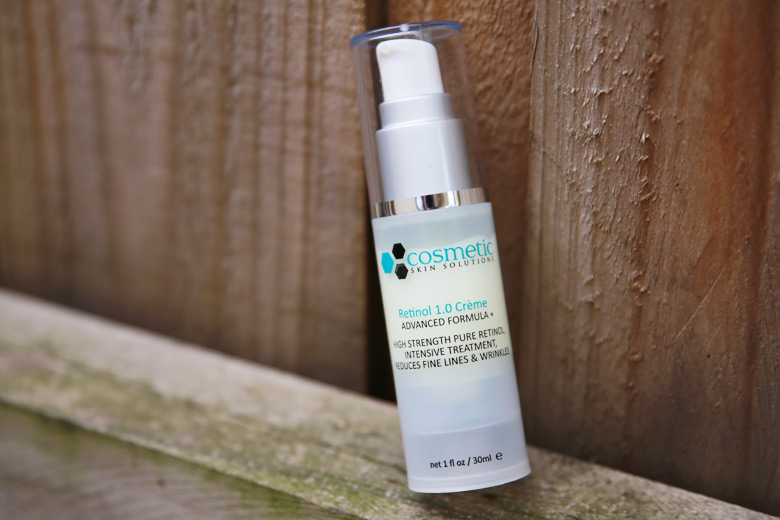 As much as I preach about using good, anti-aging ingredients in skincare, it actually took me a long time to get into using retinol. Believe it or not, I was actually scared to use it. "Go slow with retinol", they said. "Use in tiny quantities in case it irritates your skin". I read up a lot on retinol and even though I know it's not going to be bad at all (in fact, it's a very good ingredient for your skin and has multiple benefits), somehow my brain told me it's going to burn my skin off.
I know. CRAZY.
I decided to start small and by small, I gave La Roche-Posay's Redermic R a go. It has 0.1% retinol and while at that time I thought that it was a lot, it's actually very little. Still, even with such a small percentage of retinol, I was already seeing an improvement to my skin. And no, it didn't burn my skin off. 😛
When I'm halfway through my second tube of the Redermic R, I decided it was time to up the ante on retinol. Now that I know retinol doesn't burn my skin off (*roll eyes*), I wanted to see what a higher percentage of retinol can do to my skin. I know. Living life on the fast lane here, people.
The best place for me to look for good active skincare products is Cosmetic Skin Solutions and I picked up a bottle of their Retinol 1.0 Advanced Creme. I went from using 0.1% to 1% retinol. Oh yeah.
And you know what? I LOVE it.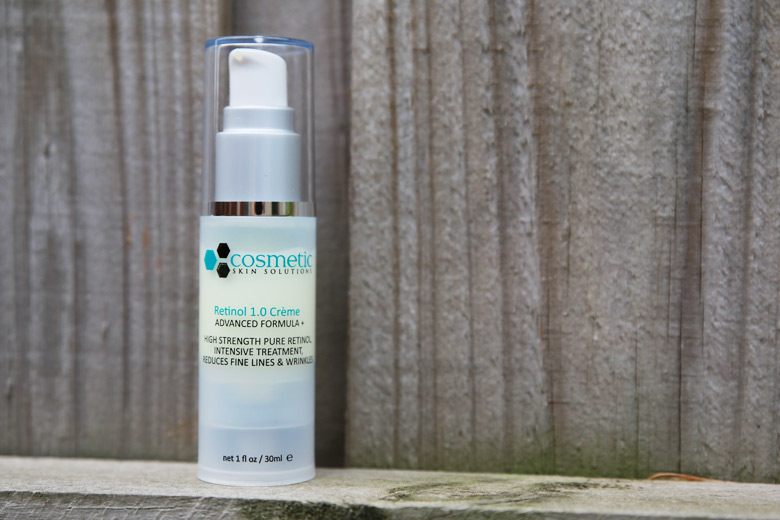 Description:
Optimally formulated, this high strength pure retinol offers highly effective alternative benefits to prescription strength retinoids. This potent retinol serum offers skin renewing benefits and maximum strength of stabilized pure Retinol (Vitamin A) as a powerful anti-aging ingredient to regenerate cellular turnover, diminish blemishes, blotchiness, and hyperpigmentation. In addition, helps to correct by diminishing the appearance of fine lines, wrinkles, pore-size, and photo-aged problematic skin imperfections. Chamomile and cucumber botanical extracts prevents irritation and discomfort by soothing and calming skin. Often used in professional treatments, Retinol 1.0 Serum offers intensive repair and reversal for signs of aging for a more firm, brighter, beautifully toned and youthful looking complexion. Evening results are cumulative with continued use.

Ingredients:
Water/Aqua/Eau, Dimethicone, Cyclopentasiloxane, Dimethicone Vinyl Dimethicone Crosspolymer, Dimethicone PEG-10/15 Dimethicone Crosspolymer, Glycerin, Matricaria Recuitita (Chamomile) Flower Extract, Cucumis Sativis Fruit (Cucumber) Extract, Aloe Barbadensis Juice (Aloe Vera Juice), Retinyl Palmitate (Vitamin A), Tocopheryl Acetate (Vitamin E), Ceramide 3, Ceramide 6, Ceramide I, Phytosphingosine, Cholesterol, Sodium Lauroyl Lactylate, Carbomer, Xanthan Gum, Butylene Glycol, Panthenol, Citric Acid, Tetrasodium EDTA.
This is a microencapsulated retinol serum, which means that it has a slow release formula that allows the Vitamin A to be released slowly on the skin to avoid irritation and for longer-lasting results. It's a light, velvety serum that is easily blended and absorbed onto the skin. It has a chemical scent that I can't properly describe. It's not a very pleasant scent but it's not offensive either.
As I was going from a 0.1% to 1% strength of retinol, I started off slowly by using the serum once every 3 days. I'm now using it every alternate evening. I didn't experience any form of skin irritation, not even the slightest tingle. For me, it feels like any other serum I use.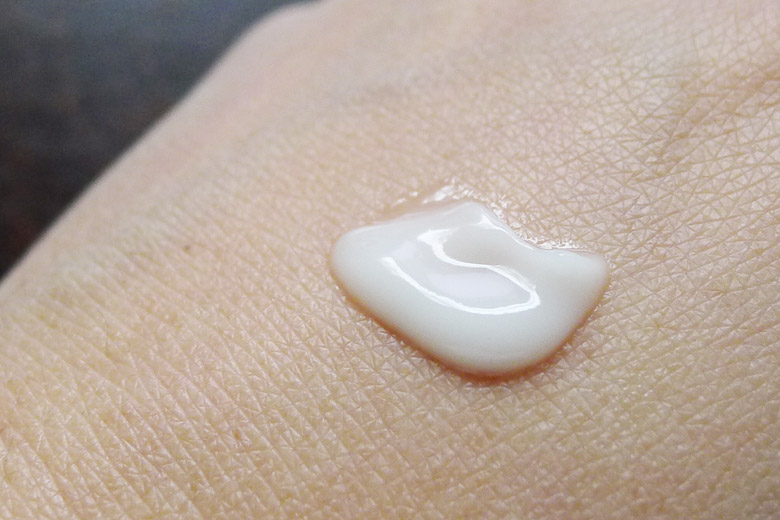 The results, however, were amazing. If 0.1% retinol already gave me softened lines, imagine what 1% could do. Now I'm not saying that this product erased my lines (it's not THAT good) but there's a significant softening of lines. My skin is also significantly smoother and softer. I started seeing results just a week into using this serum. Bloody amazing, I tell you.
I'm not using this daily yet as I'm alternating this and Sunday Riley's Good Genes. The combination of these two serums (not used together, just on alternate days) is seriously kick-ass. My skin hasn't felt nor looked this good in ages.
Please do bear in mind that not everyone's skin can tolerate retinol. It may cause skin irritation, especially if you've never used it before. If you haven't used retinol before, I don't recommend you getting this as a starter. This is potent stuff. Start small. La Roche-Posay's Redermic R is a good one to start with. When your skin gets comfortable with the use of retinol without any irritation, you might want to either slowly amp it up with a 0.5% retinol (e.g. Futurederm's Time Release Retinol. Haven't tried this myself but I've read plenty of positive reviews) and then up to 1%, which is this serum.
At the end of the day, the Retinol 1.0 Creme is a cosmetic product. It's not the same as Accutane treatments for acne, which is a prescription-only drug. Retinol is also contraindicated for pregnancy.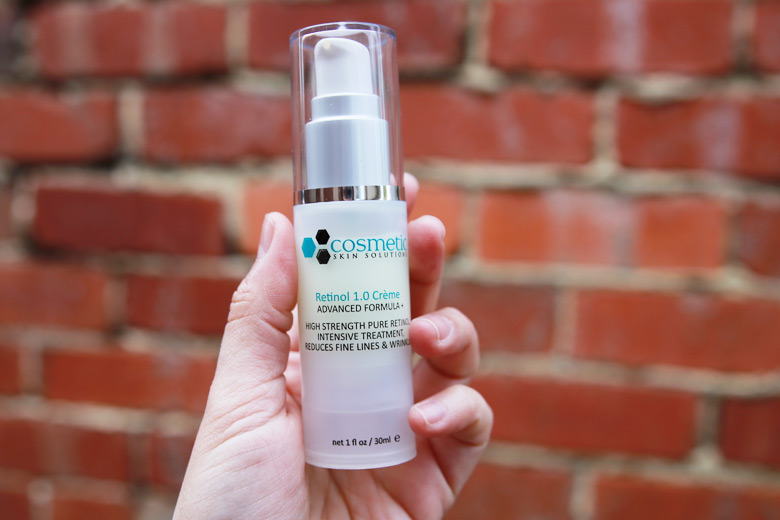 Cosmetic Skin Solutions Retinol 1.0 Creme Advanced Formula + retails at US$29.85 for 30ml and is available on the Cosmetic Skin Solutions website. If there's a chips equivalent in beauty products, I'd say it's cheaper than chips for something so good for my skin. For more FAQs on using this retinol serum, check out CSS' retinol FAQ section.
What I like about it: Didn't irritate my skin at all, gave me significantly softened and smoothened skin.
What I do not like about it: Unfortunately, there was a fault in my serum's packaging (the pump doesn't work well). This didn't affect the quality of the product.
Do you use any retinol products? Do you prefer using a lower or higher concentration of retinol? What are your favourite retinol products?