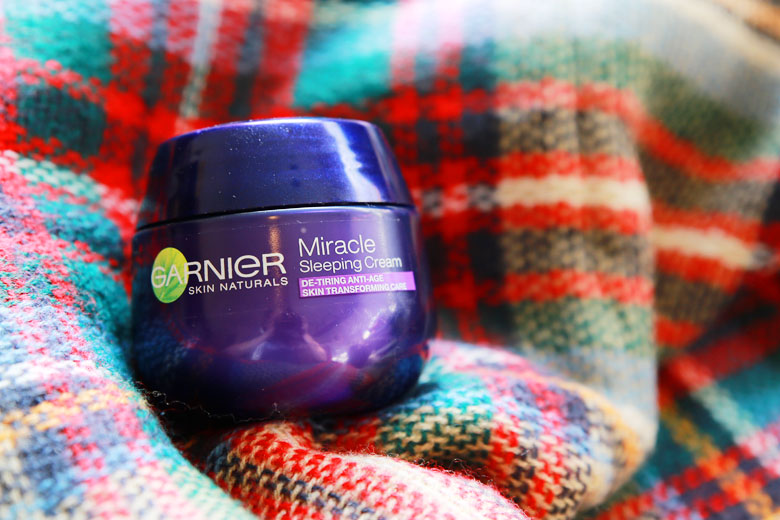 Sleeping masks are all the rage now and it's no wonder why. Why just use a mask that you'll need to leave on for 30 minutes and then wash off when you can use one that you don't have to wash off and sleep with? I know, it's my laziness talking here. I can't be arsed to have to wait and wash. 😛
For me, sleeping masks are akin to night creams. You can either use them on top of your night cream for extra hydration, but they're usually sufficient to be used in lieu of night creams. Garnier recently launched their version of a sleeping mask called the Miracle Sleeping Cream and I had the opportunity to give one a go.
I've been using it as my night cream for the past few weeks and y'know, it's actually not bad. Not bad at all.
Description:
Not getting your beauty sleep? Miracle Sleeping Cream's innovative formula combines the power of a mask with the lightness of a cream to fight signs of fatigue. It contains 7 anti-aging actives including essential lavender oil to help improve the quality of sleep and combat the signs of aging. In just 1 week, skin appears refreshed, revitalised, smoother and feels firmer.

If you've used The Body Shop's Drops of Youth Bouncy Sleeping Mask, you'll find this mask very familiar. The texture is very similar to the one from The Body Shop. It feels like memory foam; when you stick your finger/spatula in and give it a mix, a few minutes later it will go back to its pristine, untouched nature.
Unlike the one from The Body Shop, this one doesn't feel sticky on the skin. I also much prefer the scent of this Sleeping Cream to The Body Shop's Sleeping Mask. This one smells slightly fruity but isn't overwhelming in fragrance. It's lightweight on the skin, absorbs quickly and leaves the skin feeling moisturised and hydrated all night.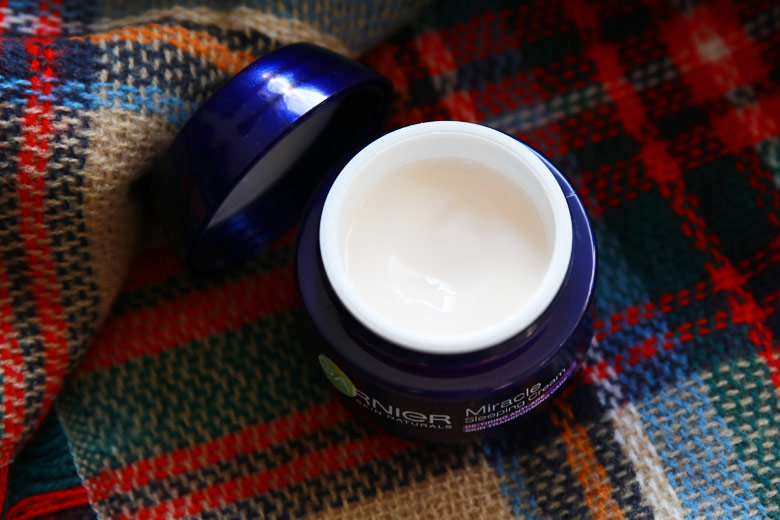 Does it do any more than typical night creams do? No, not really. I don't see a difference. To me, this is a decent moisturiser that suits my combination skin and I have no complaints about it. It's not exactly a wow-you-have-to-buy-this-omg-so-good moisturiser, but it really isn't bad at all. I find the scent quite relaxing, which is nice for just-before-bed use.
If The Body Shop's Drops of Youth Bouncy Sleeping Mask is slightly out of your price range, then do give this one by Garnier a go. Personally, I prefer this to the one from The Body Shop for its non-sticky texture and pretty scent. I really wouldn't say that it made my skin looked like it's gotten enough beauty sleep. It's not that miraculous. 😛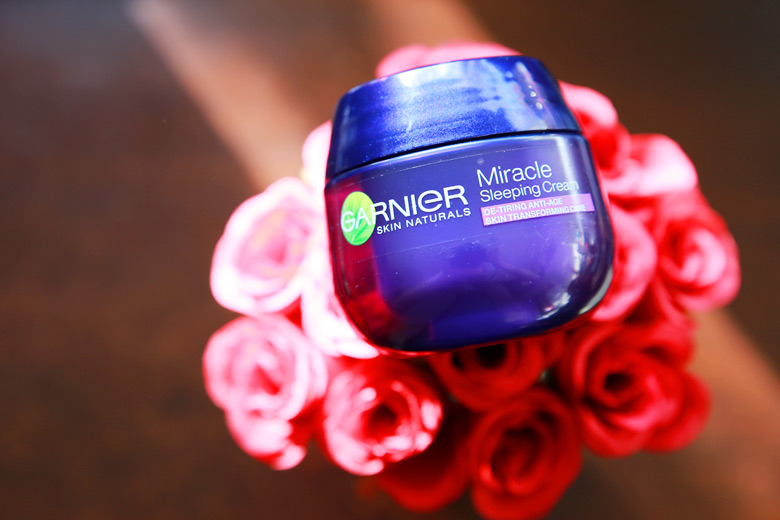 Garnier's Miracle Sleeping Cream retails at AU$19.95 for 50ml and is available at leading pharmacies and supermarkets nationwide.
What I like about it: Pleasant fruity scent, interesting memory-foam-like texture, lightweight, oil-free, not sticky, moisturises and hydrates my skin well throughout the night.
What I do not like about it: It doesn't come with a spatula so if you're icky about sticking your fingers into a jar of cream, this might not be for you.
Have you tried this sleeping cream by Garnier or sleeping masks by any other brands? Do you like them?
This product was provided for editorial consideration. For more information, please read our
disclosure policy
.