I'm cursed/blessed with thick hair. I say cursed or blessed because it depends on how you look at it. If you have fine, lack-of volume hair, you'd think that my hair's a blessing. If you have thick, coarse, frizzy, lots of split ends and unmanageable hair without a flat iron, well, welcome to my world.
It's unfortunate that I don't look after my hair as well as I do my skin. It's my crowning glory; yet I do not give it the love it deserves. I've been looking after it better the past few years. There's a significant improvement, but it's still very thick and frizzy if I don't manage it with hair products.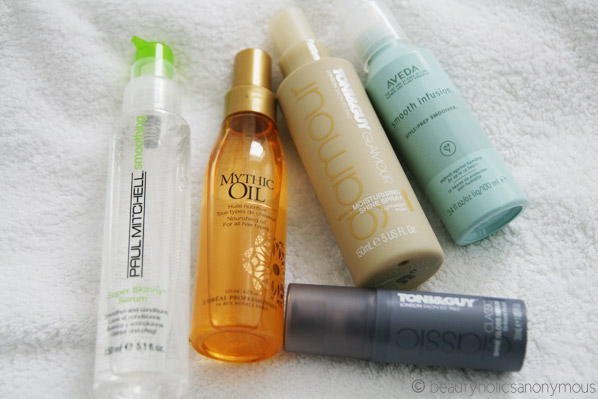 Other than shampoo and conditioners, the products I use in my haircare routine are pretty much the same. Like shower gels, I like switching shampoos and conditioners. I've discovered a lot of shampoos and conditioners that work for me, plus my hair isn't fussed during the change. Thank goodness it doesn't break out like my skin would if I did that!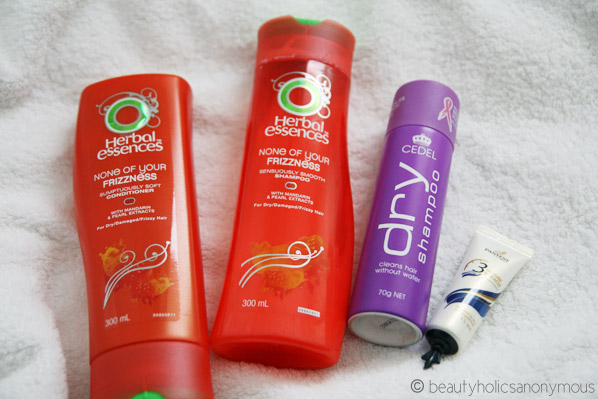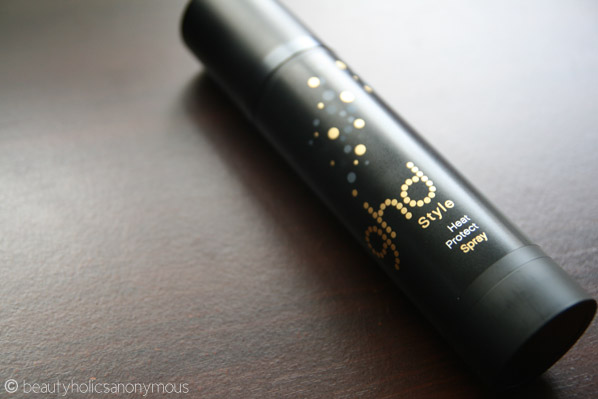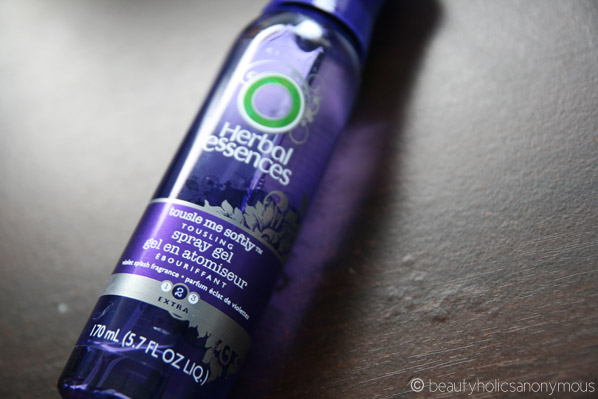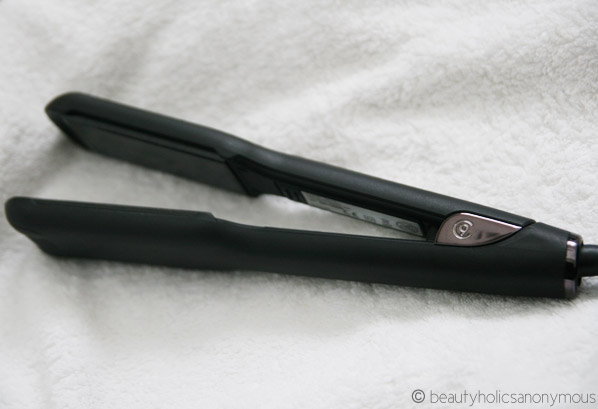 Shampoo & conditioner of the moment: Clairol Herbal Essences None of your Frizzness (smells so yummy)
Dry Shampoo: CEDEL Dry Shampoo
Hair mask: Pantene 3 Minute Miracle Weekly Intensive Treatment (of all the hair masks I've tried, drugstore or salon-end, I always go back to this one)
Hair styling prep: Aveda Smooth Infusion Style Prep Smoother (before blow dry) / L'oreal Professional Mythic Oil + Toni & Guy Glamour Moisturising Shine Spray (excellent hair products for all hair types, especially dry and coarse hair)
Heat protection: ghd Style Heat Protect Spray
Hair serum: Paul Mitchell Super Skinny Serum / Toni & Guy Classic Shine Gloss Serum (the Paul Mitchell one makes my hair sleeker, the Toni & Guy one makes my hair shinier. Pick my battle?)
Hair styling: Clairol Herbal Essences Tousle Me Softly Spray Gel (I don't use this on a daily basis, but when I need to curl the ends of my hair, I use this to set the hair after I've run the flat iron on it to create the curls)
Hair tools: Breville Avanti Salon Styling hairdryer (not pictured) and my baby, the Cloud Nine Wide Flat Iron. Pricey but worth every cent. Absolutely love this one.
Enough about me. What's your haircare routine like? If you have really frizzy hair, teach your young Padawan here on how you tackle it, pretty please?