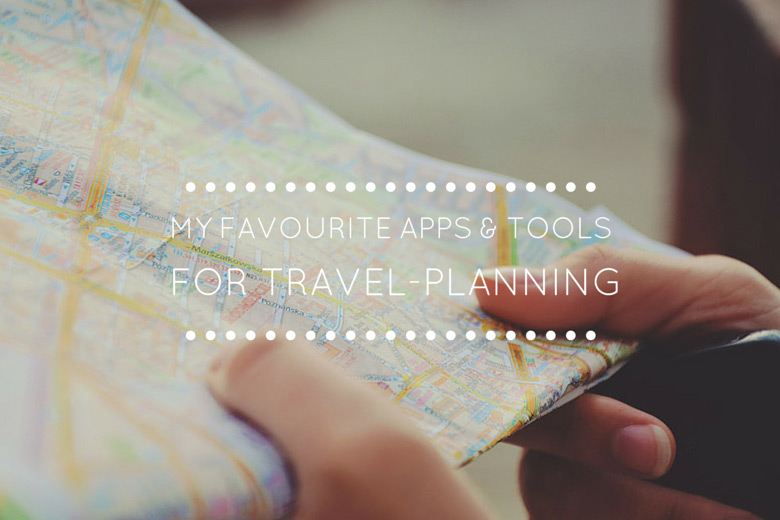 We've come to the final part of our week of the Travel Mini Series! I hope you've enjoyed the series as much as I've had writing it. Today, I'd like to share with you my top apps and tools for planning my travels.
I used to use Springpad heavily for planning my holidays and travels and I was devastated when they shut down. Unlike many of you who are fans of Evernote, I'm not. I couldn't get it to work as well as Springpad because I don't find it visual enough. Plus the thing that shits me the most is that in order to use the service offline, I have to subscribe to its premium service. With Springpad, I could access my contents offline.
Anyway, this isn't a rant about the loss of Springpad or my dislike for Evernote. Since I had to let Springpad go, I had to search for other tools to allow me to plan my travels and holidays. After much searching, trials and errors, wasted money on apps that turned out to be duds, I finally found the ones that worked for me well.
Amongst these are also apps and websites that I've used for the last 5 years for my travel-planning. These have served me very well and if you're looking for apps or tools to help you with your travel-planning, I hope these tools work for you as well as they did for me.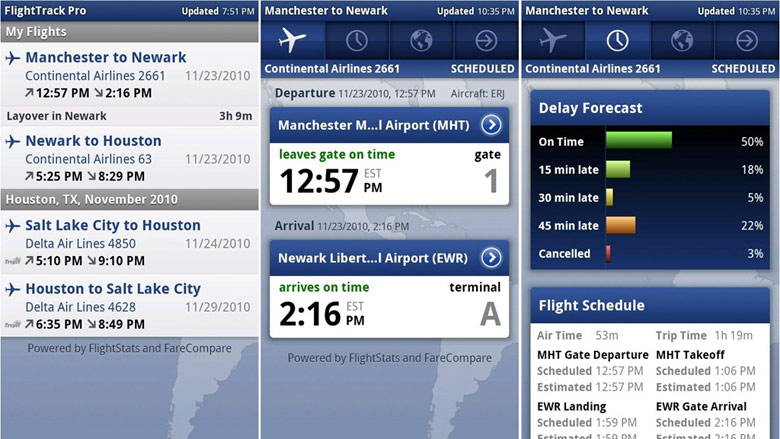 My dad introduced this app to me and it works wonders. It allows me to enter my flight details and I'm able to track the airport terminal the flight will be on, when the plane takes off and lands. To be honest, this app works better for tracking other people's flights than my own because when I'm on the plane, I can just use the in-flight entertainment system to see where my plane is currently flying over.
Whenever my family travels, I get their flight details and input them in the FlightTrack Pro app. This way, I'll know when the plane takes off and when it lands. The app also shows if the plane is delayed in taking off, which lets me know its estimated time of arrival. This allows me to adjust the time it would need for me to pick them up from the airport if necessary. The app draws information from all major airports so it relies heavily on their updates. If a particular airport/airline is slow in providing updates, this will also reflect on the app. The newest version is FlightTrack 5 but I kept FlightTrack Pro as it serves my purpose well and it syncs with TripIt, which the FlightTrack 5 currently does not.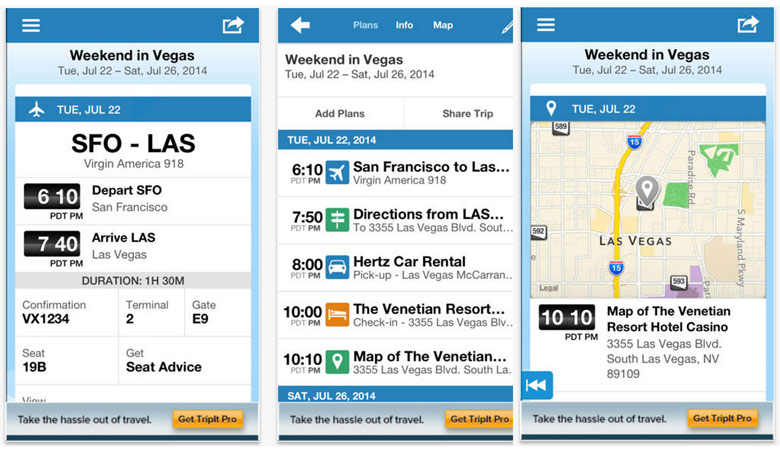 I don't use this very often but it's a useful service nonetheless. You'll need to sign up for an account in order to use TripIt. Whenever you book a flight or accommodation and receive confirmation emails, TripIt will automatically draw that information into your account and create an itinerary for you. If there are any changes to your flights or accommodation, as long as you receive an email confirmation, TripIt will adjust your itinerary automatically. It's pretty useful when you're creating your trip itinerary to have all of your information in one go.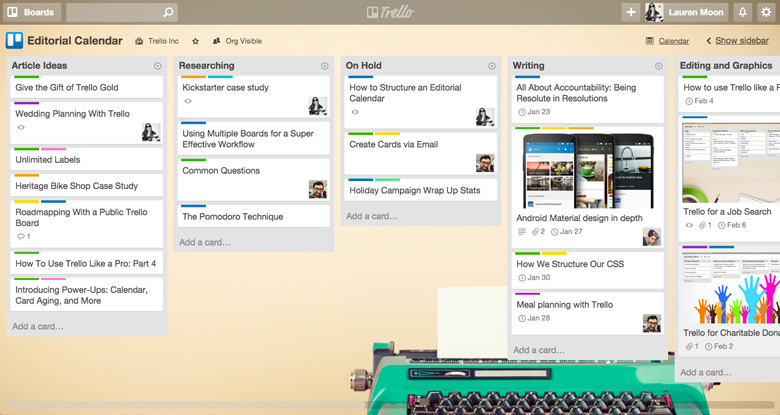 Trello is a project management app but as it comes in a visual board, it's as close as I could get to Springpad. I've recently taken to using Trello to plan my blogging content as well. For travel-planning, I use Trello to input my packing list. It allows you to create check lists too (with checkboxes. I love any to-do apps with checkboxes). I can set due dates and reminders, which will notify me on my phone or iPad. That's what I like about apps like this; it's freely available on the web, tablet AND phone. I can't say too much about this app yet as I haven't used it for more than one trip but so far, I'm liking it.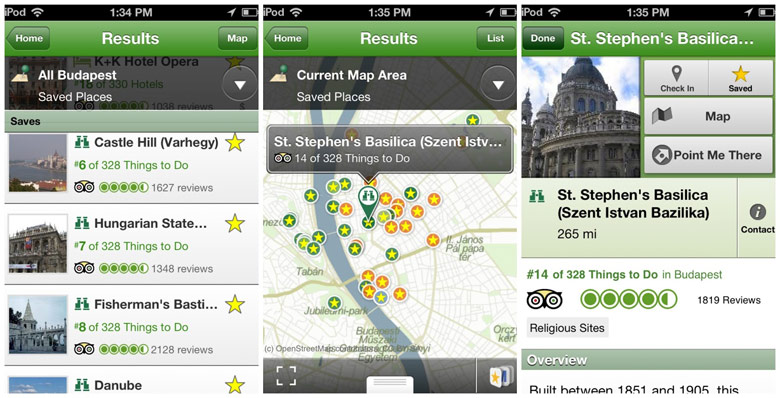 I can't even begin to say how much I love the Offline City Guides by TripAdvisor. When I was planning our trip to Europe a couple of years ago, I brought papers, saved maps for offline use on my phone and iPad, etc just so we could get around Paris and Rome without Internet connection. When we caught up with a friend in Aberdeen (Scotland), he recommended TripAdvisor's Offline City Guide to Paris and Rome. At that time, I had limited Internet connection so I quickly downloaded those two apps onto my phone. What a lifesaver those apps were! The apps contained full city maps and as long as I had my phone's GPS turned on, I could use the GPS function on the app as well to get around the city without needing a physical map and Internet connection!
We had some of the best meals we'd ever had thanks to recommendations on TripAdvisor. We were able to visit far more places than I originally planned and skipped the ones that had low rating, thus giving us more time on better sights. TripAdvisor has offline city guides for most major cities in the world and if you're planning to visit any major city, I highly recommend those apps.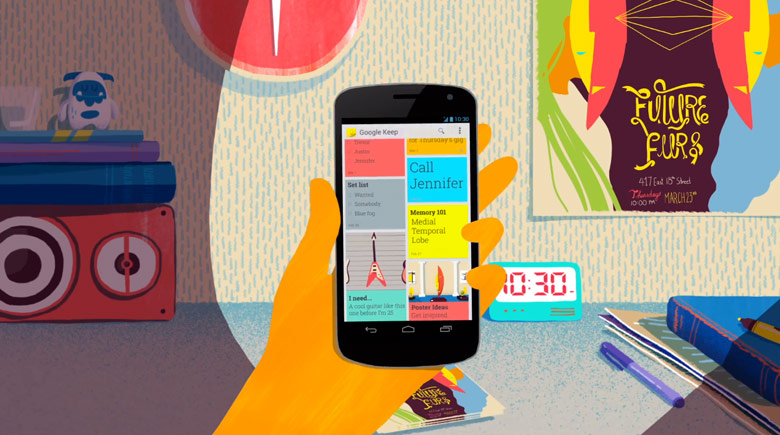 Google Keep is my #1 to-do checklist app and I use it heavily. I use this as quick task lists prior to my trip. E.g. buy medication for holiday, switch off all electrical appliances and power points, arrange for someone to water the plants, and so on. I'm so glad to be on an Android phone because this app is currently only available for Android users (there are unofficial Google Keep apps for iOS. I've tried them and they're terribly laggy).
I haven't used this outside of Australia but whenever I'm in Sydney for work, I utilise Uber heavily. Cabs are notoriously hard to come by in Sydney (oh you see them everywhere but it's bloody hard to actually get an empty one) and when I'm only in Sydney for the day, I organise my appointments almost back to back to maximise the use of my precious time. It's a terrible waste of time trying to flag a cab down or having to call the cab company to wait for my next cab, which I don't know what the wait time would be. That's when Uber comes in and I'm thankful for the service. It's not as cheap as regular cabs (heck, even regular cabs aren't cheap), but they're fast and the service is good (at least, I've had great service in all of the Uber cars I hired).
I've used a lot of travel apps but these are the ones I've used and enjoyed so far. I've also tried a lot of "packing list" apps but so far, Trello and Google Keep work best for me as I could access my lists any time, online and off. I hope you find them (and the other apps I've mentioned) as useful as I did.
That's it for this edition of the Travel Mini Series Week! I really hope you've enjoyed it. Who knows, I may bring you more travel stories soon! 😉
Do you use any apps or tools to plan your travels? If you do, please share them with us in the comments. I'd love to check them out!
In case you missed the earlier installments, here they are: