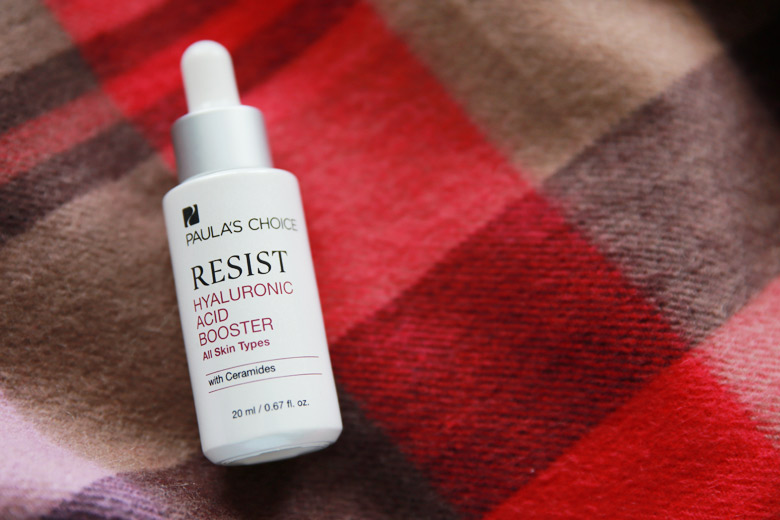 Out of all the steps in my skincare routine, I love serums the most. They do the bulk of the "work" on my skin, which meant that while I can splurge on them, I can also save on other items like moisturisers and cleansers. For the past few years, I raved a lot about Dr Lewinns' S8 Super Hydrator, which is a beautiful hyaluronic acid serum that gives me great boing boing skin. The problem is, that serum is exceedingly hard to find these days. Most if not all of the Priceline pharmacies and Chemist Warehouses that I go to don't even stock it anymore.
I got pretty fed up at one point and started looking elsewhere for hyaluronic acid serums. I discovered Cosmetic Skin Solutions' Hydra B5 Gel and The Skincare Company's HB5 gel (they're both pretty much the same thing) and I love them. I also came upon Paula's Choice's Resist Hyaluronic Acid Booster, which I'll be talking about today.
And it's just as good. No wait, actually, it's even better.
Ingredients:
Water (Aqua), Glycerin, Yeast Extract, Sodium Hyaluronate, Hyaluronic Acid, Ceramide NP, Ceramide AP, Ceramide EOP, Phytosphingosine, Adenosine, Cholesterol, Panthenol, Silanetriol, Butylene Glycol, Sodium Lauroyl Lactylate, Carbomer, Xanthan Gum, Polysorbate 20, Phenoxyethanol, Ethylhexylglycerin.
If you've tried hyaluronic acid serums, you'll know that they typically come in a viscous liquid/gel. They're often very wet and sticky but when they're applied on the skin, they absorb almost immediately and leave no sticky residue behind. That's exactly how the Hyaluronic Acid Booster is like too. It has a translucent liquid-gel that feels very wet and tacky to the touch but once it's massaged onto the skin, it absorbs almost instantly leaving no residue behind.
I don't use hyaluronic acid serums on their own, neither did I do the same with this serum. I layer this will other serums that I use. For example, I'll apply this and then I'll apply Sunday Riley's Good Genes. Or I'll apply this and then I'll apply a retinol serum. I find that my "active" serums work better with that hyaluronic acid "base". Plus it gives my skin an added boost of hydration and it also prevents moisture loss.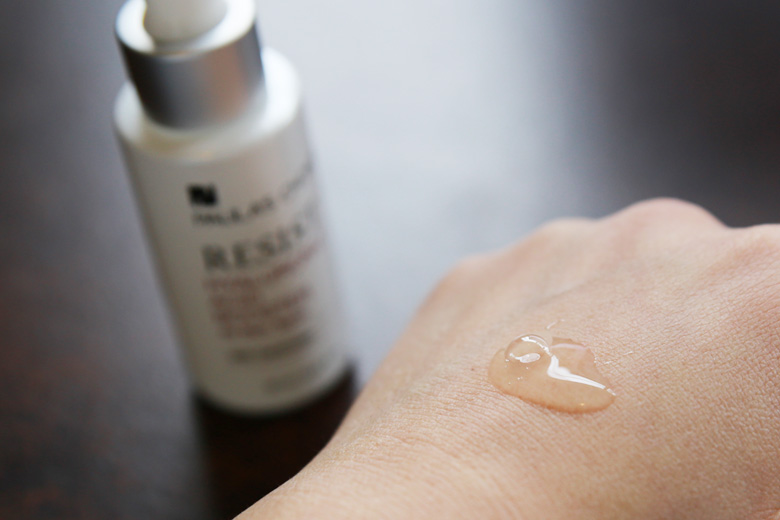 The only issue I have with the Hyaluronic Acid Booster is that it only comes in a 20ml bottle. All of the hyaluronic acid serums I've tried and loved come in at least a 30ml bottle or more. I use one full pump of the pipette per skincare routine, which means I'll use at least 2 full pumps a day. I've only been using this for slightly over a month and I'm already about to finish. It would have been more cost-effective to have this in at least a 30ml bottle instead.
Other than that, I think this is a great serum. What I like about this serum compared to the Hydra B5 gels that I've tried is that this also contains ceramides, whereas the others don't. If Paula's Choice sells this in bulk packaging, say 60ml, I'd be stocking up on it like crazy. If you haven't tried hyaluronic acid serums before, I highly recommend giving them a go. Try layering them with your favourite serum. I'm pretty darn sure you'll see a difference to your skin, especially when the air is very cold and/or dry.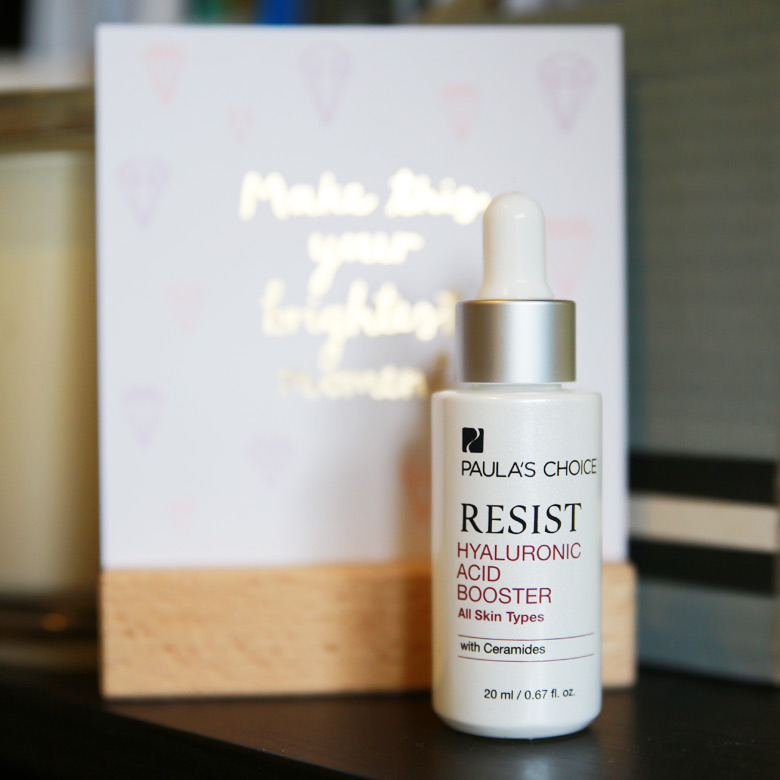 Paula's Choice Resist Hyaluronic Acid Booster retails at AU$69.00 for 20ml and is available on the Paula's Choice's website. It's worth signing up to their mailing list because you'll get notifications on sales, which they do quite often.
What I like about it: Absorbs very quickly, gives my skin extra hydration, contains ceramides when other hyaluronic acid serums typically don't.
What I do not like about it: It only comes in a 20ml bottle. Since I use this at least twice a day on full pumps, this only lasts me slightly over a month.
Have you tried this or any hyaluronic acid serums? Which one's your favourite?
PS: Why is it so damn hard to type out the word "hyaluronic"? I can't seem to get a single one right in one go! Hmph.
This product was provided for editorial consideration. For more information, please read our
disclosure policy
.