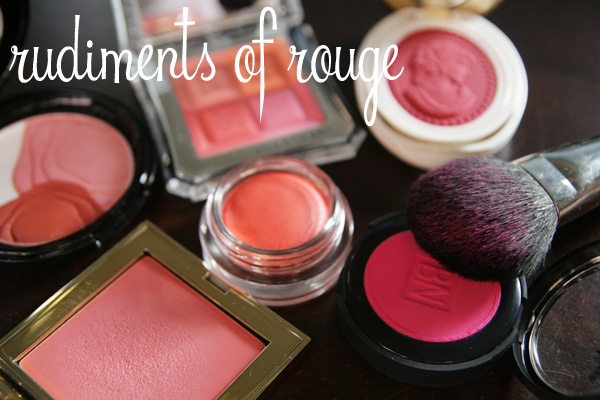 Happy Monday, fellow beautyholics! Hope you've had a great weekend :).
Now that we've talked about how the rouge began, choosing the right shades for you, powder vs cream blushes, how to rouge your cheeks and fixing blush mistakes, I thought I'd share with you my top picks for drugstore and high-end blushes.
Drugstore would mean cheaper, more affordable blushes you can get from pharmacies like Priceline (or whichever it is in your country) and high-end would be leaning towards luxury brands. Some aren't drugstore brands; as they cross the AU$25 mark, I consider them as mid-range. These are a mixture of cream and powder blushes. Most I will have reviewed before, some not. You'll also notice that I like a lot of peachy pink shades.

Without further ado, let's get started!
Drugstore to Mid Range Blushes (below AU$50)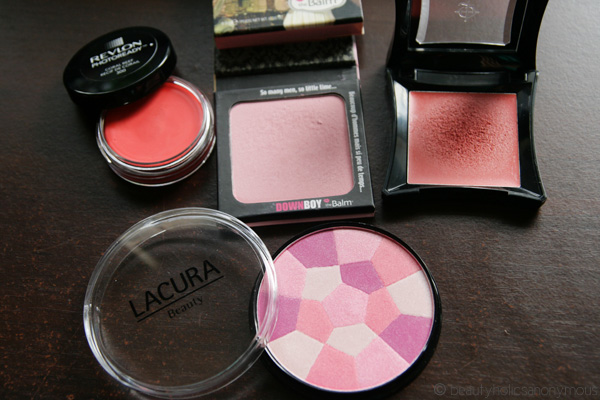 Lacura Beauty Mosaic in Pink (AU$5.99)
This actually isn't available at drugstores but from the Aldi supermarket. It must have been a limited edition item because I can't seem to find it anywhere anymore (fancy that, a limited edition $6 blush :P). I love this one.
Revlon PhotoReady Cream Blush in Coral Reef (AU$26.95)
This was a recent acquisition during Chemist Warehouse's 50% off sale. I can't believe it took me this long to try it out as it's been out for ages! It's a gorgeous coral cream blush and the funny thing is, it doesn't even feel sticky. It has a very smooth, somewhat powdery texture unlike the usual creamy blushes I know. It leaves a matte finish on the skin; again, a strange one from a cream blush that usually gives a dewy finish.
The Balm Down Boy (AU$27.95)
I've been using this for a few years now and I absolutely love it. It's the blush I reach for when I travel (thanks to its weight), every time I don't know what blush I want to use and it never fails to give me a gorgeous flush on the cheeks. Of all the blushes I have, I use this one the most. Although I haven't hit pan yet (yeah, kinda difficult to hit pan when I keep buying more and more!), it's the one that had the most significant dip.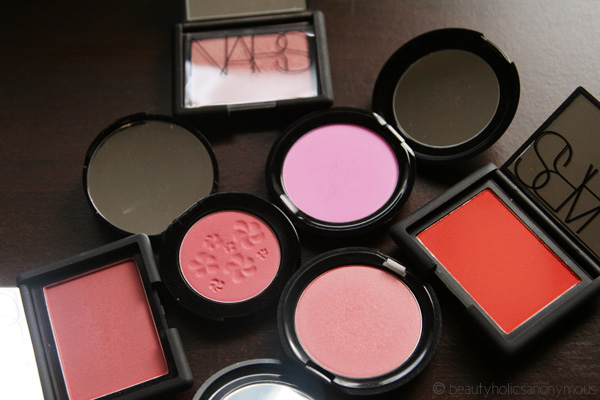 Illamasqua Cream Blusher in Dixie (AU$28.00)
Looking at how pock-marked my Illamasqua cream blush is, you can tell how much I've used it :). It gives a very natural flush on the cheeks with a dewy finish.
Stila Custom Color blushes in Self-Adjusting Pink and Coral (AU$32.00)
Reading the words "self-adjusting" automatically springs gimmick in my mind and I treaded lightly on this blush. I wouldn't say it's actually self-adjusting to your skin tone, but as a blush alone, these are very pretty. Very smooth texture, light and perfect for travelling.
NARS Deep Throat, Amour and Exhibit A (AU$45.00)
This used to be considered high end in Australia when each blush retailed at AU$60 (double the price of US retail. Absolutely ridiculous). Thank goodness they've dropped the prices so they've gone back to mid-range. I've tried a lot of NARS blushes and these are the ones that stuck with me. I sold most of my NARS blushes off because as beautiful as they were, they didn't capture my heart quite as much as these have. The Deep Throat is deeper than the Orgasm, the Amour deeper than the Deep Throat and the Exhibit A is just "holy-cow-crazy-orange". The only thing I don't like about them is the typical NARS packaging. After having them for a few years, the rubber packaging starts to become sticky, as though they're starting to melt. Ish.
Rouge Bunny Rouge blush in Orpheline (approximately AU$33.68)
I declared this my favourite blush of 2012 and it's no wonder. The shade is so pretty, texture is buttery smooth and lasts long on the skin. I can't wait to try out more blushes from Rouge Bunny Rouge. Y'know, because I just don't have enough blushes.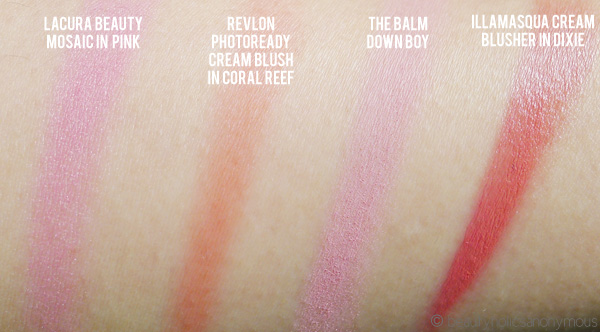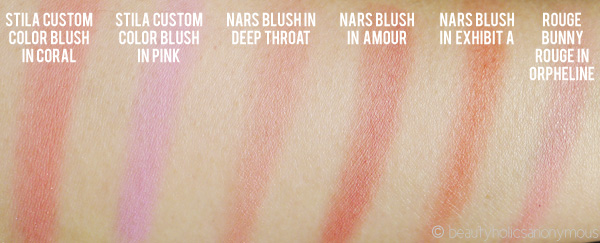 High End Blushes (above AU$50)
Jill Stuart Mix Blush Compact in 09 Little Bouquet (approximately AU$70.00)
I have yet to come across a blush lover who does not like any of Jill Stuart's blushes. Their eyeshadows may be very shimmery and sheer (not my cup of tea) but their blushes are not. A lot of them are surprisingly matte and highly pigmented. This was my first Jill Stuart blush and it's a beautiful peachy pink blush.
Chanel Blush Horizon de Chanel Soft Glow Blush (US$58.00 but I'm sure I paid more for it in Australia. Boo!)
I almost didn't get this one even though I've been lusting after it ever since it was launched. When I tried it out at a Chanel counter in the city, the sales assistant did such a poor job with this on me, making me look so bronzed that I had to wipe everything off the moment I left MYER. Yet, I was determined that the blush worked better than what the sales lady did. So I braved another counter and tried it again. What a difference it made! It leaves such a pretty glow on the skin. 'Tis too bad this is limited edition for I'm sure you'll love it too.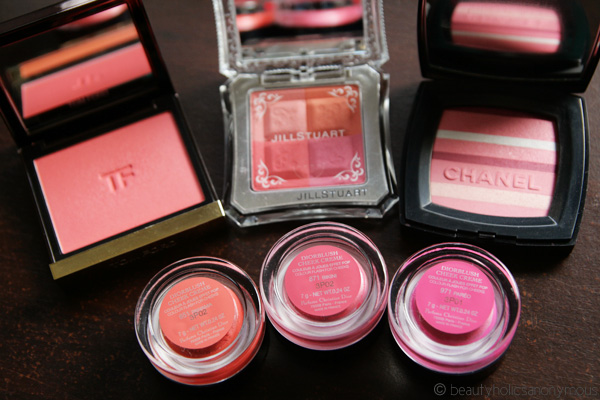 Burberry Beauty Light Glow blush in Rose Blush (AU$70.00)
This is my first and currently only makeup item from Burberry. Of course, the first thing I gotta try out has to be a blush, right? I'm so pleased with this one. It has a smooth, matte finish of peachy pink. And how luxurious is the packaging, eh?
Dior Diorblush Cherie Bow Edition blush in Pink Happiness (AU$75.00)
This blush was part of the Cherie Bow collection. I don't know why I didn't do an in-depth review of this beauty. It's a lovely, silky smooth peachy pink blush that looks stunning on the cheeks.
Dior Creme Blushes (AU$53.00)
You've read my review and know that I love them

Silky smooth, these blushes pack quite a punch of colour. My favourite is the Bikini.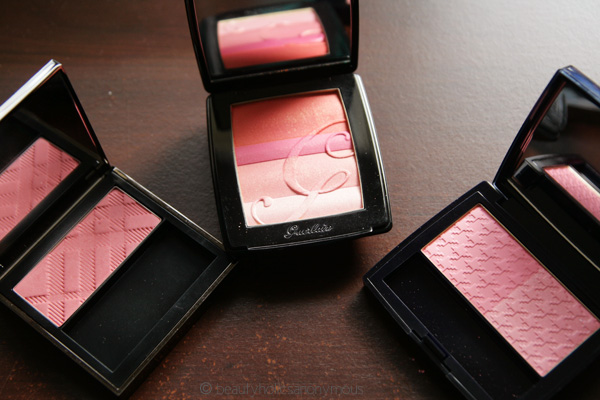 Guerlain Serie Noire Blush G (US$65.00)
When this was first launched, there was no doubt that I MUST have it. I know, I'm terrible! When I was back in Malaysia to see my folks, the first beauty item I picked up was this. I love how glowy this looks on my cheeks. The white version (the Blush G Sakura Cherry Blossom blush) sadly didn't impress me as much.
Tom Ford blushes (AU$85.00)
I can't talk about luxe blushes without mentioning Tom Ford. There's something about the dark chocolate and gold packaging that just screams my name. The texture of the blushes are beautiful too. Buttery smooth and highly pigmented, one palette will last you ages. Yeah, tell that to myself who bought two

My favourite is Flush.

I hope you've enjoyed checking out some of my favourite blush picks. Of course, with more *ahem* acquisitions, this list will change as time goes by. Still, who knows? One or two might stand the test of time.

Stay tuned to tomorrow for the final installment of the Rudiments of Rouge mini series!
What's your absolutely favourite blush which you will recommend to a blush-loving friend?