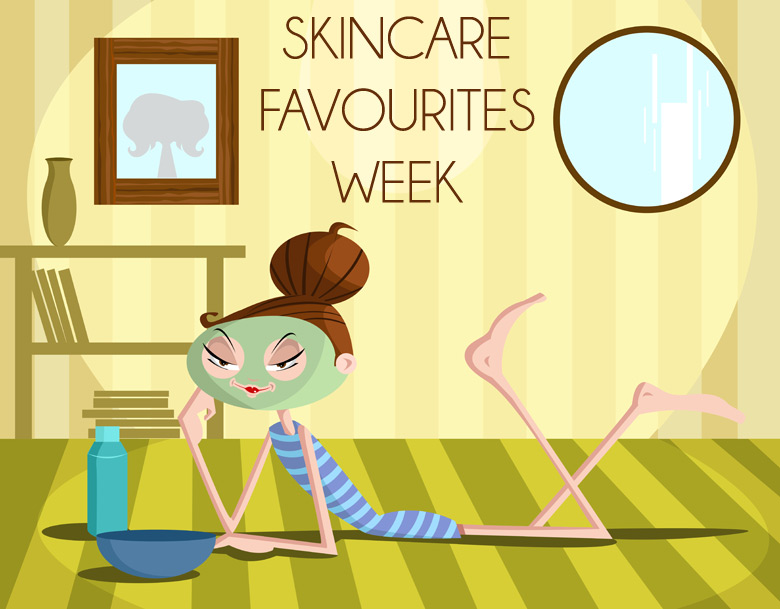 Happy Sunday, folks! We've finally come to the end of my Skincare Favourites Week series. I'm so glad you've enjoyed the series and hopefully I'll be able to do another one next year too. I've had such fun sharing all of my favourite skincare with you.
For the final day of Skincare Favourites Week, I'd love to share my top 10 facial masks with you. I love masks and even on lazy days when I can't be arsed to wait 20 minutes for a mask to dry, there are even 5-minute ones that work just as well. They give the skin an instant oomph too.
Whenever I have a facial sheet mask on, Tim will want one too. It's no wonder my supply of masks, especially the sheet masks, dwindle so quickly! 😛
Let's get started, shall we?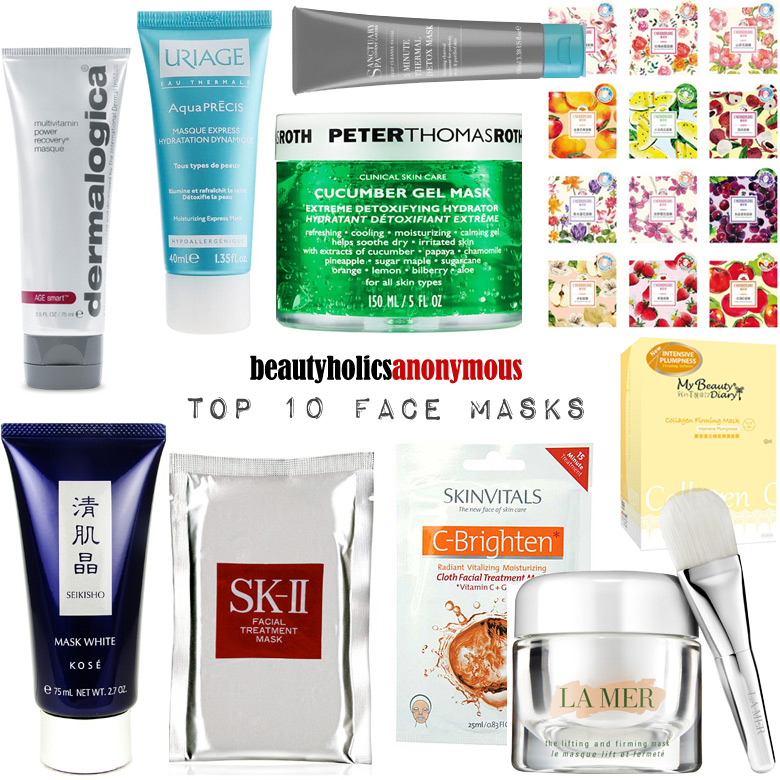 My Beauty Diary Facial Sheet Masks
My Beauty Diary facial sheet masks are extremely popular in Asia. You can even get them at ridiculously inflated prices in Asian shops all over Australia. Their range of scents and types of masks is phenomenal and it's always difficult to know which one works better unless you've tried a lot of different ones. MBD masks are quite thick and holds a great amount of juice. Recommended leave-on time is usually about 15-20 minutes but I can go past the 30-minute mark without the mask drying out. My favourites are the Collagen Firming Masks and the Birdsnest Masks. The leave the skin feeling incredibly boing-boing after use. Try using them every other day during winter and you'll have the softest skin ever. (review here)
L'Herboflore Facial Sheet Masks
I adore L'Herboflore facial sheet masks. I'll even go to say that it's better than the very popular My Beauty Diary ones. The paper masks are not as thick as the MBD's but they fit my face very well. Each foil packet always has plenty of "juice" leftover that you can massage on your neck and decolletage. More often than not, there's even enough to go on your arms and legs. Waste not, want not, right? I know, I know; these are exceedingly difficult to get if you're not based in Taiwan or China and that stinks. However, if you're interested in getting them, let my purveyor of all things L'Herboflore, Tina, know. She can get your L'Herboflore needs sorted. I don't particularly have a favourite; I just go with whatever smells good because they all work the same for me. Super boing-boing skin FTW! (review here)
SK-II Facial Treatment Masks
This is my #1 facial sheet mask and of course, it bloody had to be the most expensive. Before I started using anything from SK-II, my mum used to tell me that each mask gives you the effect of one whole facial. She's right! My skin is very soft, smooth and looks downright perky after use. As each mask is close to $30, I only save this for special occasions. I'll use this the night before a big event and the next day, I'll have good-looking skin. If you haven't tried it before, I highly recommend it. Again, just save it for special occasions. Each foil packet also comes with a lot of "juice" so what I like to do is pour the rest of it into a small jar and use it as serum (there's enough serum for one week's use). Since each packet is so expensive, every drop must not be wasted!
Skinvitals Facial Sheet Masks
I stumbled upon these facial sheet masks at Priceline when I first moved to Australia in 2008. I find them to be on par with the My Beauty Diary masks, which means these masks are pretty damn good. They fit my face well and the results are exactly what I'd expect. My favourite is the CoQ10 mask (couldn't find a good picture of that one but the Vitamin C one works just as well too!).
Dermalogica Multivitamin Power Recovery Masque
Stepping away from the facial sheet masks, this is one of my favourite cream masks. This came highly recommended by Lisa Eldridge (terribly good enabler!) so I thought I too had to check it out. Turns out, she's right! This is great on tired and dull skin. I use this particularly on my dehydrated cheeks and chin for a lift. Skin feels more refreshed and perky after use.
Sanctuary Deep Cleanse Facial 5 Minute Thermal Detox Mask
I like to use this together with the Dermalogica Power Recovery Masque. This goes on warm and feels slightly grainy on the skin. I apply a generous layer of this on my T-zone and concentrate more product on my nose. When I wash it off, I'm left with smooth and less congested looking skin. Personally, I think this kicks the overpriced Glamglow Youthmud mask's bum and at a much lower price too. Plus it doesn't feel abrasive on the skin at all whereas the Glamglow Youthmud one does.
Peter Thomas Roth Cucumber Gel Mask
This looks like hair gel, doesn't it? It was a recent discovery and even though this would have been absolutely fantastic in summer, it's also great in winter. When my skin feels very flushed from overpowering heaters, this calms my skin right down. I keep this in my bathroom and boy, does it feel very cold on my skin! I simply cannot wait to use more of this in summer especially when I get to leave this in the fridge.
Kose Seikisho Mask White
This was a gift from a dear friend. I've never tried any of the products in the Seikisho range before this. It looks quite scary in the tube as it comes out black and goes on grey on the skin. It does have quite a strong Chinese medicinal scent to it. Some may be turned off by it but I'm oddly comforted by the familiar smell. Reminds me of home, I guess. It helps with congested skin especially if you have a lot of blackheads. This didn't remove my blackheads but as a skin detox sort of mask, it works swell.
La Mer Lifting and Firming Mask
Along with my SK-II Facial Treatment Masks, this gives my skin a double whammy of awesomeness. It not only hydrates but leaves my skin feeling soft and supple too. As this is also another crazy expensive product, I only use this once a week and the night before a special occasion. What I like to do is use the SK-II mask first, remove it, massage leftover juice on the skin, let it sink in, apply the La Mer mask, let that sink in and then top it up with a thin layer of moisturiser. It's a terrific arsenal for fantastic-looking skin the next day, I tell ya. (review here)
Uriage AquaPrecis Moisturising Express Mask
Excluding the Comfort Cream, I've pretty much included the entire range of the AquaPrecis in my Skincare Favourites Week. That's how amazing I find it. The Express Mask is a good and quick pick-me-up whenever you need a boost of hydration and oomph on the skin. Even though it's meant to be left on for just 5 minutes, I like to leave it on for about 10-15 minutes. The gentle marine scent is, again, a huge plus in my books. (review here)
There you have it, my favourite facial masks. Hopefully there's something in there that you haven't tried before and would love to. I have more masks in my wishlist so you never know, the new ones might kick some of these off the pedestal. 😉
This concludes Skincare Favourites Week. Stay tuned to next month for some time then, there'll be one for makeup too!
What's your favourite go-to mask that gives you great boing-boing skin?
Catch up on Skincare Favourites Week!
Shop the post!
The Shop The Post! section contains affiliate links. By purchasing something via these links (at no extra cost to you), you're supporting Beautyholics Anonymous, which I highly appreciate.