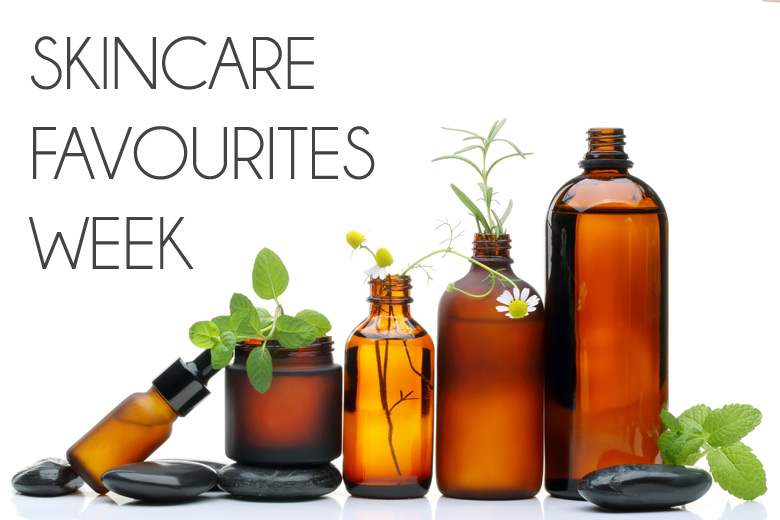 Happy Monday, folks! I hope you've had a great weekend and am ready to begin a brand new week.
Speaking of which, welcome to Skincare Favourites Week! Instead of my usual individual product reviews, I thought I'd do change it up a little and do a round-up of my favourite skincare products. This ranges across the board, from cleansers to serums to moisturisers to sunscreens. I get quite a lot of questions via blog comments and email on what my favourite skincare products are so today, you'll get the full monty.
Well, full monty of the products, that is. Ain't nobody seeing me in my birthday suit! 😛
I'm starting the week of skincare favourites off with my top 10 cleansers. Some of these cleansers are recent finds (discovered them this year) and some are classic favourites. Even so, these are the cleansers I have and will gladly repurchase. My favourite cleansers also include cleansing oils and balms that I use as pre-cleansers in my double-cleansing routine. You'll notice that I didn't include micellar waters like the ones from Bioderma and Garnier because I do not consider those as cleansers but makeup removers.
In no particular order, let's get started!
Dermalogica Special Cleansing Gel
This was the first cleanser I've ever tried from Dermalogica. In fact, if I'm not mistaken, it's the first product I've tried from the brand. I love how it feels on my combination skin and how well it cleanses without leaving my skin feeling dry and tight. I've tried a number of cleansers from Dermalogica since then and to date, it's still my #1 cleanser from the brand.
Biore Cleansing Oil
This is my second favourite cleansing oil (first being one of the cleansing oils from Shu Uemura which I will mention later). It really is too bad that it isn't available in Australia because personally, I think it works just as well as the Shu Uemura one but at a much more affordable price. Every time I'm back in Malaysia for holiday, I'll restock on this. (review here)
Simple Kind To Skin Refreshing Facial Wash Gel
I really like this cleanser and use it particularly when travelling. It's the more affordable version to the Dermalogica Special Cleansing Gel but works just as well. In fact, they're pretty similar to each other. This cleanser costs less than a fiver and is very gentle on the skin. (review here)
Dove Foaming Makeup Remover
I know I mentioned that makeup removers are not included in this category but I do not just consider the Dove Foaming Makeup Remover as a makeup remover but as my first step in the double-cleansing routine. I've lost count the number of repurchases I made with this "cleanser"; that's how much I love it. I don't normally like foaming cleansers but this one doesn't dry my skin out at all. It doesn't just remove makeup well; it doesn't sting my eyes and is a great first step to double-cleansing. (review here)
Trilogy Cream Cleanser
This is my version of a super luxurious cream cleanser. I've tried very expensive cream cleansers but none feels as luxurious as this one. It's not cheap even though it's sold at pharmacies but it's a lovely, very creamy and non-drying cleanser nevertheless. Look out for sales and promos at Priceline and pick this up when you can because I think you'll like it too.
Shu Uemura Whitefficient Clear Brightening Gentle Cleansing Oil
I've tried the original yellow bottled cleansing oil and boy, do I hate that one. It's thick, gluggy and feels all-round yucky on my skin. Then I tried the pink one (Fresh Pore Clarifying Gentle Cleansing Oil) and thought, hang on, this is not bad. Next I tried the Whitefficient one and it was love at first cleanse. It's just as light as the pink one yet I don't know what it is about the Whitefficient one that I like better. I just do. I've tried the more expensive Ultime8 version and while that one's good, I still prefer the one in the blue bottle. (review here)
Elemis Pro-Collagen Cleansing Balm
I reviewed this not long ago and as far as cleansing balms go, I find this the bomb. I prefer it to the popular Eve Lom and Emma Hardie cleansing balms because 1) it's easy to use, 2) easy to clean with just one wipe of the face towel (Eve Lom's requires at least 2 wipes and rinses) and 3) it smells like spa on skin. It doesn't leave any greasy residue on the skin but leaves it soft, smooth and clean. Big thumbs up! (review here)
Clinique Take The Day Off Cleansing Balm
This is a very recent find for me even though it's been out for years. Val raved about this frequently and I thought it was time to try it out. Even though I've only used it for a few weeks, this has shot to my top 10 cleansers because holy shizznit, this is good. I don't need to use any face towels with this cleansing balm at all and better yet, it doesn't leave any hint of oiliness on the skin that most cleansing balms do without the use of a hot towel. For pampering the skin days, I like the Elemis cleansing balm but on lazy days, this is a very good one to use. Plus it's very travel-friendly (just scoop some out into a jar) and I wouldn't have to worry about accidental spillage of cleansing oils. Now I wonder why it took me so long to finally try this out.
Dermalogia Dermal Clay Cleanser
Oily to combination skin lovers will like this cleanser. I certainly do and so does Tim. It's one of those deep-cleansing, oil-controlling cleansers that work well on the skin without drying it out. I've use a lot of clay cleansers over the years and none were as gentle as this one.
Cetaphil Gentle Skin Cleanser
This is my favourite early morning cleanser and has been for many years. It's fantastic for when my skin flares up, it's mild on the skin when I get angry breakouts and it's good enough to cleanse my morning face without stripping the oils. Granted it doesn't cleanse as well after a day of makeup on the skin, which is why I only use this in the mornings. Even so, this still remain one of my top 10 cleansers. Heck, I'd give it a spot in my top 5.
There you have it, the top 10 cleansers in my skincare routine. This is subject to change, of course, for I'm sure there'll be better ones along that come up along the way as time goes by. For now, these are my favourites and perhaps it might tickle your fancy to give one or two a go too?
Stay tuned to tomorrow as I share with you my top 10 toners and lotions!
Have you tried any of these cleansers? What's your favourite cleanser even if it isn't mentioned in the list above?
Catch up on Skincare Favourites Week!
Shop the post!
The Shop The Post! section contains affiliate links. By purchasing something via these links (at no extra cost to you), you're supporting Beautyholics Anonymous, which I highly appreciate.