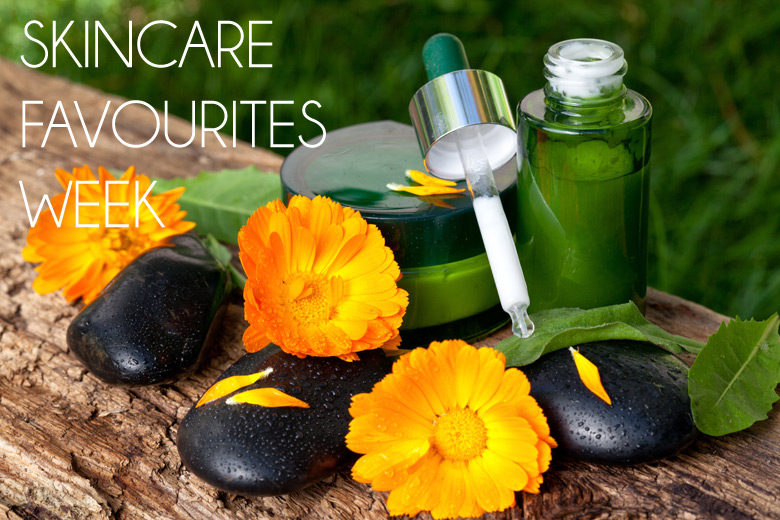 Happy hump day, folks! Come climb over that hump with me, will ya?
Regular readers will notice that we don't have a Bloggie Wednesday post today because we're continuing with Skincare Favourites Week! We'll resume usual Bloggie Wednesday posts next week. But for today, we're talking more skincare and I'd love to share my top 10 serums with you.
I'm pretty particular when it comes to serums, what makes it to my hit list and what makes it to my miss list. I'm not usually a fan of serums with "fluff" ingredients. This is what I call oils and plant extracts because more often than not, they don't do much for the skin other than give a good texture and a fine scent. Moisturisers with "fluff" ingredients, on the other hand, don't bother me because as long as they moisturise my skin (usually the work of glycerin), I don't really care if they've got extract of newt. Although I would prefer them not to have extract of newt if possible unless it makes my skin look damn good. 😛
The serums below are my top favourites. Most I've used and repurchased over the years and some are recent discoveries that have made the list. Even if beauty companies never make another new serum (yeah like THAT'S ever going to happen, eh?), I'm more than happy with these.
Let's get started! Here they are in no particular order.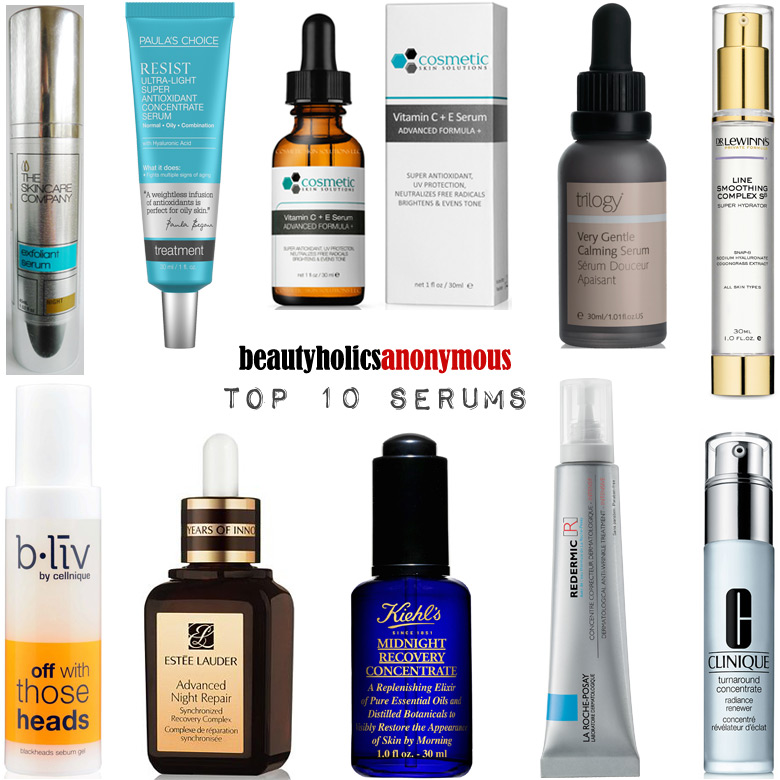 Cosmetic Skin Solutions Vitamin C + E Serum
This serum is touted to be the very affordable version of the Skinceuticals C E Ferulic serum. In fact, if you were to compare their ingredients, you'll find that a majority of them are the same (even the order of ingredients is similar). Now I've not tried the Skinceuticals version so I cannot compare the two but I love the one by Cosmetic Skin Solutions. It not only smoothed my skin out, it brightened it and gave it a lovely radiance that a lot of high-end serums don't even give me. It's a no-nonsense, affordable serum that works, which is why I'm happy to use it and recommend it over and over. (review here)
bLiv Off With Those Heads Blackheads Sebum Gel
I've been using this serum since 2007. This is a firm staple in my skincare regime and is one I use during the day, every day. It's a great oil-controlling serum and for the first 4-5 years of using this, my skin only broke out less than 5 times each year. Prior to using this serum, I would great angry pimples around my nose every single month (just before and during my periods). When I started using this, the pimples stopped. It was bloody miraculous. It's not that effective anymore. I do get the occasional breakouts every now and then but thankfully, I don't get them every month. This has been my Holy Grail of serums for years and while it isn't quite there any more, it's still one of my top 10 favourites. Top 5, even. (review here. It used to be Cellnique.)
Dr Lewinns Line Smoothing Complex S8 Super Hydrator
This serum is exceedingly difficult to find these days and I don't know why. I checked with the PR of Dr Lewinns about it and according to them, this isn't a discontinued product. However, I can't seem to be able to find this at Pricelines nor Chemist Warehouse any more. 'Tis a pity because as far as hydrating serums go, this is the bomb. It doesn't really do anything more than increase the level of moisture in the skin but it's definitely good enough for me. It preps my skin before I layer it with another serum. I've tried the Hydraluron in lieu of this (again, only because the Super Hydrator is so damn hard to find these days) and while it's not a bad product at all, it doesn't even come close to the Super Hydrator. If you see this in your local pharmacy and like this as much as I do, stock up! (review here)
Estee Lauder Advanced Night Repair Synchronised Recovery Complex II
This is what I call my favourite all-rounder serum. It hydrates, brightens, smoothens and does all the good things to my skin, all in one. I especially love using this when I'm travelling because I don't need a few serums to layer since I can just this. It keeps my skin in good condition even when I've been flying and the air is drier than the desert. Even if my skin is shot to pieces during allergy season or that time of the month, I can still use this on my skin without the fear of making it worse. (review here)
Clinique Turnaround Concentrate Radiance Renewer
This was the first chemical exfoliating serum I used. I remember buying this on a whim at a duty-free store at the airport. I didn't know what it was and what it does but I figured, ah what the heck, why not? I remembered waking up one morning (this was a few weeks after I started using the serum), touched my skin and had such a shock. My skin was smooth! It was really smooth! Nothing else had changed in my skincare routine but the new addition of this serum. I used a few more bottles after that and while I'm not using it now, it's still one of the best serums I've used because the results were amazing. (review here)
Paula's Choice RESIST Ultra-Light Super Antioxidant Concentrate Serum
This is a recent discovery. I've only been using this for about 7 weeks and I love it already. It's a great antioxidant serum (similar to Cosmetic Skin Solutions' C+E Serum) and the price isn't bad either for what it does. My skin is brighter, smoother and better because of it. It's very light too, which is great on my oily-to-combination skin.
Kiehl's Midnight Recovery Concentrate
I was originally quite sceptical to try this out. When I heard that it's an oil, I wanted to run a mile away. Thankfully, I decided to bite the bullet and try it out. The dry oil feels great on the skin and smells really good too. I adopted Paris B's recipe of mixing a little of this with the Estée Lauder Advanced Night Repair and boy, the combination of the two sure amped the serums up to an even better one. I've used the Midnight Recovery Concentrate on angry-skin days and this doesn't exacerbate the skin issues. (review here)
The Skincare Company Exfoliant Serum
This is also another recent discovery (middle of 2014). The first time I used it, I thought I wasn't going to like it because it stung my skin. However, the results the very next morning showed otherwise. Serums very rarely give me such quick results but with this exfoliating serum, I saw smoother skin the very next day. It was quite a shock albeit a pleasant one. I daresay this is even better than Clinique's Turnaround Serum. For such great and quick results, I'm surprised this doesn't cost well over a hundred bucks already. (review here)
La Roche-Posay Redermic R Dermatological Anti-Wrinkle Treatment Intensive
Believe or not, the Redermic R was the very first retinol product I've used. I've always been wary of retinol because I thought it might be too strong for my skin. The Redermic R only has 0.1% retinol so I wasn't too worried about trying it out. Even though it doesn't have high concentration of retinol, I actually see the difference on my skin after using it for a few weeks. My lines are visibly softer, especially my naso-labial lines. I was pretty damn impressed that only 0.1% retinol has already produced good results, which makes me very curious and tempted to trying retinol at higher concentrations. Do check out this interesting article about the types of retinoids by Skinacea if you'd like to know more about them.
Trilogy Very Gentle Calming Serum
This is my go-to serum when my skin goes haywire. Overuse of mechanical cleansing brushes can wreck havoc on my skin and it will only be able to take the most minimal of products. The Very Gentle Calming Serum is fantastic in calming my skin right down. This is usually the time when my skin cannot take any moisturisers and serums other than the simple Cetaphil lotion and Very Gentle Calming Serum. I always have a bottle of this ready to go at any time. You never know when the need strikes. (review here)
There you have it, my top 10 serums. You'll also notice that most serums have prior reviews compared to my top cleansers, toners and lotions. That's because I find serums a very important step in skincare and if I stumble upon something good, I just have to share it. Cleansers, well, they wash off in just 10 seconds, don't they? As for toners and lotions, well, they're just a prep step. Serums on the other hand, they're the biggest deal in one's skincare routine and that's why I pay the most attention to them.
What's your top favourite serum(s)? What's a non-negotiable serum for you that you simply must have in your routine?
Catch up on Skincare Favourites Week!
Shop the post!
The Shop The Post! section contains affiliate links. By purchasing something via these links (at no extra cost to you), you're supporting Beautyholics Anonymous, which I highly appreciate.