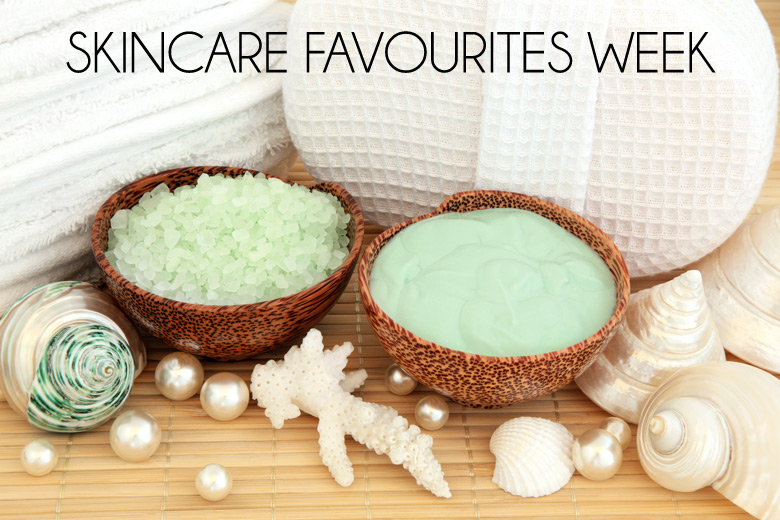 Welcome to day 4 of Skincare Favourites Week! My question of the day for you is this: how's your moisturiser doing for you? Giving you the good boing-boing skin?
Even though I'm very particular about the types of serums I use, I'm pretty lax when it comes to moisturisers. I don't need the moisturiser to have magical anti-aging properties, although that would be a bonus. I just need the moisturiser to do one thing and one thing only, and that's to moisturise my skin. Not just to sit on top of my skin but to really absorb onto the skin and keep it well hydrated during the day and/or night.
As I have combination skin with a very oily T-zone, the only type of moisturisers I'm fussy about are day moisturisers. They must be lightweight, quick to absorb and don't leave any sort of greasy or shiny residue on my skin. As for night creams, I'd prefer that they're not very rich. Cream-gels or gels are usually my moisturising weapons of choice.
Most of my top moisturisers are pretty simple ones. They don't really do anything else than keep my skin matte and hydrated during the day and highly moisturised at night. I wouldn't say that they did anything signficant on my skin and I'm absolutely all right with that. I have serums to do all the hard work.
Let's get started! Here are my top 10 moisturisers in no particular order.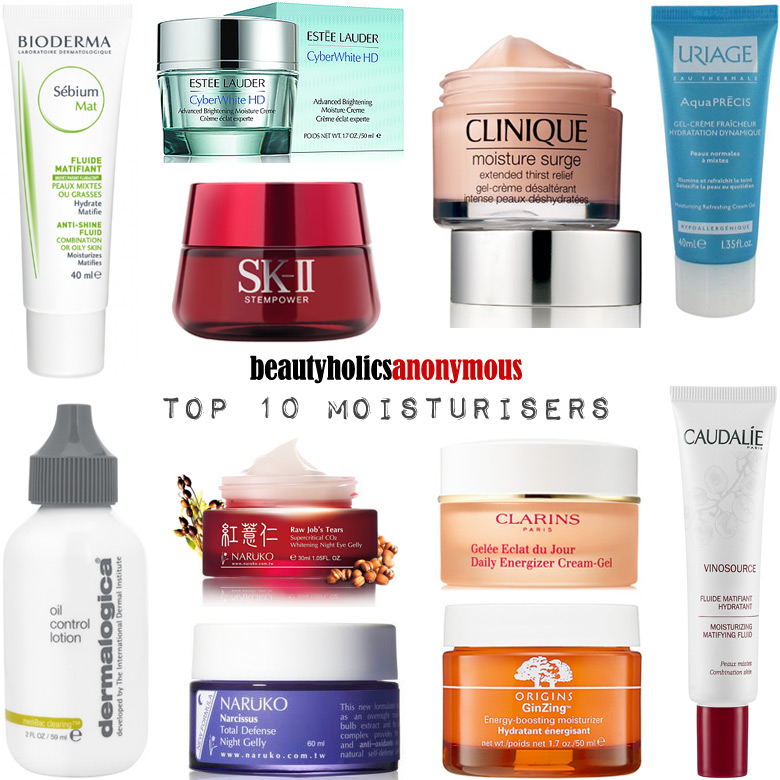 Bioderma Mat Anti-Shine Fluid
If you have oily to combination skin, this is a great day moisturiser for you. I love it and have since repurchased another 2 more tubes of this. It's very lightweight, non-greasy, absorbs very quickly and leaves a matte finish on the skin. As it's very light, I don't use this as my night cream but for the day, it's the perfect sort of moisturiser for my type of skin. This is especially useful in summer when you just can't stand a lick of shine on the skin lest it be mistaken as sweat. I'm not super keen on the scent though but as it works really well, I overlook the fragrance. (review here)
Caudalie Vinosource Moisturising Matifying Fluid
This moisturiser is very similar to Bioderma Mat's Anti-Shine Fluid. In fact, other than the difference in fragrances, I can't really tell which is which when it comes to the texture and consistency. This also keeps the skin matte, controls the shine and is a great base for makeup. The French sure knows how to get this anti-shine thing right. Right? 😉 (review here)
Estee Lauder CyberWhite HD Advanced Brightening Moisture Creme
This is a recent discovery and I really like it. I scraped the entire jar dry just so I didn't waste single drop. It's light enough to not be greasy and leave a shine on my skin yet rich enough for me to use at night. It's meant to be a day cream because there's a night cream version of this but I prefer to use this as my night cream. I didn't notice any sort of brightening on the skin but as a moisturiser, it's spot on. It's the kind that's rich enough for the skin but doesn't leave it looking greasy at night that Tim wouldn't want to come near my face with a 10 foot pole.
Clinique Moisture Surge Extended Thirst Relief
I love this gel moisturiser. My skin drinks it in like nobody's business. Some don't like it and claim that it just sits on top of the skin doing absolutely nothing. I'm glad to report that that isn't the case for me. Clinique also has the Moisture Surge Intense Fortifying Hydrator that is quite similar to this one but instead of a gel, it's a cream. Although the latter is still a light cream, I still prefer the original Extended Thirst Relief hands down. It smells good and it's actually light enough to use during the day but rich enough to use at night as long as I apply a bit more of the moisturiser in the evening. (review here)
Uriage AquaPrecis Moisturising Refreshing Cream Gel
This is my go-to moisturiser whenever I travel. It's my day and night cream, all in one. It's light enough to use during the day but moisturising enough to be used as my night cream. My skin goes haywire especially when I travel on aeroplanes. This moisturiser calms it right down. Plus it smells really good. (review here)
Dermalogica MediBac Clearing Oil Control Lotion
This was the first moisturiser I've used from Dermalogica and to date, it's still the most effective for me from the brand. It's incredibly lightweight and definitely controls the oil production on my T-zone. It also makes a good base for makeup as it leaves a matte finish on the skin. I've only used this during the day as it's not rich enough to be used at night. If you have oily to combination AND congested skin, I highly recommend you checking this out. It also contains salicylic acid to help prevent skin congestion. (review here)
NARUKO Gellies
I've used several moisturisers from NARUKO over the years and I've enjoyed using all of them. To be honest, I have absolutely no idea how one Night Gelly differ from another in different ranges because they work exactly the same for me. They're gels and in summer, when you keep them in the fridge, they feel oh so good on the skin. I don't have a particular range to recommend to you because, like I said, the consistency across the board is the same and so are the results. They moisturised my skin very well and I loved using them as night creams or even masks. Get the ones that smell the best to you, I say. You can tell that scent in moisturisers are very important for me. 😛 (review of one of the gellies here)
Clarins Daily Energizer Cream-Gel
Speaking of scent, hello citrus! When this first came out years ago, I think I bought 3 jars of it. That's how much I loved it. Like the Wake-Up Booster, it's delicious scent and feel on the skin is a good pick-me-up in the mornings. Citrus scent lovers will like this one. I sure did and still do.
Origins GinZing Energy Boosting Moisturiser
I can't talk about the Clarins Daily Energizer moisturiser without also mentioning another citrus favourite, and that's the Origins GinZing moisturiser. This is very similar to the Clarins moisturiser. Both are great pick-me-ups in the mornings too. The Origins GinZing has a sharper, more tart, specifically orange scent whereas the Clarins moisturiser is more mellow. I've used this as day cream and night cream without any issues at all. (review here)
SK-II Stempower
Okay I'll admit it. Of all the moisturisers I've mentioned here, this is my #1. I love, love, LOVE the Stempower. It's the only moisturiser out of the list that didn't just moisturise my skin, it softened it over the period of use. It doesn't have that smelly water scent that the Facial Treatment Essence has but it's pleasant enough for me to keep using at night. It's not a heavy cream but a lightweight form of cream-gel on the skin. If only this wasn't so damn expensive; I'd be buying jars of this and never needing to use another brand of night cream again. I know. Big claims from a beauty blogger. That's how much I love the Stempower. Sigh. (review here)
There are more moisturisers that I've tried that made the list too but I'll keep it to a top 10 for now. Who knows what other great moisturisers I stumble upon in a year or two's time? The new ones may even know the ones on this list of its pedestal! That's the fun of trying out new beauty products, isn't it? The joy of discovering something even better? 🙂
What's your #1 moisturiser? The one you'll buy over and over?
Catch up on Skincare Favourites Week!
Shop the post!
The Shop The Post! section contains affiliate links. By purchasing something via these links (at no extra cost to you), you're supporting Beautyholics Anonymous, which I highly appreciate.